Why duke essay? Duke is a highly selective university considered as one of the top 10 national universities in the US with a strong world reputation. Duke University ranks 8th for national university based on US News 2019 ranking. You don't want to take Duke application essay prompts with levity in the course of your academic pursuit. It is expedient that you discuss why you want to study the particular course and why it has to be Duke.
Duke is an institution that is characterized by energetic and entrepreneurial students with a driven personality. Duke is a highly social environment that offers extracurricular opportunities including 'Tenting' for UNC basketball game. You would be required to provide your academic and biographical information, extracurricular activities and personal essay (you can see our personal statement template). All these are to be done online.
Duke University Application Essay Requirements
Duke is highly competitive and has a tight acceptance rate of 9%. With our analysis and assistance, you have a fair chance. Various factors are necessary for getting admitted into Duke. The important ones are as follows:
Duke university application essay (this should cover Duke supplement essay)
An application fee of $85 (or apply for a waiver)
GPA of 4.17 and test scores (this can compensate for a low GPA). A GPA waiver letter can also be helpful
An SAT score of 1590 or an ACT exam score of 35
Extracurricular activities (athletics is an added advantage)
Two letters of recommendation (this should be from your teacher)
High school transcript and a mid-year school report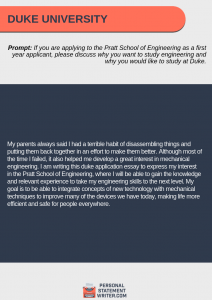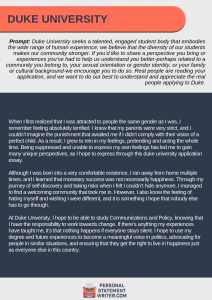 How to Answer "Why Duke" Essay Prompt: Duke Supplement Essay
The following prompt is what you would need to attend to.
Prompt #1:
Sexual Identity and Orientation (Optional)
In your Duke application, you are expected to state if you embrace all sexual orientations, whether you will be open to discuss them. They would also want to know if discussing your identity, history or personal story would be comfortable. This is rather optional and the duke supplement essay may require you to skip it.
Prompt #2:
Perspective and Experience (optional)
This makes the admission officers understand you better. This aspect focuses on your presentation. A diverse perspective on your orientation, belief, and worldview. Something that would be of value to the Duke community should be helpful.
Prompt #3:
Family or cultural background
The things that shape you as a person would definitely be something the admission officers would be interested in.
Prompt 1- 3. All answered should be done in 250 words.
Prompt #4:
Pratt School of Engineering
To be admitted here, you are expected to state why you want to study engineering at Duke in 150 words. This should be personal.
Prompt #5:
Trinity School of Art and Science
Applying to this school requires you to write a 150 words essay on why you consider Duke a good match for you.
10 Tips for Writing Duke University Mission Statement and Application Essay
Commence early
Brainstorm
Ensure that your essay reflects your personality in relations to Duke University mission statement
Plan your essay and include your goals
Don't state your GPA in your Duke University application essay
Understand clearly and answer the question prompts
Include your personal experience in an illustrative manner
Don't try to impress stick to expressing succinctly
Make your introduction catchy and something to remember
Be yourself, honest, authentic and real
Make sure you edit, edit and edit again before submission
Common Mistakes with Duke Personal Statement Writing
Punctuation, grammar, and spelling mistakes
The need to meet up with tight deadlines sometimes results in a poorly written Duke personal statement. One way to avoid spelling and grammatical error is to start writing early enough to give ample room for multiple revisions. Another strategy is to rely on professional services like ours to get your work either written or edited.
This includes the wrong structure and general content not tallying with topic etc.
Errors such as repetition of words and expression are common in most essay write-ups. Avoiding this common mistake will get you a slot at the institution of your dreams.
These are better for informal writing and not essays.
Don't be overly impressive, just be you.
Our Duke Application Essay Writing Services
Writing for us is a core. Our expert essay writing help is designed to meet all your writing needs. Our services include:
Professional essay writing service – Whether it is the Duke MBA application essays or any other admission writing needs you can rely on the expertise of our team of writers who possess several years of writing essays for admission. Our writers have written thousands of papers across several institutions and can extend this brilliant service to your Duke essay application. You can see Duke University essay examples, GPA waiver letter, ACT exams, SAT practice test details and requirements on our site. Application essays for high schools, colleges, and university.
Personal statements – These are truly personal and would reflect your personality. Our writers pull together details from your past experiences to tell a compelling story that reflects whom you have become and how it is vital for your future goals in life.
Letters of recommendation – They are sure to get you placed in the institution of your choice. We write from your perspective about that applicant that you want to recommend for admission.
Rewrite essays – When you are not confident about the content you have we can fine tune it to perfection.
Proofreading and editing services – Proofreading and editing are one of the keys to securing a better chance of acceptance. Submitting a badly written content can mar your chances.
You can view our personal statement example and Duke University essay examples on Duke MBA application essays, GPA waiver letter, etc. on our site.
Our Guarantees
Our professional personal statement help is available 24/7 to ensure you get maximum satisfaction with your admission essays. Please see personal statement example and testimonials from satisfied clients if in doubt. We have all your writing needs to be covered including the why duke essay.
One to one contact with your assigned writers
24/7 availability for you
Unbeatable pricing system
Error-free essays to get you a place in your school
Money back guarantees
Order professional writing service with Duke application essay and increase your chances of securing an admission fast!