Writing personal statements don't have to be difficult. We have a professional team of experts writing personal statements on a daily basis. With our easy-to-follow system,
writing a good personal statement
takes only five steps to complete.
How We Write Personal Statements
During the writing process, we let you stay in touch with your writer. That's why we're such a successful personal statement writing organization. Most other groups that will write a personal statement for you use pre-existing content instead.
We only produce completely original content when we promise to write personal statement pages for a client. You'll never have to suspect that your content was copied. That's good news for those applying to organizations that have huge classes of people coming in since they'll never be flagged for plagiarism as a result of their indiscretions. We don't put you in that kind of a situation.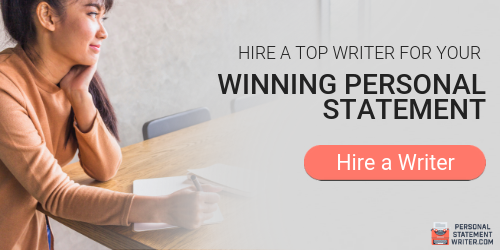 The Services You Would Love to Hire for Writing Personal Statement
As a reliable team of expert individuals, we are proud to say that writing personal statements or the admission applications is not something we can't do. Our authors have furnished numerous personal statements so far. They are highly aware of composing the worth-reading content and editing it properly. They can craft the quirky lines that result in grabbing the eyeballs of the readers.
The personal statement writing experience can't be similar for everyone. The students definitely face many challenges in crafting this statement. But their major problem is affordability when it comes to get professional assistance. Therefore, we have addressed this issue and decided to offer the discounted yet nominal rates so that everyone can afford. Apart from getting the best quality work, our writers also focus on charging the justified rates for the services.
Steps to Writing Personal Statements

Have a look at the order form. Fill in all the fields and upload anything that you need. You can use your resume, essays or even an autobiography to get your point across. This step will probably take around ten minutes.
Our payment operator is trusted in the world of billing and it processes all credit cards. Your money is kept safely when you work with us and your personal information is kept completely private.
Afterward, you may sign in your account using login details we'll provide you with. Once we receive your order, we'll assign it to someone who matches your field of expertise.
Check the first draft which you may upload from your account and ask for as many revisions as you wish. We'll make sure your document shines!
You may upload the final version of the personal statement using your account. Enjoy it and boost the chances of getting into your dream program!
Benefits of Our Personal Statement Writer Essay Help
It is always difficult to find to hire personal statement writer who can do full justice with the writing piece. We are not here to make just claims. Our team go through all the details and then start working on the assignment.
We use encryption to safeguard all your personal data. We know how important it is to keep your information private and secure.
We give more concentration to compose high-quality content for you. To win the confidence of the professors, we ensure to write unique content.
You can choose a writer for your task and make sure you will get someone who understands the task, unlike other services providers.
They understand the importance of delivering before the deadline being professionals to help personal writing personal statement.
We only employ educated writers. Despite having good writing skills, we also require the candidates to show the degree in any particular program.
The very urgent task are also taken and we deliver that to you on time. The rates for urgent orders are also quite reasonable. Make sure that you share all the right details for the urgent task so that we work on it properly.
The Guarantees to Know about Our Personal Statement Writing Help
Before choosing us for writing or editing help, it will be better for you to go through the guarantees. The assurances of our services will give you a better idea of how we work. Secondly, every client has the right to know about the guarantees of services for better work experience with the personal statement writer.
We can make quick revisions of the content. You are allowed to ask for the corrections of the text work numerous times.
The content with 0% plagiarism would be sent to you. We even share the report of plagiarism with the clients.
The precise research is conducted by us. The results would be in front of you.
Writers with a highly educated background would work for your tasks.
We are giving the opportunity to communicate with our writers once you place the order and make the payment.
The samples of the content are also provided so that you can get an idea of the writing style and skills of our experts.
We have the mastered editors who can deal with all the errors in your assignments.
Prices would be reasonable. The writers don't charge the fee that gets out of your affordability.
These assurances are going to give you the satisfaction by leaving the tasks on our writers. And, they would then handle your work as their own task. Isn't that amazing?
All of your worries related to writing personal statements would be ended. We are taking such tasks by giving you peace of mind!