The Importance of Dentistry Personal Statement Samples
When you want to get admission in dentistry, you should read some dentistry personal statement samples. You need to submit a number of documents, according to the requirement of the institution. However, dentist personal statement is considered the most important document. It explains, why you want to become a dentist, how you got interested in this field. What is your expertise in this field and what are your future plans if you become a dentist. Yes, dental residency personal statement is equally important. Your personal statement expresses the potential to study dentistry. Also, it is very important to keep in mind requirement standards of particular programs, such as ADEA personal statement length, so make sure to do some research before starting your writing. Admission committee uses it as a tool to evaluate the students. So, you need to pay particular attention to it, when you write dentist personal statement.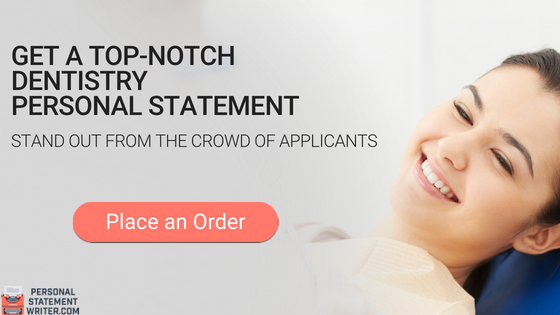 Take a look at the sample of dentistry personal statement crafted by our professional personal statement writers. We know how to make your dental school application outstanding!
Seeing the art in dentistry is what made me fall in love with the profession. Just the idea of performing artistic work on a microscopic level, while making the patient happy, is absolutely boundless in my opinion. Before immigrating to the United States, I provided comprehensive dental care to numerous patients, which included Esthetic/Restorative procedures, Fixed/Partial Prosthodontics, oral surgery, and Endodontic procedures.

When I came to the United States I had many challenges to face: being separated from my family, learning to speak a new language, and being accepted into the dental community. I am a qualified dentist in my home country of Iran, but I need to upgrade my educational level to practice in the United States. I have worked as a dental assistant since arriving, but am now ready to tackle the challenge of more dental education and become licensed here. As I overcame each of these trials, I have become stronger and know that I have what it takes to become an excellent practicing dentist in the U.S.

I believe in sharing our talents with those who are less fortunate in society, and I have on several occasions worked with the mentally and physically challenged. It is immensely satisfying to help a person feel better about themselves because you have fixed their teeth, but also knowing you have contributed to their general health, as well. I also enjoy teaching people about good oral hygiene. I hope to do more of this work in the future.

Currently, I work as a dental assistant with a talented TMD and TMJ specialist. He has taught me valuable skills in reducing the discomfort that results from this disorder. Dentistry is diverse and requires people to work well together. I have had the privilege of working with general and specialist dentists, which has shown me how to communicate and interact effectively within different teams.     Thank you for your consideration of my application. I look forward to a positive reply.
What Dentist Personal Statement Should Include
Dentist personal statement is not an ordinary document. There are a few questions, which it should answer. For instance:
Why do you want to become a dentist? Try to explain in simple yet strong words your passion for dentistry. You can quote an incidence, in this regard.
Why are you interested in getting admission into this particular institution? Get a little background knowledge about the institution and do mention the strong points, which attracted you.
What are your future goals? It's very important to mention your future plans in this field. How you will utilize it for the betterment of society.
You should also mention if you have assisted any dentist or have done any community work in this field.
Don't forget to mention, if you have done any dentistry course or diploma before.
Steps for Writing a Catchy Dentist Personal Statement
You can find dentistry personal statement samples online. However, don't copy them. You need to write your own personal statement. Learn about the advanced standing program for international dentists at our site.
The start of the statement should be attractive. You can narrate any childhood incident, which engraved on your mind and you decided to become a dentist or you can build a story from your social work days to start the statement.
Mention your interest and passion in the field. Explain how you can do better things for the community, or any other future plans of yours. But be yourself, don't copy from an online source.
The ending is very important. It should be very interesting and must leave a long-lasting impact on the minds of the reader.
Once you are done, review your statement and make necessary changes.
Show it to a senior or teacher, who can guide you. Make his/her recommended changes and submit it.
Dental Residency Application Requirements
At least 2 strong letters of recommendation (from mentors and/or supervisors)
Some research experience
Extensive background in the physical sciences, especially Biology
Excellent DAT scores, top 70th percentile
Internships/experience in a dental clinic is a plus
Well written dental residency personal statement:
Explain why you are applying to the institution specifically
Explain your motivation for a specific dental residency
What has your dental school experience taught you
What do you hope to do in the future with your degree?
Up-to-date CV and/or resume
Transcripts from all institutions attended (Dental School transcript usually is enough)
Additional certificates earned
Be prepared to demonstrate dexterity and motor skills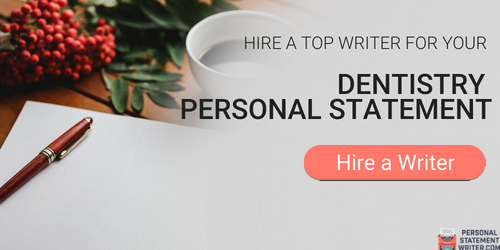 How Our Services Can Help
When it comes to dentist personal statement, we have a professional team of professional personal statement writer, who can help you in many ways.
Our writers and trained and they have the experience of writing dentist personal statements. Unlike others, we don't send the same statement to every student. We write customized statements according to the institution you are applying to. Every institution has da different culture and different requirements and format for a personal statement. We write according to that and it increases your chances of getting admission.  If you have already written your statement, our editors can review it and edit it for you. We can make it error free and format it properly.
Dentist personal statement is a technical document to write and our experts can help you. Call us now!