Adorable CASPA Personal Statement Writing Service

Why Your CASPA Personal Statement Must Be Perfect
If you want to train as a Physician Assistant (PA) then you will need to get onto one of the many programs that are available out there. Applications are made through a centralized system known as CASPA; the Central Application System for Physician Assistants. This system allows you to upload all of your application data and information to one place rather than having to use a different system for each program. Our residency personal statement editing services are aware of all these specific things.
Your CASPA personal statement is often the most important part of your application as it allows you to show the reader exactly why they should be considering you for a place on their program. A well-written statement is capable of making a real impression on the reader and ensuring that you will be memorable and more likely to get selected. But being able to write an impressive statement is not something that every applicant has the skills and time to achieve.
This is why many applicants will try to get an edge over their competitors by using our professional personal statement writing services. We can provide you with access to a true professional in this area that will be able to help you to craft a highly engaging and effective statement to help you gain the place that you are chasing.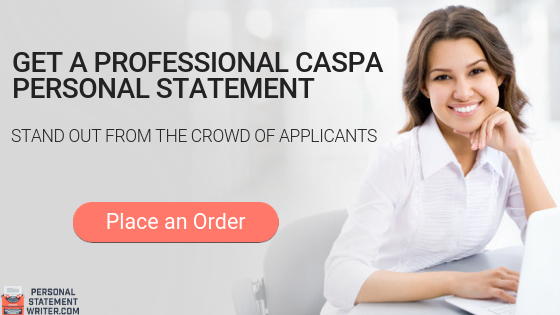 How to Make Your CASPA Online Application
Your CASPA online application is made directly through their website. The portal allows you to upload all of your application documents once you have gone through the registration process. Once your documents are all uploaded you are able to then select the programs that you want to apply to and assign your documents accordingly. The following are some of the required documents and information that you will need to upload within the system:
The CASPA application form
Your resume
Full transcripts for your education
Licenses and certificates
GRE or MCAT test scores
Letters of recommendation
Details of clinical experience
Prerequisite course details
Your CASPA application personal statement
While the basic information is all loaded directly into the system some programs will have additional requirements. You must always check the websites of each program you are considering for those additional requirements and follow the instructions for submitting them.
How Will Our Experts Help with Your Personal Statement for CASPA?
We provide our services through true experts. With more than 5 years offering help with personal statements we have built up a sizable team of writers that cover many different areas. This allows us to provide you with support through a proven writer that is highly experienced in the writing of personal statements and also holds a relevant postgraduate degree in the area of your application. They will work directly with you through our online service to gather all of the information required to make a CASPA essay that will be capable of making an impact.


Your statement must be clear about you and not something that is generic and could have been written about anyone. Our experts do not simply fill in blanks on a template, nor do they use any form of copying. Your statement is always written from first principles using your own information. The skills of our experts ensure that you will be submitting a personal statement to CASPA that is:
Highly engaging right from the opening lines
Flows well to keep the attention of the reader
Demonstrates your skills with concise examples
Shows why you want to be a physician assistant
Avoids all of the common writing errors such as wordiness and use of clichés
Uses perfect English throughout
You are entitled to unlimited revisions through the services that we offer. So if you feel that any changes are required to how your statement is written just talk with your expert and they will help to ensure that your statement is exactly how you want it.
Work with the Best on Your Personal Statement for CASPA Applications
If you have been looking at CASPA personal statement examples and feel that you cannot match their quality then we are here to help. We provide only the best experts to work with and fully guarantee your satisfaction with our help or we will return your money. Do you need some help with writing an athletic training essay? We are ready to assist!
All the services that we offer will deliver your support within the deadline that you agree with us when you make your order. We also fully proofread all writing so that you can be sure that your submission is error-free and also provide you with a plagiarism report so that you know it is unique. Our highly affordable and well-priced services are also totally confidential so no one will ever know that you worked with us.
Give your application a boost and work with our highly skilled specialists to help write your  CASPA personal statement today!