What Is a Waiver Letter?
A waiver letter is a formal written document sent to an individual, business, or some other type of organization that asks them to put aside a certain requirement that would normally be put into effect. The requirement that you are asking to be excused from can be just about anything depending on the situation.
Monetary waivers such as a request that you do not have to pay a fee or penalty
School application requirements waiver such as having to take an entrance exam or to have a certain grade point average to be admitted to a school
Waiver of a right such as the right to file a lawsuit
Sending somebody a waiver letter, for example, waiver letter of recommendation doesn't mean that the requirement will be waived. It is a request that you are asking them to consider.
| | |
| --- | --- |
| | |
| GMAT Waiver Letter Sample | Application Fee Waiver Letter Sample |
| | |
| --- | --- |
| | |
| TOEFL Waiver Request Letter Sample | GRE Waiver Letter Sample |
How to Write a Waiver Letter
A waiver letter is a formal document and should follow a business letter format. Reviewing a sample waiver letter can be useful before you write your own. If possible look at an example that is similar to what you want. Reviewing a fee waiver letter sample if you want a fee waiver would be more helpful than reviewing a GRE waiver letter sample. If you are unsure how to write a waiver letter our service can help.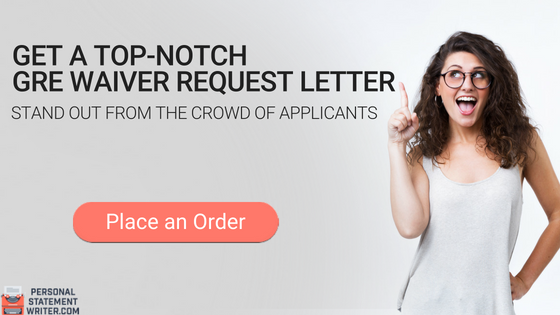 Tips for Writing a Good Waiver Letter
A waiver letter is the document that is usually written to an institute or company in the context of putting a request to ignore or waive off any plenty or essential requirement. A waiver letter could be written in any context, but on academic point of view, there are two types of waiver letter.
Monetary Waiver Letters: These types of waivers letters are written to put forward a request of waive off the fees because applicant is not able to pay the dues or amount of penalty.
Exam Waiver Letters: These waivers letters are written to put forward a request of waive off the entrance exam or some other exam due to having equivalence certificate of some other exam.
See also how we can help with your Princeton application essay here!

Start the letter off with a clear explanation regarding your request. For instance, explain that you're requesting certain fees or charges to be waived or to be released from a previous engagement.
There are some rules to write a waiver letter or a Duke application essay. To make your application effective, it is necessary to follow the rules of writing a waiver letter. Let's see, how to write a waiver request letter sample:
Heading: Your contact information (name, address, phone number) and the contact information of the letter recipient.
Salutation: You should start your waiver letter from salutation to that person for which you are writing the waiver letter. If you are familiar with the name of concerned person, you should write "Dear Mr. ____" or "Dear Miss ______" before its name. However, if you haven't any idea about the name of person, you should use "To Whom It May Concern". A good waiver statement example could be a source of better understanding the format of waiver letter. A standard opening: "Dear Mr. Jones", "To Whom it may concern", or something else appropriate to the situation.
Subject: Now you should write the subject of your waiver letter in a single sentence, so that reader could understand the purpose of writing the waiver letter just by reading the subject.
Body: Include any relevant information that supports your explanation. Begin your letter with an explanation of why you are writing. Whether you are asking for a fee to be waived, to be excused from taking a test or something else you need to clearly explain what it is that you are asking for. The basis for your request: provide an explanation of why you are making your request. Perhaps some financial hardship has caused you to request a fee be waived. Remember! The language of whole body of waiver letter should be very respectable because your aim is convincing the concerned person about your request. It is better to review the sample of some relevant waiver letter before start writing it. For example, reviewing the GRE waiver request letter sample could be a better guide to write the letter under same category
Conclusion & Signature: In the last, don't forget to say thanks and after this, so briefly thank the person for their time and consideration in the matter. A complimentary close such as "Sincerely yours", your hand written signature and write your name and contact information along with the date.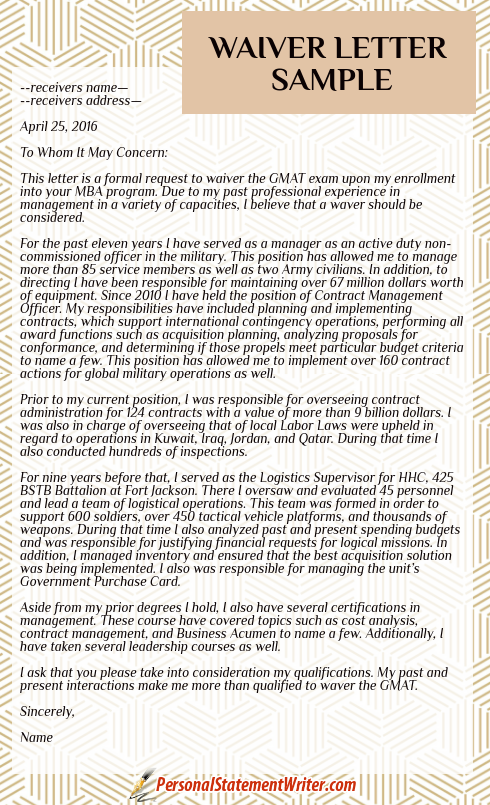 Our Waiver Letter Writing Service
The waiver letter writing service we provide can write a waiver letter for you for any circumstance you may need, for example, a GMAT waiver letter. Our professional writers all possess advanced degrees as well as having extensive experience with waiver letters. Every letter we write is original and tailored to meet your specific requirements.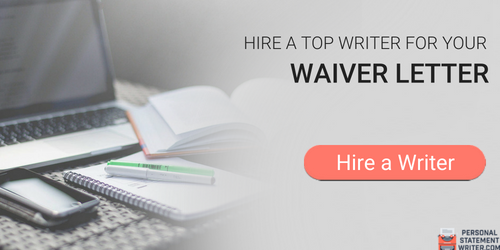 Benefits of using our service include:
Free amendments. Our writer will make any amendments you want at no additional charge.
Affordable rates.
Ordering and paying online are easy.
Courteous and helpful client support around the clock.


Fortunately, there is a great number of expert of premium personal statement services online that can give you the necessary assistance as to make sure that your final personal statement writing will be of top-notch quality.
Get the help of our professional and skilled writers in affordable rates to get a winning waiver letter either related to monetary matters or exam exemption issues!