Can You Write a Quick Dental School Personal Statement
Many students do not realize just how many students are applying for each and every dentistry place and how tough the competition is going to be. While the dental schools are looking for students with high grades they are not going to be enough to guarantee your place on their own. They really want to find students that are going to go the distance with their training and then implement what they have learned. So when it comes to writing personal statements you need to make sure that your personal statement for dental school needs to make you shine in the eyes of the reader and make them see you like the automatic choice for a place. If you hire personal statement writer, he'll help you with that.
Top 5 Dental Schools You Can Apply To
Here is a list of 5 top best Dental schools in the world that you can apply to:
University of Hong Kong (HKU)
The University of Hong Kong (HKU) is one of the oldest dental university in history, they are known for their research program in the world. They have world's top scholars and professors who are ready to pass their knowledge, experience and skills to you.
List of specialty:
Dental Public Health
Paediatric Dentistry
Periodontology
Endodontics
Orthodontics
Prosthodontics
Oral
Maxillofacial Surgery
King's College London (KCL)
This is a respected teaching institution for dentistry known for is a research facility and other structural centers. Students there are taught by internationally-renowned staff and expert with vast experience.
List of specialty:
Conscious Sedation for Dentistry
Dental Public Health
Endodontics
Endodontology
Orthodontics
Paediatric Dentistry
Periodontology
Prosthodontics
Regenerative Dentistry
Special Care Dentistry
University of Michigan is well known for is research work and dental educational studies. They offer a lot of opportunity for students who want to study dental. This is one of a preferred university for dental students in the world.
List of specialty:
Biologic and Materials Sciences & Prosthodontics
Cariology, Restorative Sciences & Endodontics
Oral and Maxillofacial Surgery/Hospital Dentistry
Orthodontics & Pediatric Dentistry
Periodontics & Oral Medicine
Dental Hygiene
Academic Centre for Dentistry Amsterdam (ACTA)
This is an institution for students who are applying for dentist and capable of practicing.
List of specialty:
Endodontics
Oral Implantology
Oral Kinesiology
Periodontics
Paedodontics
Orthodontics
Oral Pathology and Maxillofacial Surgery
Integrated Denistry
Cariology, Endodontics a Paedodontics
Oral Implants and Prothetics
Dental Material Sciences
Oral Pathology and Maxillofacial Surgery (VUmc and AMC)
Oral Cell Biology and Functional Anatomy
Oral Radiology
Periodontics and Oral Biochemistry
Preventive Dentistry
Tokyo Medical and Dental University (TMDU)
This is one of top rated Dental University in the world which trains their students to be professional and meets the society needs.
List of specialty:
Periodontics
Orthodontics
Periodontics & Oral Medicine
Dental Hygiene
Endodontology
Periodontology
How to Write an Outstanding Personal Statement for Dental School
When writing your dental school personal statement you need to remember who your target audience is and what it is that they are looking for. Like in University of Cincinnati essay prompt answer they look for evidence of your intellectual curiosity and your interest in personal development. While you will have a question to answer to write your personal statement against you need to keep in mind what the selection panel are really looking for from a student:
They want students that have a real interest in a career in dentistry;
They want to see that you have your career planned out and that your application to dentist school is an important step;
They want to see that you have all of the necessary skills to be a dentist; you must demonstrate those skills using examples;
Show that you have researched their school and that it meets your specific needs.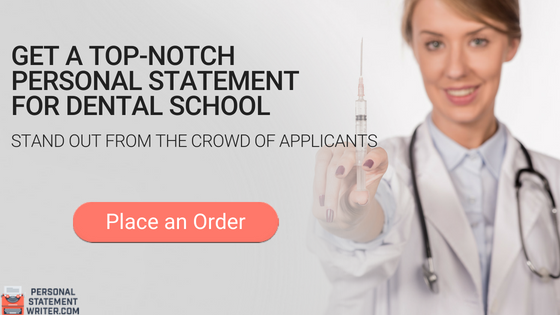 7 Tips for Writing a Good Dental School Personal Statement
Here are a few tips which you will find helpful when writing dental school personal statement:
Attractive introduction: when you start writing a personal statement for dental school, keep in mind that admission committee reads hundreds of personal statements during the admission process. You have to write an attractive personal school statement to get their attention.
Show your personality: it is very important to show the human side of your personality, let the admission committee know about the strengths of your character, which will be helpful in building a positive environment at their campus.
Be original: When you write your dental school personal statement original. Tell them about your own experiences that why you want to become a dentist, internet stories are of no use.
Organized writing: First collect your material and start writing in an organized way. Break your statement in different paragraphs to organize them properly.
A strong conclusion: Conclusion or last paragraphs of your personal statement is very important. It will leave a long-lasting impact on the minds of the readers. So, make sure that you conclude your personal statement in a very positive and powerful way.
Review and edit: Once you are done with your personal statement, review it again and make necessary changes. Do it many times to get an error-free document.
Get feedback from a senior: You can get the third-party view on your personal statement from an elder at home, or a senior at school. But it very important to get a perfect document, before submitting it.
Top Dental Programs
Following are the few top dental programs. You can choose one of them to achieve your dream to become dentist.
UCLA School of dentistry: This school was founded in 1964 and is ranked at number one dentistry school in United States. The duration of program is 45 months and they charge a heavy fee as well.
UCSF School of dentistry: This school is part of California University and was founded in 1881. It is one of the oldest dentistry schools in the country.
University of Michigan School of dentistry: This school is part of Michigan University and was founded in 1875. It offers many programs for the dentists.
The Perfect Personal Statement for Dental School
Your dental school personal statement or Clemson university application essay must do more than just contain the right information; it must also demonstrate that you cared enough about your application to ensure that it is totally free of errors. If there are minor issues with your writing including spelling mistakes or even just sentences that just don't quite hang together well the reader could end up spending their time looking for mistakes rather than reading the actual content. Proofread your personal statement very carefully and if possible have a third party do it for you.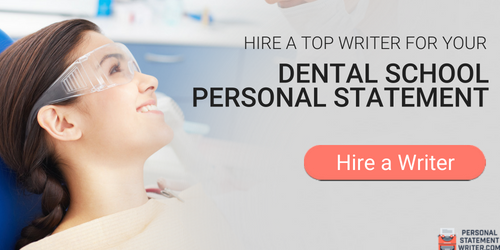 Writing Your Dental School Personal Statement
If you really want to improve your chances of getting selected you can turn to a professional writer for your personal statement dental school, whether you need UCLA personal statement prompt. Our writers are highly experienced in writing personal statements at all levels and know precisely what needs to be covered to make your dental school personal statement outstanding.
They will draw out all of the information that they need to write a highly personal and truly unique personal statement that will present you in the best possible light. For a winning dental school personal statement or MBA personal statement get in touch with our guaranteed personal statement services today.
Your career is very important, instead of missing the chance to get admission, let our experts help you with your dental school personal statement!