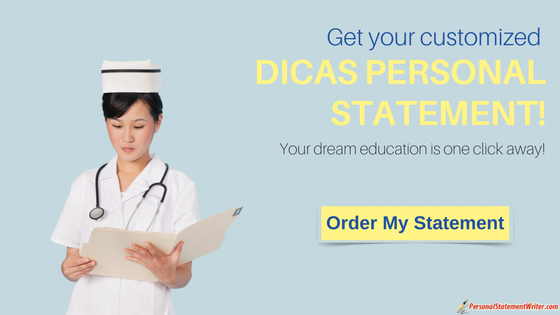 If you are to become a Registered Dietitian Nutritionist (RDN) then you must first get accepted into a dietetic internship and pass. But as with many other internships, you will find that places are fiercely fought over and every year many applicants will simply be disappointed. Getting in means that you need to make your application stand out in every way. The most important part is your dietetic internship personal statement. We offer the best personal statement writing service in this field through staff that is fully qualified and highly experienced. We are confident that the help and advice that our experts are able to provide you with will help you to make your application a success.
With obesity on the rise and a growing understanding of just how much diet can affect our health following a nutritionist, career is going to mean moving into an area that is steadily growing. From understanding the impact of vitamin and mineral deficiency through to diets impact on developing specific cancers and other diseases this can be an interesting area to work within. Top 10% earners have salaries of almost $80,000 on average and this is likely to grow significantly as demand grows. This makes for an area that has a large amount of competition when applying for your postgraduate training.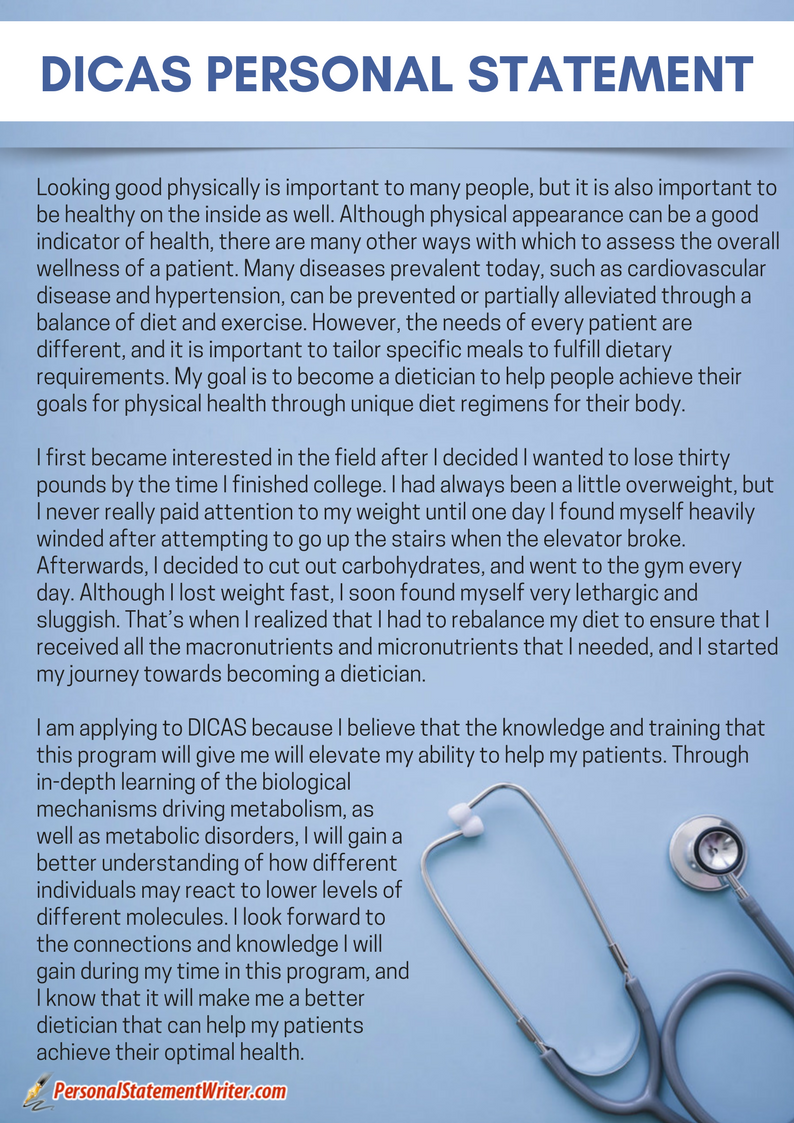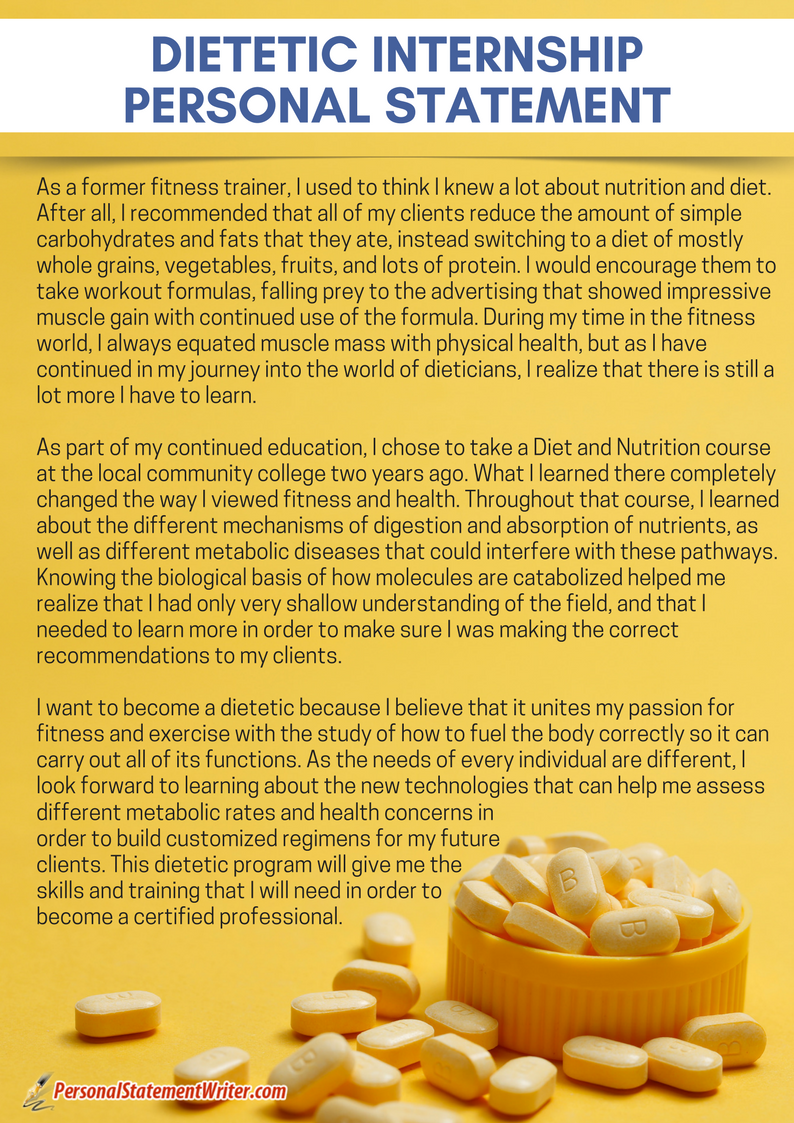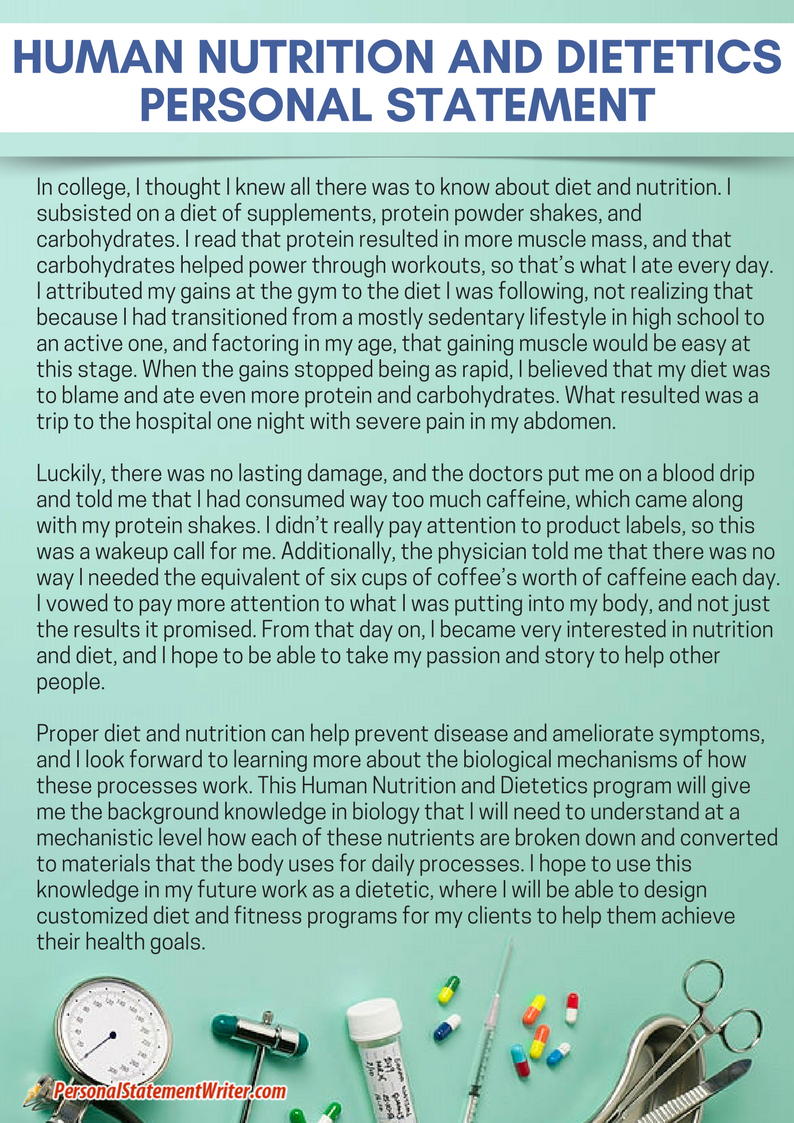 Writing a personal statement for dietetic internship applications is not easy. Many applicants are going to struggle yet it is often the one part of your application over which you have full control and that offers you an opportunity to make an impact. Well-written this is your chance to stand out and to boost your chances of being selected.
Requirements for Making Your Dietetic Internship Application
Gaining a place will mean following the application requirements to the letter. You will also want to ensure that you apply to a course that is accredited by the Accreditation Council for Education in Nutrition and Dietetics (ACEND). Many programs use the centralized application service DICAS through which to accept applications.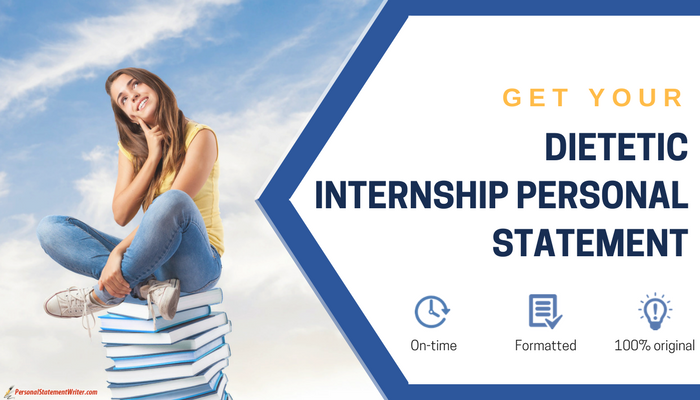 DICAS allows you to apply to any of the participating programs and uploads all of your information electronically into one location to simplify the process. However, that being said you will still need to check each program that you are applying to so as to check for any additional expectations beyond the minimum that DICAS requires.
The following are the internship requirements that you will be asked for through DICAS:
Electronic application form
Resume or CV
Transcripts
Bachelor's Degree
References (Usually 3 Letters of Recommendation)
Program Director Verification
DICAS personal statement
Where to Apply for Your Dietetic Internship
If you are going to study dietetics then it is often best to go to the most competitive schools for your education. After all the more respected the learning the more impact it will have on your future earning and employment potential. The following are some of the better programs that you could follow:
Do's and Don'ts for Writing Your Dietetic Internship Personal Statement
The following are some of the areas that you must pay special attention to when writing your dietetic internship personal statement. Our dietitian personal statement tips are offered through our professional writers who have many years of experience providing support to applicants in this area. Our personal statement dietetic internship guides will help you to better understand just what you must cover within your application and what must be avoided:
| Do | Don't |
| --- | --- |
| Do read the website for your chosen program to ensure that you fully understand what their requirements are and if you will need to be writing a supplemental personal statement for a dietetic internship in addition to the DICAS personal statement. | Do not use this as an opportunity to complain or to make excuses for past performance. |
| Do carefully check the program requirements so that you fully understand what it is that they value in applicants so that you can mirror those expectations within your writing. | Do not use any clichés in your writing. |
| Do answer any specific prompt that they ask for with your personal statement. | Do not simply state the obvious within your writing. |
| Do look at our dietetic internship personal statement example. A good DICAS personal statement example like ours can provide you with a huge amount of guidance as to how your statement should be written. | Do not simply copy our DICAS personal statement sample. |
| Do write about yourself, they want to learn about who you are and what your future plans are through your dietitian personal statement. | Do not use quotations or copy anything else. |
| Do write your statement as a story about yourself so as to keep their attention throughout their reading. | Do not include anything that is not relevant to your application. |
| Do ensure that your opening line will hook in the reader effectively. | Do not use words that may not be understood such as slang or acronyms. |
We Can Help You with a Successful Personal Statement Dietetic Internship
We offer a full range of writing and editing support through highly qualified specialists in this area to give you a real edge with your application. Our specialists hold relevant postgraduate degrees and fully understand what is required when making your dietetic applications at all levels. They have superior native level English and writing skills which allow them to be able to offer you support that will boost your chances of being selected.
All statements are carefully proofread to a high standard to ensure they are error-free and are always provided on time and with a plagiarism report to show that they are unique to you. All of our services come with a full satisfaction money back guarantee and are offered at a rate that you will find hard to beat elsewhere.
Make your application a successful one with our professional help and support with your dietetic internship personal statement writing or editing!