Exchange programs are increasingly popular with students all around the world. As many as 96% of exchange students report that their experience led to a greater feeling of self-confidence, and 87% said that their journey influenced their academic path significantly. It's getting easier and easier to apply to such programs as more people learn what it takes to write professional personal statements or a motivation letter for student exchange. Find out what it takes to write a letter that blows everyone else out of the water.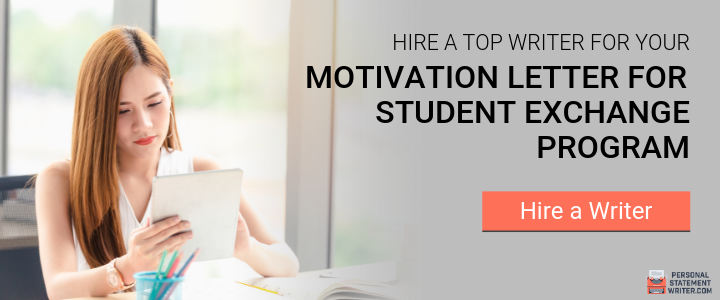 Before You Write Your Student Exchange Motivation Letter
In advance of composing any kind of personal statement exchange program requirements are what you really need to be thinking about. After all, you want to check whether you actually qualify to apply before you begin writing the top quality personal statement exchange program hopefuls need to compose. Consider the general requirements outlined below for becoming an exchange student.
Before composing a personal statement exchange student hopefuls have to think about some important non-academic requirements like visa applications. If you're from a country that doesn't run a visa-free regime in cooperation with your host country, you'll need to make sure that have the appropriate visa in a passport with at least 6 months remaining on it after your homecoming date.
Although the content is important when it comes to your personal statement exchange student applicants need to confirm submission deadlines with their host college. If you hand in your documents late, you could put paid to your whole plan of studying abroad and obtaining a foreign education.
Always check whether you qualify for any kind of scholarship, even if it's not a full one. Applying to a host college via the Erasmus program is a sure-fire way to get yourself a good scholarship from which you really stand to benefit. Naturally, you'll need a great exchange student essay if you're to gain entry to the best foreign exchange student programs.
Different countries, as well as the individual colleges found within them each, have varying insurance requirements for incoming students. Make sure that you've researched exactly what you need to do when it comes to insuring yourself and your property effectively. Your current college, as well as your host, will be able to provide admission help of this kind.

Important Admission Documents to Remember
It's vital that you don't ever forget about all the required documents for application to exchange programs. It sounds harsh, and perhaps it is, but you could be rejected by the best foreign exchange student programs if you don't submit all the proper documents in the appropriate format. This includes a wide range of different pieces of paper that you'll have to gather from various sources. Take a look at the list below and make absolutely sure that you don't forget a single one.
Application form (usually online)
Exchange student essay
Resume/CV
Two recommendation letters
Official transcript
Proof of English language proficiency (or other required languages), e.g. TOEFL or IELTS score, or native speaker status
Courses of interest form
Why You Need to Write a Statement of Purpose
The whole point of writing a SoP for student exchange program admission is to demonstrate your positive qualities and characteristics to professors who have not yet had the chance to meet you in person. As they are wondering why do you want to be an exchange student essay content has to provide the answers they're looking for.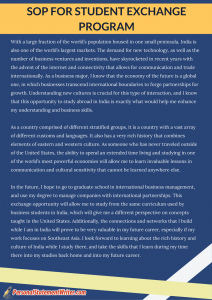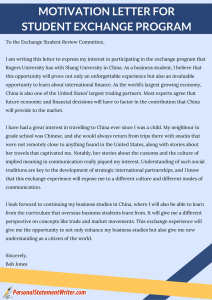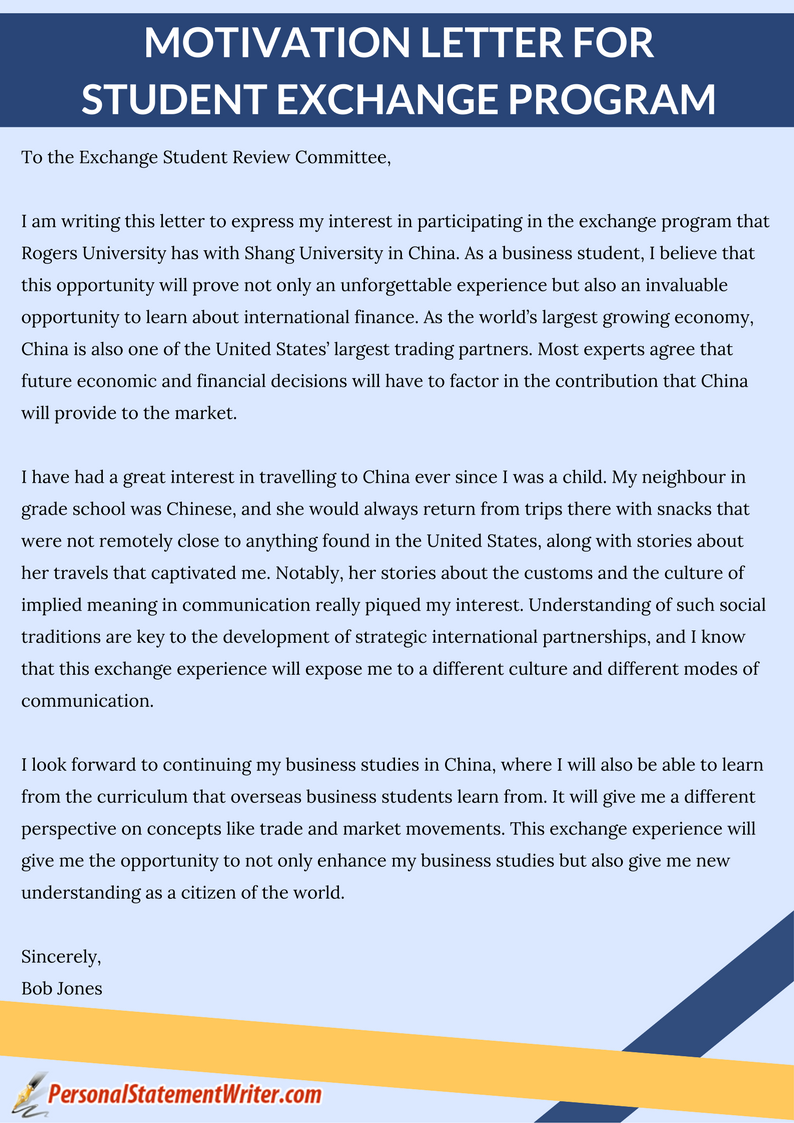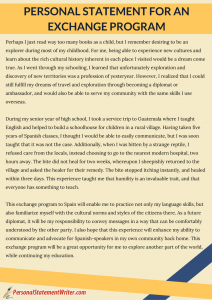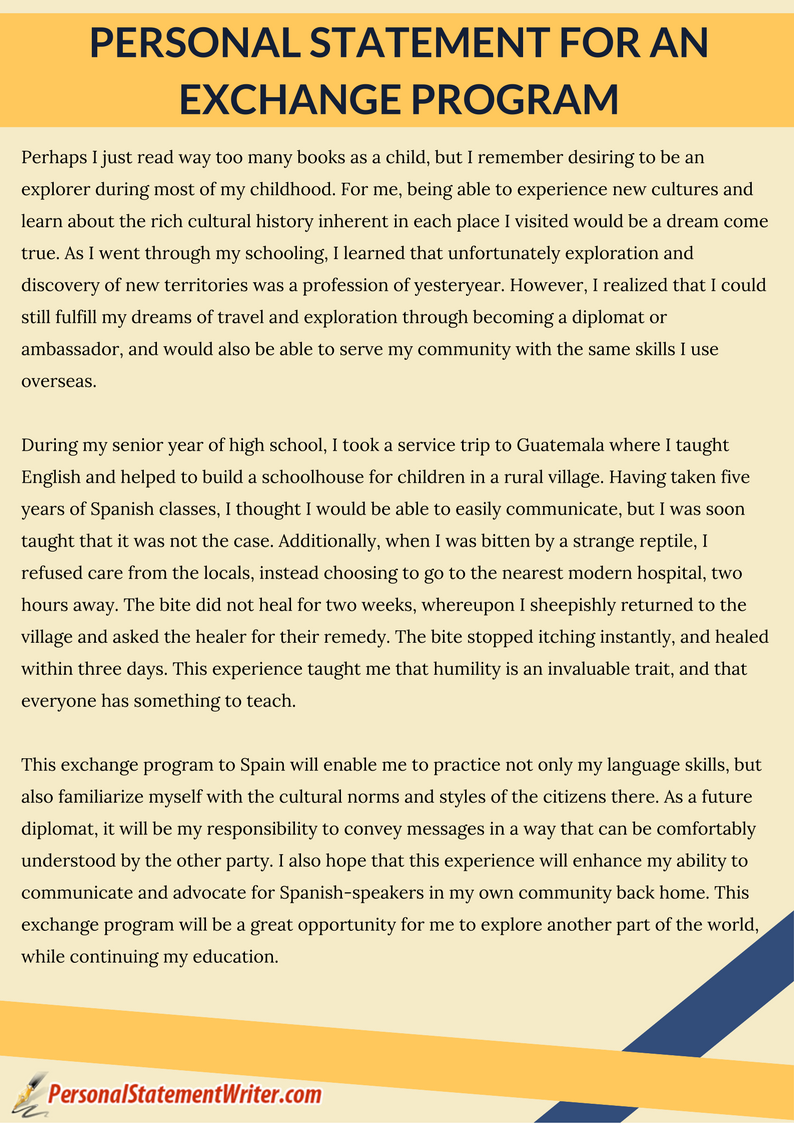 As such, your SoP for student exchange program application should include a number of important sections that you simply cannot omit. Consider the most significant additions below you need to make to your statement of purpose for student exchange program.
It's vital that you describe your background so that your prospective college can gain an appreciation of where you come from and where you're going.
You should discuss your academic goals, particularly as they relate to the program to which you're applying. When professors can see from your statement of purpose for student exchange program where your true academic passion lies, they'll be far more likely to choose you. What's more, if they take a shine to you, then you could well have found yourself an academic mentor upon which you come to rely for all the latest and great pointers and advice.
You can also use your exchange program essay to discuss your career goals for when you leave university. Prospective professors are always interested in where their potential students might end up in life.
Ultimately, the point of your exchange program essay is to answer a range of unspoken questions that the admissions committee most certainly has about you. You need to be able to explain exactly why you want to study at their faculty and what you hope to gain from the experience. When it comes to the essential question of why do you want to be an exchange student essay content needs to provide the answer.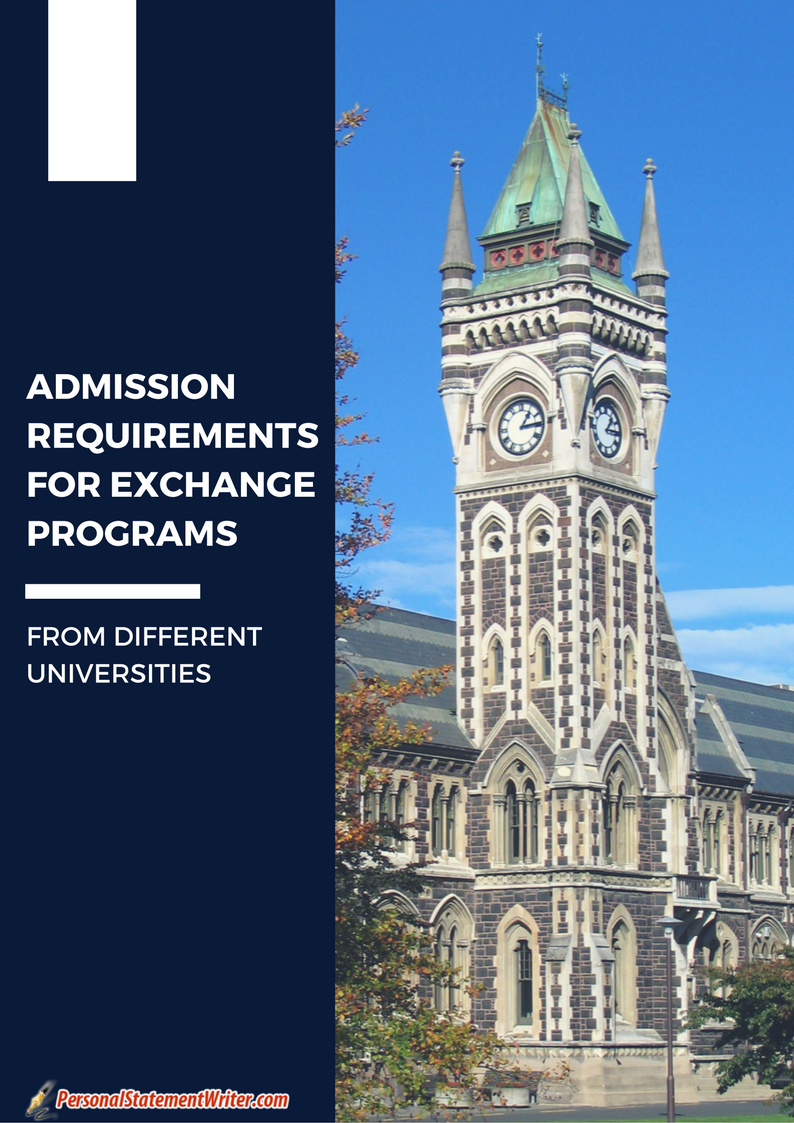 The Finest and Most Affordable Programs
Education should never have to break the bank, and every student has the right to a good education at a price they can truly afford. That's not to mention that "Travel is the only thing you buy that makes you richer". Consider the best exchange programs that are offered at cost-effective prices.
→Goshen College, Indiana.

This is a great place to study if you want the opportunity to study abroad without draining your entire life savings. 83% of the students here take part in exchange programs and the whole net fee is just shy of $19,000. You'll spend 13 weeks here on an incredibly diverse and intensive study program.

→St. Olaf College, Minnesota.

This is a great choice for those who are looking for scholarships. If you take part in their international exchange program, you'll automatically be entitled to at least $500 in assistance and sometimes even more than $5,000. If you're not ready to go abroad, they also offer inter-state exchanges.

→West Virginia University, West Virginia.

This program is quite unique in that it accepts a vast range of different scholarships, loans and grants. You'll also gain access to a number of university-specific opportunities. Programs start from as little as $1,500.
→Middlebury College, Vermont.

This private liberal arts college offers a unique program for $21,800. More than half of the junior class spends their time abroad in as many as 40 different countries. There's even a special program that lets you spend up to a year in countries Brazil, the United Kingdom and Russia.

→University of Arkansas in Fayetteville, Arkansas.

If you've ever wanted to go to Italy, you're in luck. The University of Arkansas lets you go to Rome and participate in all kinds of Italian cultural adventures. Even if Italy isn't your thing, you can travel to an incredible range of different countries, including China and Greece.

→Georgetown University, Washington, D.C.

Programs here start from $5,500 and you'll definitely get your money's worth. There's a satellite campus in Qatar, a place not often visited by American students from other institutions. You'll have a truly one-of-a-kind experience as you take their summer study program funded by one of 9 different scholarships.
Your Most Common Struggles with Writing
When it comes to writing a statement of purpose exchange student or writing thank you letters hopefuls usually have a pretty rough time for a number of reasons. Fortunately, many of these causes have easy solutions when you get in touch with an academic admissions expert familiar with your preferred host college.
Our admission writers provide help for foreign students who are looking to study and expand their horizons in an unfamiliar but exciting host country. Take a look at the most common problems you might face while writing an exchange program essay and see how we can help you solve them quickly and easily.
Even a great student exchange motivation letter can be let down by poor grammar. If you know that your skills aren't quite up to scratch when it comes to your spelling and grammar, our expert editors can put things right for you.
It's often hard to compose the truly unique statement of purpose exchange student hopefuls need to submit. If you struggle with coming up with interesting and creative content, our friendly advisors can point you in the right direction.
Sometimes you don't decide to apply for an exchange program until mere days or weeks before the submission deadline is due to expire. If this has happened to you, get in touch with our speedy writers who'll advise you on the best course of action.
The whole point of going abroad to study is to expand your mind and learn a new perspective, but this very point is what makes it difficult to write a statement that'll impress a foreign professor. If you're concerned about there being a language or cultural barrier as you're writing an exchange program essay, our professional admissions advisors will surely help you surmount it.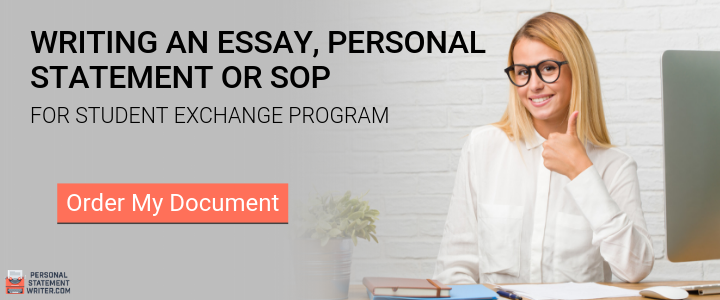 Achieve All Your Biggest Goals
When you've got all this knowledge and information outlined here, you'll be able to make an informed decision about your plans. What's more, you'll actually stand an incredibly high chance of setting these plans into motion and achieving the biggest goals in your life so far. Learn everything you can about writing your motivation letter for student exchange programs and you'll find yourself on a plane before you even know it. Go ahead and contact our best personal statements writing services!
Master the art of writing a motivation letter for student exchange program. Make the most of the expert advice and reach your highest goals.