How to Write the Perfect IMG Personal Statement
As an International Medical Graduate (IMG) you may be wondering just how important the personal statement is as part of your application for residency. The answer is that it is a critical part of your IMG application and that you have to get it written perfectly. There is always a significant amount of competition for places and the selection panel is going to base a large amount of their decision on what you have written within your IMG personal statement. So you have to make sure that your creating a personal statement really shows that you are going to make the perfect resident.
How to Write the Perfect IMG Application Personal Statement
Your IMG personal statement must be written perfectly if you are going to get accepted. No allowances will be made for poor English; after all, you have to be able to interact with the patients and other staff in English. Your University of Oregon application essay must not contain any technical errors with your writing, this means proofreading everything you write very carefully.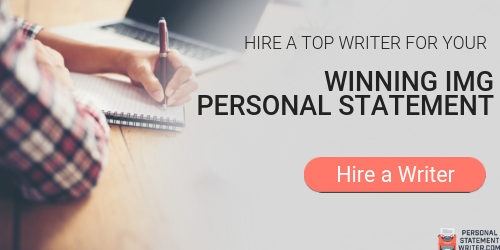 You are not the only person who's facing difficulties in writing the personal statement. Some major tips and tricks would give you adequate info to compose a best IMG personal statement.
Don't use more words than you need to, stay concise and to the point
Don't write anything obvious or irrelevant
Don't use clichés
Stay positive, don't talk negatively about anything
Remain honest throughout
Proofread to remove errors, have the proofreading done by a third part

Use technical terminology and such techniques as passive voice where appropriate

Make sure your essay has absolutely perfect spelling and mechanics

Ask yourself a few questions when you edit for content

Use the personal statement as a form of introduction

Develop a thesis about yourself early in the essay and argue it throughout

Write a coherent and interesting essay
What Should Your Residency Personal Statement from IMG Cover?
Your IMG personal statement will be written in response to a question or series of questions, these questions must be answered fully but you also need to think very carefully about what the selection panel are going to be looking for. The following areas should be covered fully:
Why do you want to follow this residency?
How does the residency fit into your future plans?
How are you qualified to fill this place?
What do you bring that will benefit them?
Why this specific residency in this institution?
We Can Write Your IMG Personal Statement
Writing University of Oregon personal statement is never easy, yet your personal statement will have to be truly outstanding if you want to be considered for your residency place. This is why many graduates in your position will turn to professional help to get their personal statement written. Our professional writers are highly qualified and very experienced in writing personal statements. They will be able to write you a statement that will get you noticed; it will be unique, highly personalized and focused on winning you that place.
Benefits of Hiring Our Writers
The IMG application writing can be done in the best way if you hire us for help. We are giving several perks of services that you probably could not expect to get.
You will get high-quality papers from us. We do not compromise on the quality of the text. The best quality editing is also done by experts.
Expect the excellent academic reputation by getting the original content free from all types of plagiarism. Unlike other teams, we do according to the claims made.
You will never miss the submission date as Deadlines are sacred for our writers.
Send it for a free revision if you feel that your paper could use more work.
We will be there to do your homework if you feel that your paper could use more work even if you wake up in the middle of the night to realize you've forgotten about an assignment.
Get the tasks as per their requirements i.e. residency personal statement from IMG.
The Documents We Craft for You
We have a team of genius writers who can actually deal with your tasks in the best way. Unlike other teams, we focus on delivering less but best quality content. This list can elaborate to you about our medical school personal statement writing services. You simply have to ask for the work and we would do it in the desired way that you want.
Admission essay (i.e. IMG application help)
Personal statement
Statement of purpose
Letter of recommendation
Cover letters
Resumes
You can also get the advantageous help of editing from our experts. They deliver the work that would be as per your expectations.
Let's get state of the art IMG personal statement writing tips and help by the experienced writers. Feel free to ask for the quick writing help as well!