If you desire to study in one of the most prestigious universities in the world then writing the Rice application essay or even the Rice MBA essay is a must and would be one of the formidable challenges you would have to deal with. But working with our personal statement writer can make the entire application process seamless when you take on our university admissions writing and advisory service help today.
Rice University ranks 16th place for national universities, 8th of best undergraduate teaching and 14th position for best value schools according to the US News ranking of universities 2019. And it offers prospective students all they need for an exciting learning and social environment. Sandwiched between one of the most renowned museum in the country, the biggest medical facility in the world, global event centers, notable research facilities with a strong research base, Rice is the university to belong therefore you need to have a clear understanding of the admissions requirement plus the rice university application essay.
Majors – Rice houses about eight majors or schools for learning. They include the School of Humanities and the Weiss School of Natural Sciences, School of Social Sciences. Graduate programs at Rice include the George Brown School of Engineering, Jesse Jones Graduate School of Business, Shepherd School of Music, School of Architecture,
Acceptance rate – Rice is highly competitive and it reflects in the 16% acceptance rate to study any course at the Rice University according to fall 2017 ratings for acceptance.
Submission deadlines – Application into Rice University closes January 1 while submissions for SAT or ACT closes December 1. The early decision closes November 1 while other information must be submitted on or before March 15.
Rice College Application Essays: MBA, College, University, Transfer
There are four types of Rice University applications that you would require the rice college application essay. And they include into the college program, graduate program, MBA program, and transfer programs. And to secure admission into each of these programs an applicant must write the Rice application essay.
Freshman application requirements:
Applicants can put in for early decision, regular decision, Quest-Bridge, Shepherd School of Music
Common and coalition application
Supplemental writing for Rice University
Non-refundable $75 application fees
High-school and college transcript
An ACT or SAT test score
School report/ counselor recommendation
Teacher recommendation
Architecture applicants portfolio
Transfer application requirements:
Transfer students into Rice usually should expect nothing short of the best academic experience except for the initial adjustment to a new schooling environment. As part of the requirement include:
To pursue an undergraduate degree you need minimum 12 credit hours plus a CPGA of 3.2 or better to qualify
Transcript from other programs, high school, and college transcript plus report
Rice writing supplement
Application fee of $75
SAT test with two related subjects or ACT test
A target score of 75th percentile, 34 for ACT and 2330 for SAT
Evaluation letters from two college instructors
University or undergraduate application requirements:
A minimum of a B or 3.0 GPA
GMAT and GRE scores
TOEFL exams with a minimum score of 90 at the internet-based (iBT) exams, 250 for the computer-based (CB) TOEFL and 600 for the paper-based TOEFL. TOEFL and IELTS are for foreign and non-native English applicants
IELTS test with minimum score of 7 is for all students requiring a VISA
Graduate and MBA program requirements:
Apply via coalition or common application site
Visit Rice website for the list of program directory
Transcript or academic history
Test scores – GRE, GMAT, ACT, SAT
Letters of reference
Two letters of recommendation from professors
Statement of purpose
$85 application fee
Please see our website for Rice application essay examples to serve as a guide.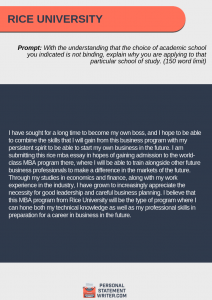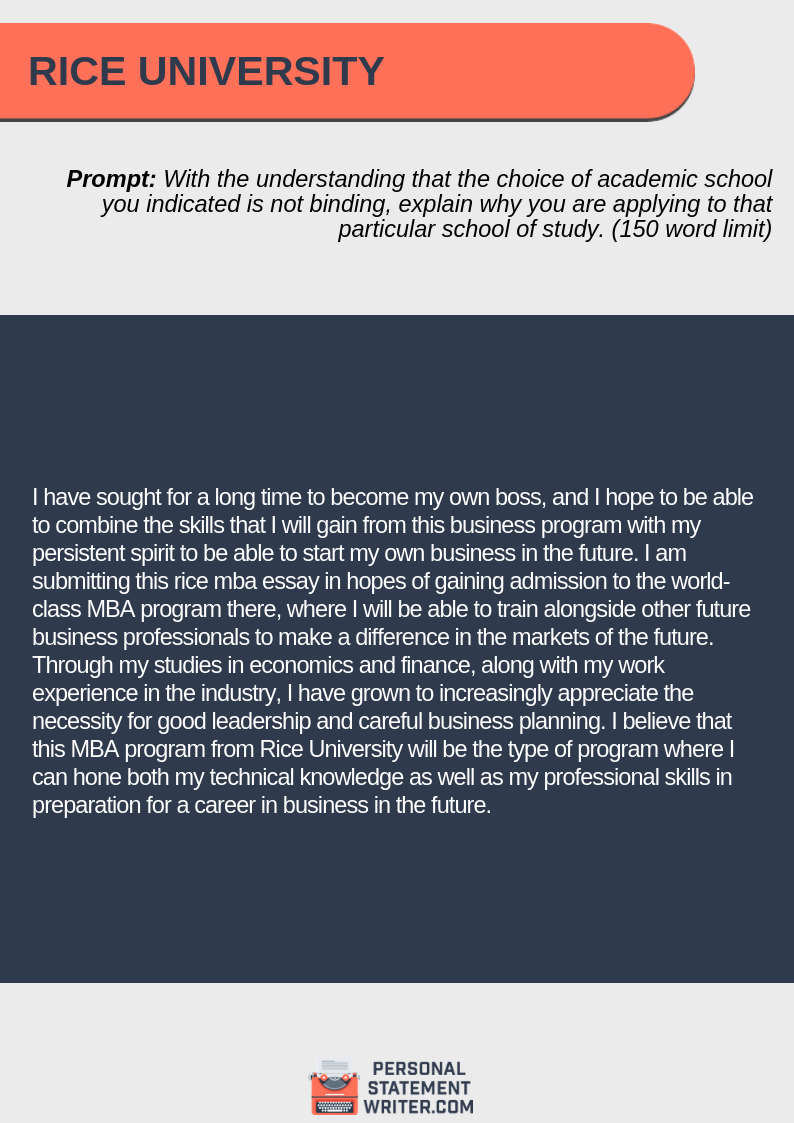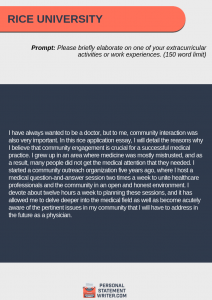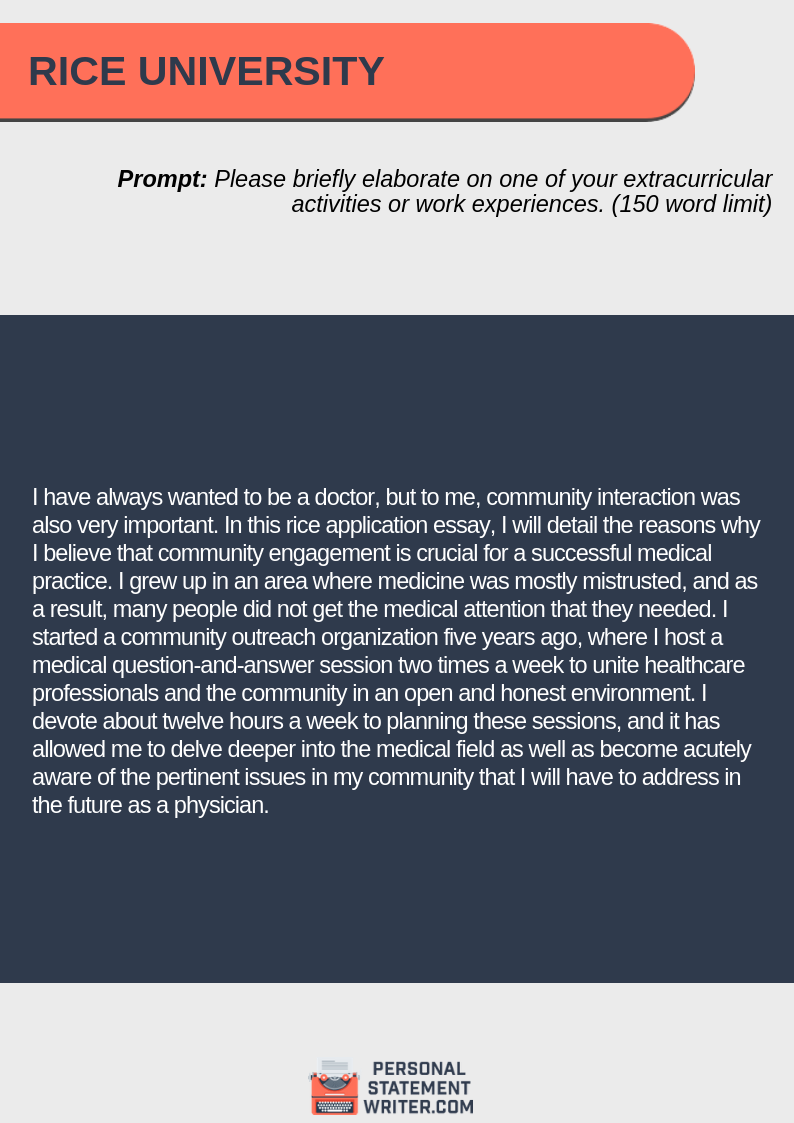 Rice Supplemental Essay Prompt: Rice University Mission Statement
You need to respond to each essay prompt in line with your goals and rice university mission statement. The Essay prompt includes:
Essay Prompt 1:
There is a massive breadth of intellectual opportunities here at Rice. Further, explain your intended major and other areas of academic focus you may explore. (150-word limit)
Response:
Here, in a succinct manner mention the course major you intend pursuing and then link it to your past academic experiences. Write about your educational dreams at Rice and how you intend achieving them. Investigate about research interests and focus at Rice and how will pursue similar interests.
Essay Prompt 2:
What aspects of the Rice undergraduate experience excite you and led you to apply? (150-word limit)
Identify academic and extra-curricular activities, sports and more that you look forward to being a part of. Read up all you can about academic groups and social groups and how you would work towards achieving them.
Rice is lauded for creating a collaborative atmosphere that enhances the quality of life for all members of our campus community. The Residential College System is heavily influenced by the unique life experiences and cultural traditions each student brings. What personal perspectives would you contribute to life at Rice? (500-word limit)
Response:
The focus should revolve around your personal experiences, diversity issues, etc. Utilize growing up experiences and more to help the committee understand the value you would bring on campus.
Essay Prompt for Each Type of Application
Essay Prompt
Please briefly elaborate on one of your extracurricular activities or work experiences (150 words)
Response:
Write about an experience or activity that you hold dear or precious to heart and that has had a great impact on your development. It can be any activity asides academics. Look out for activities closely related to the different student organizations at Rice and can show direct experience level.
Essay Prompt
With the understanding that the choice of academic school you indicated is not binding, explain why you are applying to that particular school of study. (150 words)
Response:
Write about the value a course of that nature will help you bring to the society around you. Do not focus on the financial gains it will eventually bring but concentrate on what drives you toward a course in that field. Talk about specific academic programs at Rice and mention some professors and how their works can be influential to your dreams. Talk about the school environment and more.
Essay Prompt
How did you first learn about Rice University, and what motivated you to apply? (250 words)
Response:
Focus more on the benefits of studying in Rice based on the quality of the academic program, research, other institutions and programs linked to Rice University that can help your future goals. Also, dwell on the sociocultural nature of Rice and link it to your personal goals and personality.
Essay Prompt: 'The Box'
In keeping with Rice's long-standing tradition (known as "The Box"), please share an image of something that appeals to you. See the help section for more information.
Response:
You need to upload a photo that is self-explanatory. It should be an image that might talk about something from your essay. You could display a picture of a toy from your childhood if it relates to something in the line of AUTOCAD, engineering, and robotics for instance. You can use an image of the beautiful scenery you visited or a photo of a mentor with a quote attached possibly or pictures that conveys strength, vision, goal, etc.
Tips on How to Answer Each Rice Supplement Essay Prompt
When writing the Rice supplement essay avoid the use of sentiments when writing about your experiences, and activities but make sure to draw a link always between the institution and your goals.
You need to be precise and concise in stating your views, relationships and on how it relates to Rice University.
Be specific and focus on fewer experiences and activities rather than trying to draw on too many cases studies for each prompt.
Try to draw a link between the response on the first essay and other essays.
If you can, pay a visit to Rice University to ascertain how their lectures are as well as other academic activities. You can also try to reach out to existing Rice students or alumni to gather more relevant information.
You need to do ample research about Rice University and talk about specifics that indicate that you have truly know the institution and desire to be a part of the community.
Even if two or three institutions have similar questions try to re-write the essay in a smart way without sending the same essay to all institution. You can use the same stories but be smart about it.
Avoid repeating information use in either the coalition or common application. Every essay must carry something new for the admission committee.
Give yourself ample time to write, edit and proofread long before the submission date.
Let someone else see your Rice application essay, GPA waiver letter, test ACT and SAT test writing or preparations before submission.
Get our professional help with writing and editing your Rice application essay.
Our Expert Rice Application Essay Prompt Writing Help
Fast and efficient writing service
Our team of essay writers possess decades of writing experience for admission purpose and can guarantee not only an exceptional Rice application essay but it will be promptly delivered to your success. It's one personal statement writer per applicant but with relevance to your course of study.
100% original custom-made essays
At our service, we write with you, the institution and the overall goal in mind and that's why our success level through our
statement writer
, writing a personal statement or Rice essay prompt has always been first-class.
Reliable essay prompt editors
With writers covering their specific disciples only as well as working with Native English writers who have written for your admission needs for years our team of writers always know how to eliminate all errors with your work. Even when you write our team can help increase the value of your essay prompt by editing and removing unwanted matters.
Professional Rice admission advisory service team
Get the best advice you can ever need to secure an admission. We not only write to guarantee your admission success but also know what you need to do always to better guarantee your admission success.
Our Essay Writing Service Guarantees
Personal touch with writing
Error-free essay prompts
Quick delivery time
No infringement of privacy
Pocket-friendly price always
Money back guarantee
100% satisfaction guarantee
Be the likely candidate for Rice University admission when you order Rice application essay service help today!