The Importance of Having a Good MBA Personal Statement
Getting into Business School is not easy. You are going to be competing against many other applicants that are all going to have excellent qualifications and backgrounds. Standing out from them to be selected is going to be exceedingly difficult. With little difference in qualifications and other areas your personal statement will often be the only area in which you will be able to make an impact.
Your personal statement for business school will need to be written in a way that will make you stand out. This will require a huge amount of work on your part and may take several drafts before you will be truly happy with what you have produced. If all our efforts to write personal statement were in vain, we may help you to create it. Below you can check sample done by our writers.
As you can imagine you are going to be competing against a host of well educated and very experienced people for that valuable MBA place. So how do you guarantee your place? Well if you look at your application you will quickly see that the only place where you have any opportunity to influence the decision is your personal statement for MBA application. If you can make yourself stand out from the other applicants then you stand a much higher chance of being selected over them. Moreover, it's worth visiting our site where you may get additional information about biology personal statement.

Writing a Concise MBA Personal Statement
Your MBA personal statement or personal statement for MBA dual degree is not going to be easy to write; you will have to answer the questions that they ask while demonstrating clearly that you are worthy of a being selected over the many other applicants. You only have a limited number of words to use and within your limit, you need to sell yourself to great effect.
This means providing them with the following information so that they see you as worthy of awarding a place:
Show that you have had a long and deep interest in your area of study;
Show that an MBA is vital to your future and that it will add significantly to your career;
Show that you have the necessary skills to study an MBA; use clear examples;
State why the MBA you have applied for is the one you want to study; research it very carefully.
Writing a perfect personal statement is never going to be easy, especially when you consider that everyone else is going to be trying to write the most impressive personal statement also. You have to ensure that your personal statement clearly and carefully covers everything that the panel will want to know about you.
They want:
Students that have a clear view of why they need to study an MBA;
Students that have clearly defined how an MBA is going to impact their career and how they will use what they learn to their advantage;
Those students that clearly demonstrate that they have the drive and the skills to complete their MBA;
They will also favor those students that have a compelling reason for studying at their specific MBA.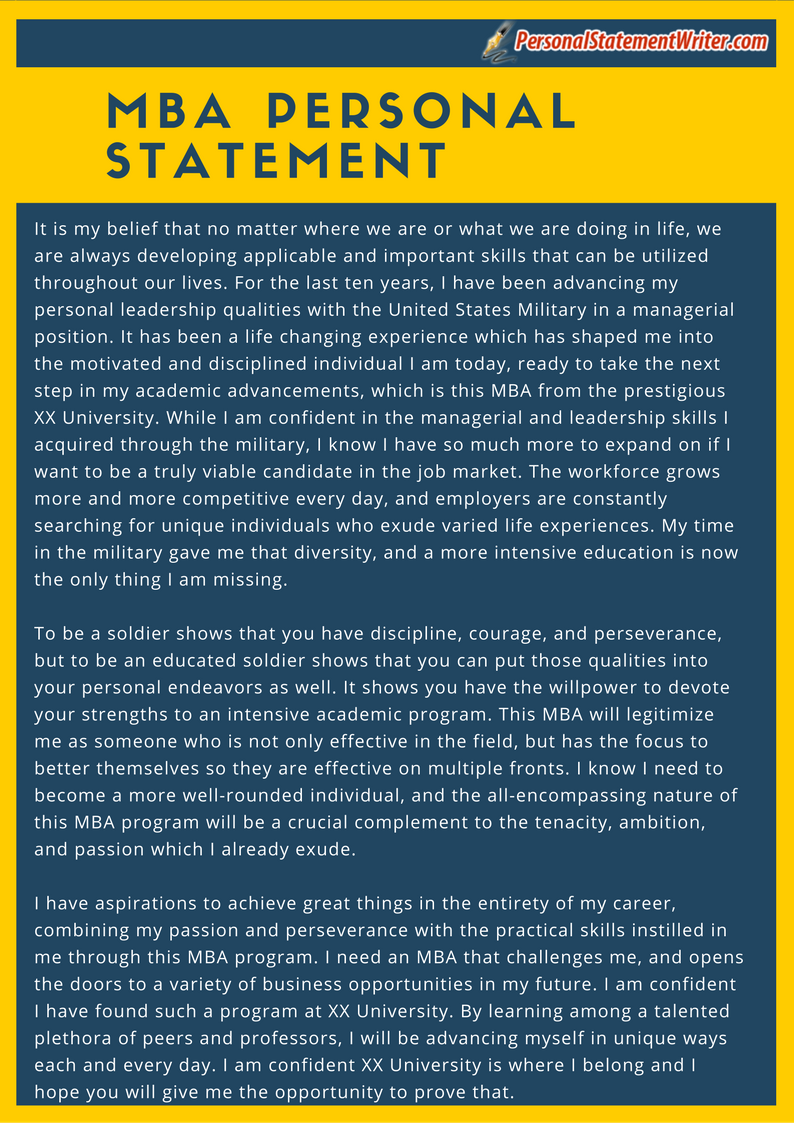 Using Our MBA Personal Statement Sample
Examples of personal statement writing for MBA applications are often the best way for you to get a clear understanding of what you will need to write. Good samples will show you the specific areas that need to be covered , how they should be written and also the specific style of writing you need to use. They should not be copied however. Not only is this plagiarism, it is also not going to help you win a place as your statement must be written about you and focused on the program that you are applying to if you want to be successful.
Writing an Effective Personal Statement for Business School
The following guidance has been prepared by our experts and will help you to ensure that your MBA personal statement will cover the areas that it needs to for the admissions committee:
Explain why you want to study for an MBA; do not mention that you are just looking for a bigger salary however
Provide information about what education you have already undertaken in this area
Explain your future career plans and how the MBA is vital to them
Show that you have the skills required to achieve your goals
Give specific reasons as to why you want to attend their MBA program
It is also important that the way that you write your statement will be capable of getting their attention and keeping it:
Your opening line is your hook, it must grab the attention of the reader and make them want to know more about you
Use a personal anecdote to provide a theme to hold your statement together and provide flow like a story
Never use clichés or quotations; all writing should be original to you
If you want to claim that you have a skill demonstrate it with an example
Be concise with your writing, your word count is limited and you must make every word count
Do not make obvious statements or repeat information that is found elsewhere in your application
Write about yourself only, this is a statement about you
Do not complain or talk about anything negatively
Proofread very carefully to ensure that you have no errors in your writing
Do You Need to Spend a Lot of Time Writing an MBA Personal Statement?
The personal statement for MBA applications is probably the most important document you will have to write if you want to get that place. Competition for MBA places is always very tough and the decision makers are looking for much more than students that have achieved good grades in the past and have good work experience. You need to prove to them that you really deserve that place and that you are going to benefit from it. The only place that you can make your impression is within your dental school personal statement prompt so it will need to be absolutely perfect in every way.
How We Can Provide a Winning Personal Statement
Your MBA personal statement or PhD application personal statement needs to be written perfectly which is why we work hard to employ only the professional personal statement writers to work with you. Our writers hold MBAs and PhDs and have a huge amount of experience in writing personal statements, just check our sample MBA personal statement. They know how to draw the relevant information from you to be able to write that perfectly targeted personal statement that is going to grab the reader's attention.
Getting Help with MBA Personal Statements
There are many websites and companies that claim to be able to provide you with writing help, however many of them do not actually provide any real services themselves. They will subcontract your personal statement to someone who will do the work for a couple of bucks but will have no idea of how to write an effective statement. If you want a personal statement that is going to do its job you need to use a specialized service such as ours that is going to work hard to ensure that you get a personal statement that will really do the job.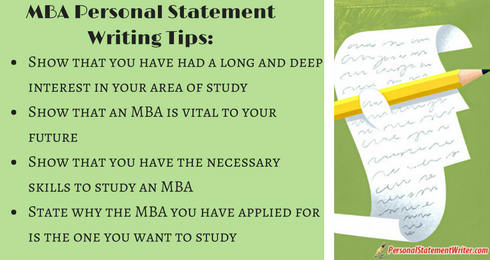 Our Writers Know How to Write Your MBA Personal Statement
With a personal statement being as important as they are for an MBA application it is vital that you have it written perfectly. Our experts are all degree holders and have significant experience in writing personal statements for MBA applications. They will work directly with you to ensure that your personal statement is written in a way that fully reflects the needs of the MBA to which you are applying.
We Guarantee Your MBA Personal Statement
We provide you with the best writers for your MBA application as well as the very best support. Our staff will ensure that your personal statement is free of plagiarism and will also carefully proofread what has been written so that it is error free. We guarantee that you will be fully satisfied with your statement and will work hard to correct any issues if you have any. If we cannot fully satisfy you we will provide you with a full refund. Our personal statements are delivered on time and our writers ensure that they are compellingly written. If you want the very best MBA personal statement or for instance writing personal statement midwifery, then contact our writers for the very best professional service you will find online.
Let's create a winning MBA personal statement together! Just give us a call!