Exploring how the brain works is the main goal behind neuroscience. In this course, students are given the chance to understand the workings of the mind as well as the best treatments for various psychiatric and neurological disorders that afflict people. Research, analysis, and practical applications of theories and principles governing neuroscience will be made available to students in order for them to acquire the necessary knowledge and tools to be able to contribute their expertise in this field. For those who want to pursue this course, here are a few requirements that you need to submit:
Curriculum vitae
Letters of recommendation
GRE scores
Official transcript of records
Personal statement
Whether it's writing neurology personal statement or neuroscience statement of purpose, this document plays a significant role in your application. It is important that you put some effort into writing yours to make it stand out.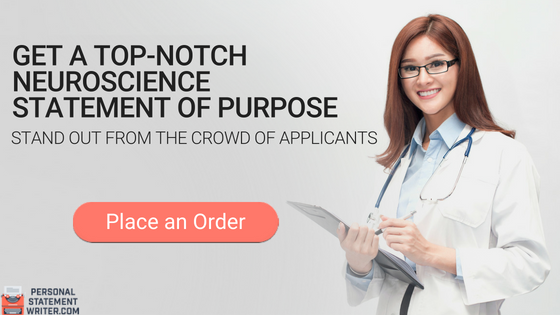 Guide to Writing Your Neuroscience Statement of Purpose
Getting a psychology and neuroscience degree can give you better prospects in the future in the medical field. However, if your personal statement isn't that interesting to read, you may have a hard time convincing your readers that you are qualified for the job. How will you be able to make your neuroscience personal statements impressive? Here are a few tips to consider:
Understand the program. Research on what the program you are interested has to offer. This way, you can build a personal statement that reflects the needs of the school in a student.
State your reasons. Never forget to write what made you decide to pursue a course in this field. Write down your reasons and provide details about it.
Engage your readers. The goal of the personal statement is to leave the right impression with your readers. How can you do this when you're not engaging your readers? Write an essay where you tell a story that the admissions officers won't be able to put down.
Keep it professional. Just because you need to engage your readers it doesn't mean that you shouldn't write in a professional manner.
Double check your work. A well-written statement should be free of any grammatical errors. Double check yours after writing to ensure that any errors are corrected accordingly.
What You Should Talk About in Your Neuroscience Personal Statement
Today, level of stresses and tensions have been increased too much due to extra burden, high pressures and tough completion both in business and jobs. Ultimately demands of psychiatrists and neuroscientists have been increased very much all over the globe. This increase in demand of neuroscientists has raised the competition among the candidates who want to make their career in neuroscience. Only those applicants could fulfill their dream of becoming neuroscientists who prepare a motivating and outstanding neuroscience statement of purpose or personal statement. To make a winning neuroscience personal statement, you should talk about following things in your statement;
Start your neuroscience personal statement or statement of purpose by providing a solid reason behind choosing the neuroscience as a profession. You can provide an example of your relative who is suffering from some neuroscience disease and you have taken inspiration from that case.
Explain your educational background and highlight some outstanding work in the field of neuroscience.
Now describe the worldwide fame of concerned institute in the field of neuroscience.
Don't forget to express your aim of life after successful completion of neuroscience program.
You must review a good neuroscience statement of purpose sample that is available at various online sites.
How Our Services Can Help with Your Neuroscience Personal Statement Undergraduate
Most likely you've found yourself in a situation where you're struggling to write a personal statement that is befitting someone who is pursuing a degree in neuroscience. This isn't surprising given that the pressure to write a professional paper is high. For those who feel that their paper needs more work or that they're better off having a professional write their paper, you should come to us right from the start. What our service can do for you is to deliver high quality, fully customized statements that focus on your skills and experiences that make you the best candidate for the program. The writer we will assign to you will be someone who has background in your field so you will have an easier time discussing how you want your paper to appear, whether it is personal statement for interior design or for neuroscience. We offer unlimited revisions too if you are not happy with the results until we get your approval. And the best part is that you don't have to worry about any additional charges because we will do this for free.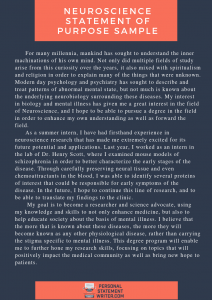 Get Our Service for All Types of Admission Documents
You can get our professional service for preparation of following types of neuroscience admission documents:
Personal Statement or Statement of Purpose
Personal statement or statements of purpose are two different names of the same document. Some institute demands personal statement while some ask for a statement of purpose. In any case, we provide best written, editing and proofreading service.
Admission Essay
Admission essay is the mandatory part of the admission application and our professional writers have much expertise in writing, editing and proofreading of admission essays.
Letter of Recommendation
Nobody has enough time to prepare a unique and customized letter of recommendation for you. We provide you this service in affordable price thanks to our skilled writers and editors.
Resume
Without a resume, no admission application is acceptable. So your resume must be highly impressive and comprehensive. We offer you best written and winning resume at the cheapest price.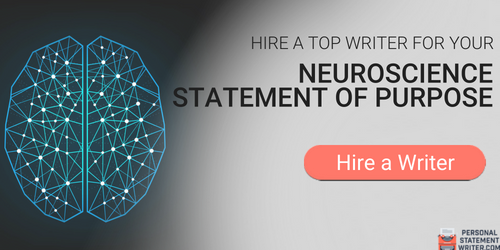 Order the Best Statement
There is no need to worry about your neuroscience statement of purpose because professional help is always on hand. You only need to send your order to us, attach the files that we will need, pay the fee, and we'll get right on it. For sure, you will love the outcome of your paper once we're done with it.
Also, our professional writing services are able to help you with:
neuroscience PhD personal statement;
psychology and cognitive neuroscience personal statement;
neurophysiology personal statement.
Get the help of our highly professional and skilled writer to make a winning neuroscience personal statement just within a short span of time along with enjoying the amazing discount offers!