Why Do You Need Our Help with Your 500 Word Personal Statement?
Having a personal statement is an essential document when applying to any academic institution or business and it needs to supply an insight into the person behind the application. It is the only document in the whole application process that gives you the chance to show who you are beyond what grades you achieved or what another individual thinks about you. Writing a 500 word personal statement is your opportunity to reveal your best qualities, why you wantthe job or study there, what makes you the most suitable candidate for it and how you stand out from other applicants. So, let's check out some tips and samples of statement of purpose 500 words.
Taking the time and effort in writing a truly unique statement within the set word limit is crucial to your application. Using a 500 word personal statement example is a good way to understand what should be included and how to present it, but you also need to ensure that your personal statement is all about you. A powerful and well-written personal statement will often make the difference between applicants that are very similarly qualified and have the same backgrounds. Using the many 500 word personal statement samples that are available online can be a good way to see how they should be written and our team has provided their own experience to help you further.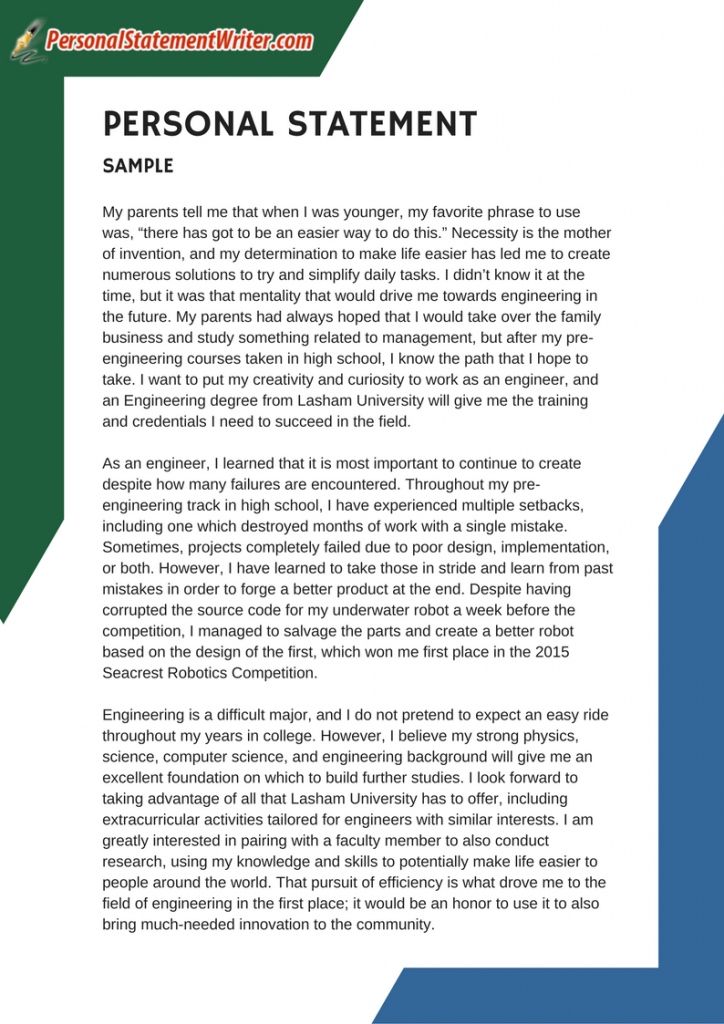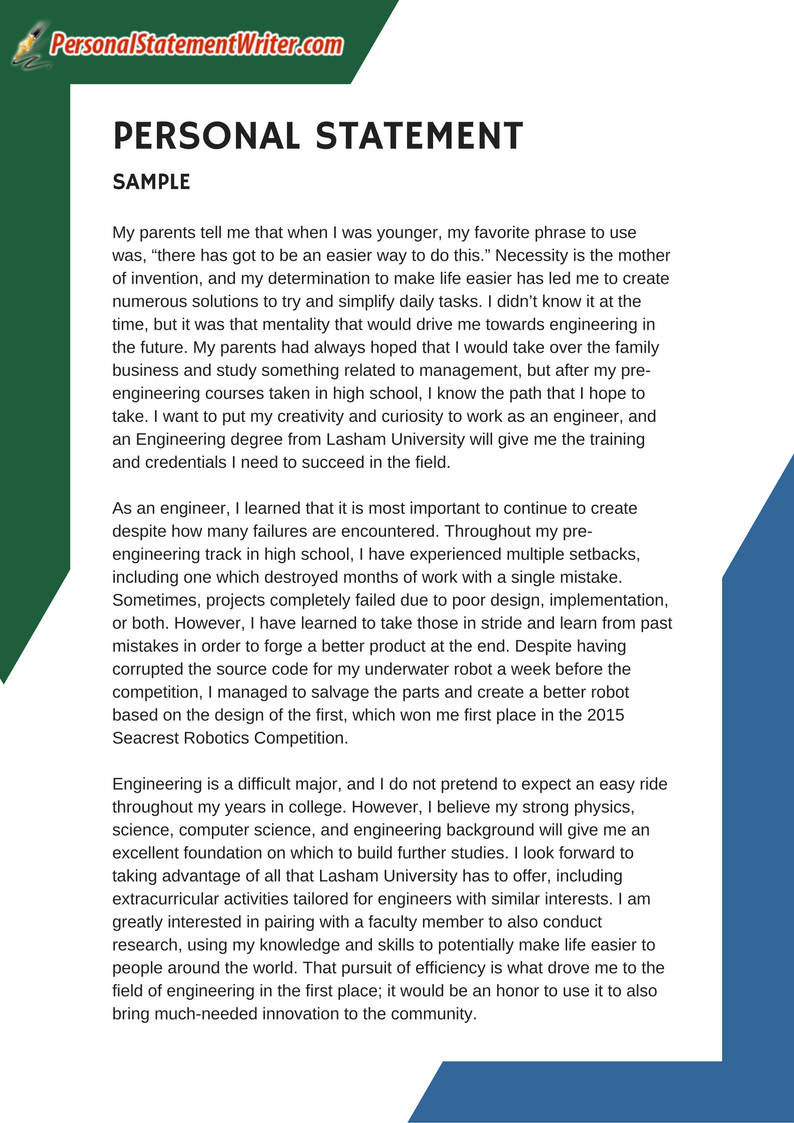 Our Best 500 Word Personal Statement Example
To start with, your personal statement should be specifically tailored to each place you are applying to so never use a generic statement which you send to multiple places. Do your research on each place and tailor your statement to it. Stick to the set word limit, you will be judged by how well you follow set rules and how adaptive you can be. Before you start writing a personal statement 500 words, you should be thinking on answering some key points which they will want to know:
Why are you applying and what do you think makes you a suitable candidate?
What inspired you to study or follow a career in this area?
What is your career aim?
What level of experience do you have already?
Aside from work or education, what are your interests or hobbies? Are they associated with your learning or career path in any way?

While we have covered the kinds of questions about yourself that you need to be thinking about and finding the answers to, we need to look at how you should write your personal statement 500 words. While using a 500 word personal statement sample can show you what to include, they don't really give any emphasis in the way it should be written.
How to become a pro in writing a personal statement for law school? Click here and check out now!
But remember never copy directly from any sample or example, apart from the plagiarism that will be noticed straight away, it won't be centered on you. When it comes to starting writing, you need to ensure that you get and keep the reader's attention throughout the whole 500 word essay and ensure that it flows smoothly to keep the reader's interest:
Start off with a relevant anecdote or quote
Stay away from using obvious statements and try not to repeat yourself
Don't be over clever or use synonyms, anyone who reads your personal statement should be able to understand it
Only give information that will support you in a positive way
Don't lie. Always be honest
Keep it brief, you should be looking to write two pages maximum
Don't use superlatives or clichés and refrain from using slang or acronyms
Be clear in what you are saying, keep it logical and be specific
Proofread. Always check your work for errors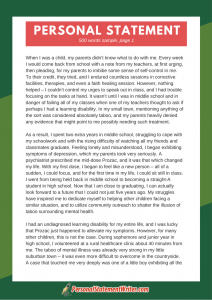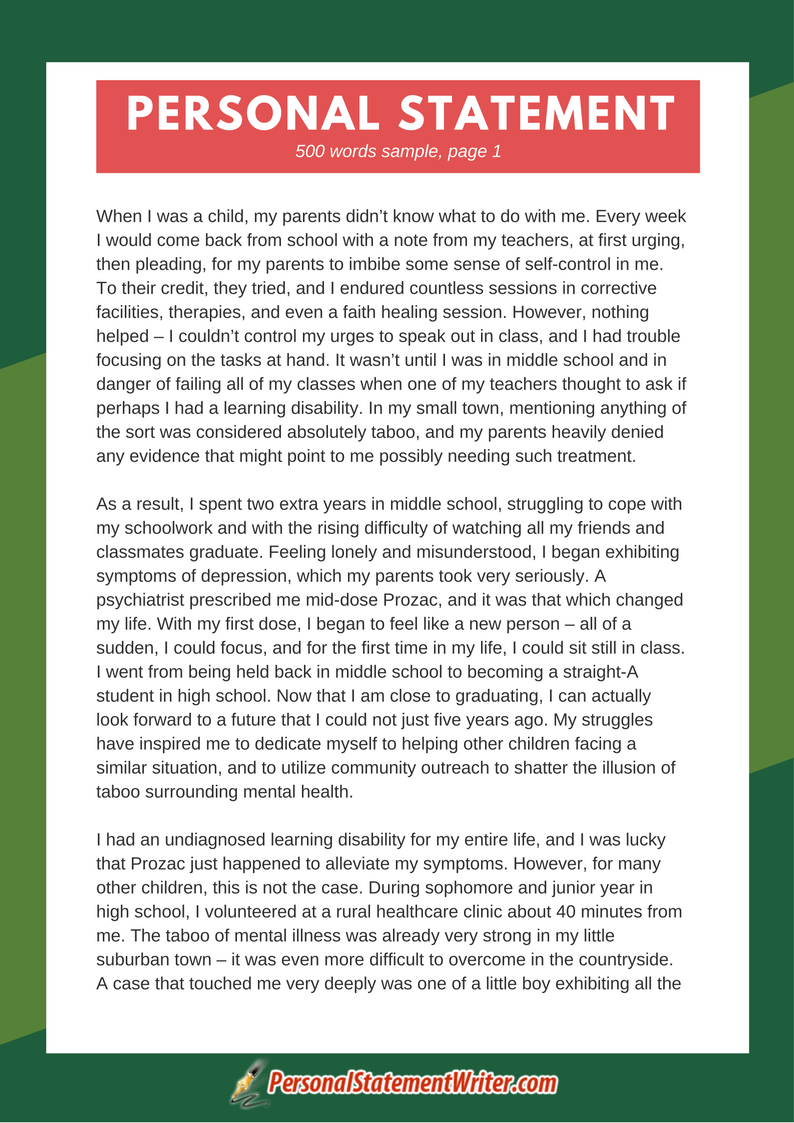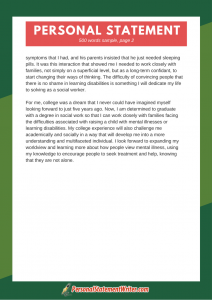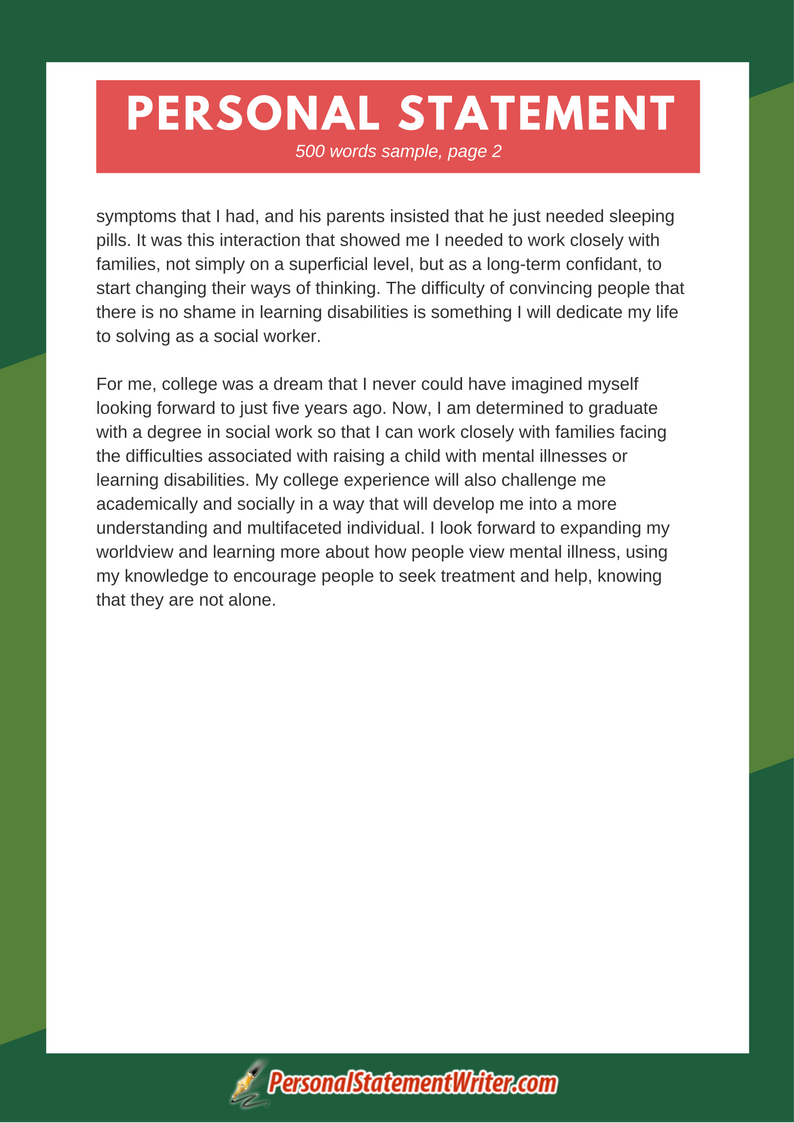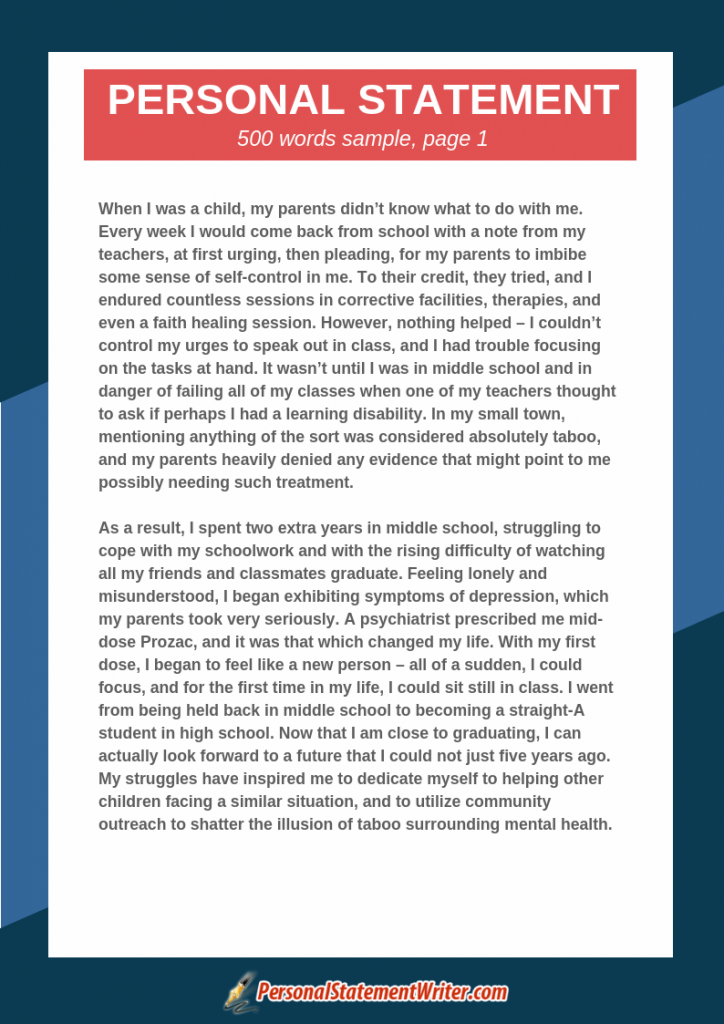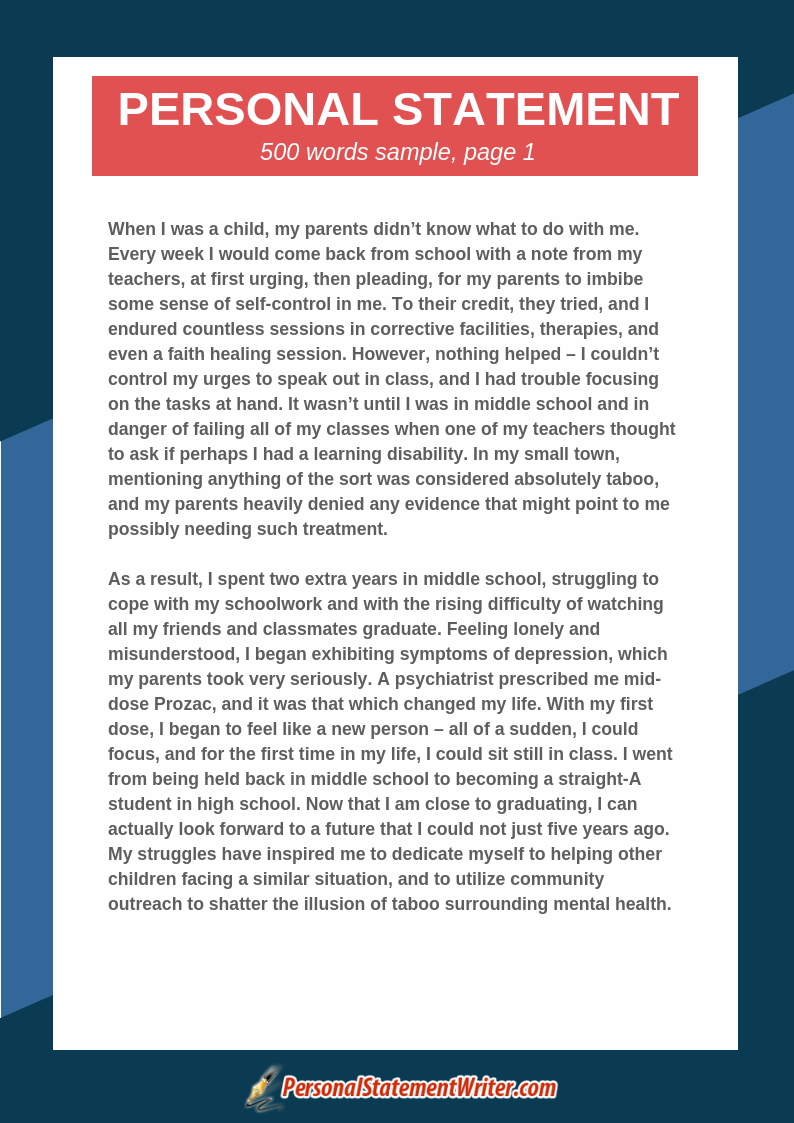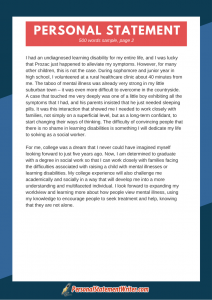 Schools That Require Application Essay of at Least 500 Words
Bard College
Cornell University
Columbia University
Dartmouth College
Duke University
Georgetown University
Northwestern University
Our Professional Online Personal Statement Writing Services Can Help You
Our highly specialized services are provided by some of the finest writers that you will find online. They are all higher degree holders within the fields in which they are asked to write and have a vast amount of experience tailoring personal statements to what an applications committee or HR department are looking for. You will be provided with a completely unique and error free personal statement that will effectively fully incorporate all your requirements balanced against the latest recruitment trends and institutional requirements within the requested word count.
So if you want a 500 word personal statement that can really make a difference, just contact our specialized writing services here today.