Your personal values statement is an easy and direct way to explain to your colleagues all about how you feel about work, life and everything else. It sounds simple, but it's a skill that needs to be learned just like any other. Check out a couple of examples by our graduate school personal statement writing services before you put pen to paper and you'll discover precisely what you'd like to write about.
What Is a Personal Value Statement? Definition
If you're uncertain as to what is a personal value statement and personal value proposition statement, you're not the only one, so let's start off with taking a look at what it means.
First and foremost, writing a statement like this is basically like creating a brand out of your moral values and career goals. You'll have to do plenty of thinking about yourself as a person in professional and private terms, and then you can come up with a unique statement that fits you perfectly.
All personal values statements have three components, starting with the values themselves. You'll then consider the people your expression of values is directed, and finally you'll state what you expect to achieve as a result of said values.
Now you know all about what is a personal value statement, let's think about how best to write one by following a few examples.
Our Recommended Dos and Don'ts of Personal Values Statement Writing
There are so many unspoken rules to do with writing personal statements like this. Here are a few dos and don'ts to off on the right foot.
Do
Update your statement from time to time. A static sentence is no good to anyone.
Share your statement with all the right people, whether it's friends, employers or whomever else.
Write a genuine statement. There's no need to pretend to be someone you're not.
Don't
Ignore personal characteristics that you think are commonplace. You might be harboring a hidden quality that's actually highly sought after.
Just write without giving it a good hard think beforehand. Planning is key to this and all endeavors.
Include potentially negative quality even if you're trying to put a positive spin on them.
Why Choose Our Writing Help?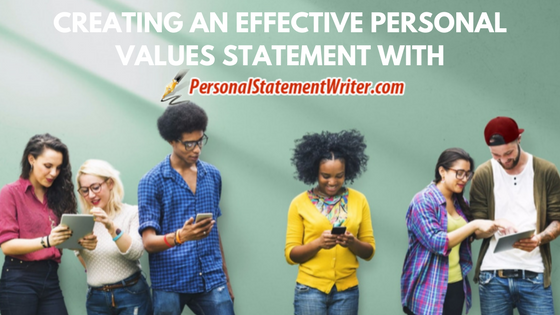 There are all kinds of reasons why you should choose our service to help you write your values statement or personal history statement, but there are four main characteristics that we have that set us apart from our peers:
We employ only the finest writers who are all based in the United States. They are highly qualified to compose creative and interesting mission statements for any purpose, whether work-related or personal.
We take originality very seriously indeed. Our experts run everything they write through the strictest anti-plagiarism software programs. The result is an original and entirely unique text every single time.
Communication is of vital importance. That's what values statements are all about, after all. We permit you direct contact with your chosen writer at all times, leading to a truly superior end product.
We're sure that you'll be completely satisfied with the services we offer. However, in the unlikely event that you change your mind about working with us, we provide full money back guarantee.
Try This Personal Value Statement Example
Here's one of the good brief personal statement for college examples that you can really learn something from.
"To have fun in my journey through life and learn from my mistakes" Richard Branson, Founder of the Virgin Group.
You can see clearly that he is ready to examine life events and improve himself based on his findings. This is possibly the best quality of all that you could talk about in your statement.
Here's Another One
As you examine a personal value statement sample, you'll soon see what makes for a great one. Being able to write one yourself is an entirely different kettle of fish, though.
"To be a teacher. And to be known for inspiring my students to be more than they thought they could be". Oprah Winfrey, Founder of her eponymous TV network.
This particular personal value statement sample excels at a number of things. You can see not only what she wants to be, but also the effects she intends to have on the wider world.
Your personal values statement is a vital part of your professional persona. Hiring professional writing to ensure you craft the perfect statement for your needs is a very wise investment and it'll pay dividends for sure. Think carefully about how you want to portray yourself and a professional writer will express your thoughts eloquently and effectively.
You can use an expert writer to compose an exclusive personal values statement just for you. Do this now and leave a real, lasting legacy!