Your UT Austin application essay and the best personal statement has to be explicit to catch the attention of the admission committee. Thousands of letters are submitted to them, so you might want to stand out.
A high-quality UT Austin essay is a must to gain a space in UT Austin. For a public university, the reputation of UT Austin has grown so much, leading to a low acceptance rate of 40%. This has however made the institution highly competitive. UT Austin ranks as the 15th best public university and 49th best for national universities based on US News ranking 2019. The result of all these factors has led to a high application list.
Why Write Perfect UT Austin Admission Essay
If you are about to compose your UT Austin admission essay considering an expert writing help may be advisable. We offer specialist writing services for all your writing needs. The essay could also be rewritten to ensure excellent delivery.
Writing the perfect UT Austin application essay is not as easy as it sounds. It goes beyond just writing the conventional essay to understand what the admissions committee expects to see. Some of the reasons it could be challenging writing the perfect UT Austin college essay include:
First-time college admissions essay writers might be lost on how to communicate effectively their experiences in line with the institution's need.
It involves a lot of research and a clear understanding of what the institution's mission is before commencing the admissions essay.
The writer must find out more about the key features about their majors, research focus, outstanding achievements, key professors and their studies, notable events and more to write a compelling essay.
The challenge of piecing the entire information together such as adding the applicant's experiences and the key features of the institution as well as the essay questions.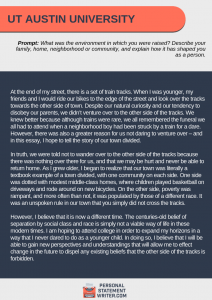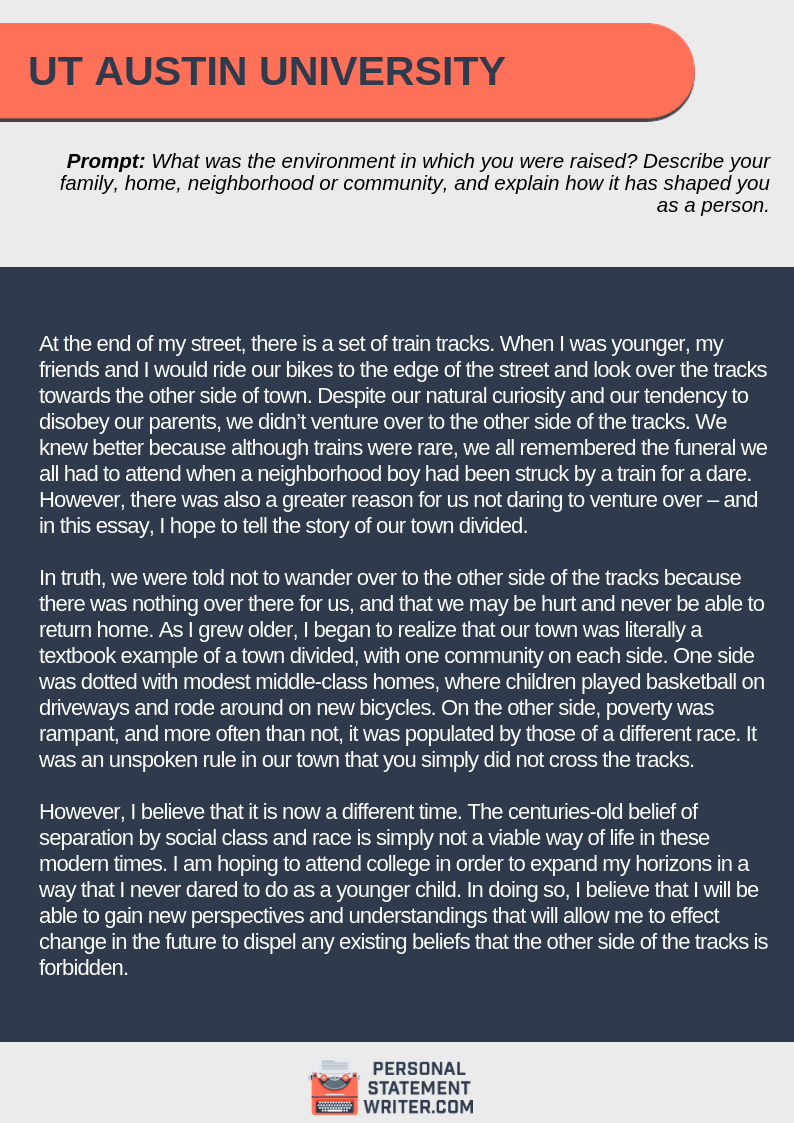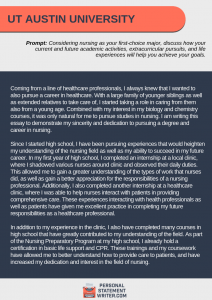 UT Austin Essay Application Requirements
As an applicant, you are expected to submit the stipulated requirements via the Apply Texas application or the Coalition for College Access, affordability and success application platform. Besides the UT Austin essay application requirements, the other University of Texas application materials are highlighted below:
Application fee of $85/$95 for international students.
One essay on the least. To be submitted on the Coalition for College Application or Apply Texas.
Short answers. It is required of all applicants to respond to three short prompts via the Coalition for College application or the alternative.
Transcripts. Your school is required to send your transcripts containing your coursework. Where this is not available, include a statement from your school.
Test scores. Anyone of SAT (of at least 1070) or ACT.
Please see samples of UT Austin application essay example on our website.
10 Tips for Writing UT Austin Personal Statement or Essay
Spending weeks or months for the perfect UT Austin personal statement or essay is all for a 5-minute assessment. So how do you put all your years of schooling into about 600 words?
Let the introduction be the hook liner to catch the attention of the admissions committee. Do a mini story of an experience that reveals your character and personality.
You need to display a high-sense of intellect and resilience. It should be obvious to the admissions committee that you are ready to learn as well as socialize.
Pick a title with an angle capable of calling attention to your content. Reading other UT Austin application essay examples that have worked is a good place to start. Note that the essay is more about you and not the topic. It should state your thought pattern, your views, ideologies, and philosophies.
Write from a creative angle. Tell the story your way. It should be your voice but in an intriguing manner.
Don't try to impress but display a deep sense of impropriety. It should be evident to the admissions committee that you took time out to study UT Austin institution properly, research, professors, academic and social life.
Never lie about your personality or who you are. Be discreet, straightforward and honest all the way. Stick to the truth as an attempt to create a false impression might blow up in your face.
Ditch clichés. Using uncommon words or phrases might not go down well as not every member of the committee might be familiar with the phrases.
Get feedback from friends and family to help rectify any likely error. But relying on our professional help from our astute UT Austin personal statement writer can just do the magic better.
Edit, edit and edit till it's the best. Proofread and make all necessary corrections based on the guidelines.
Common Mistakes in UT Austin college application essay Writing
Not reading the questions properly before responding to the UT Austin college application essay as well as not responding directly to the questions.
Poorly structured essay devoid of strong and catchy introduction.
Submitting an essay riddled with spelling and grammatical error.
Not making use of punctuation marks appropriately.
Poor use of subject-verb agreement and other commands of English.
Not using illustrations, stories and other strategies that help show to the admissions committee your relevance.
Our UT Austin Essay Writing Service Help
Professionally written essay
Our team of
personal statement writers
offers several years of essay writing experience to ensure you get an appropriate admission essay to deliver. Our writers understand the makeup of each institution and what would be looking out for in a candidate. Hence we can offer the perfect UT Austin essay writing, GPA application, and even IELTS test assistance today.
Applicant tailored essays
What you get with our essay writing service is a well-tailored essay that reflects your experiences and goals in line with the key features of the institutions. We help draw the relationship between you and UT Austin to help secure you an admission.
Professional essay editing service
Yes, you can choose to write your UT Austin essay while you entrust the editing and proofreading of the essay to our team of professional editors. They will help fine-tune your essay till it becomes world-class.
Our Professional Writing Service Guarantees
Affordable price offers exclusive discounts
Timely delivery of papers
Best essay writing help
100% money back guarantee
100% privacy of details
100% plagiarism free essay
Order now UT Austin essay and increase your chances of admission plus fast and reliable service at affordable rates!