Why Yale essay is important lies in the fact that the institution is seeking to test your writing ability through essay prompt. An understanding of what the essay prompt is asking and answering it in accordance will make a successful candidate. You can access personal statement example and other essays on our site as a guide.
As one of the well-known institutions in the world, Yale institution has a high elite status even amongst the other Ivy League schools. It also has a high academic standard from its prospective students. Yale ranks 16th position for QS World ranking of universities. US news ranking 2019 places Yale 3rd (tie) for National universities, 21st position for best undergraduate teaching, 4th position for best value, 1st place for high school counselor ranking, and 32nd position engineering program ranking. The programs and majors offered at Yale University are Humanities, Arts, Science, Technology and Math.
In answering the essay prompt on Yale why essay, the admission committee is interested in knowing why Yale University is the preferred choice amongst the Ivy League schools. Showing your passion and enthusiasm for the school will give the admission committee confidence about you.
About Yale Admission Essay, Yale University, Acceptance Rate, and Top Majors
Yale was founded in 1701 as a private institution and located at the New Haven, Connecticut and made popular for the arts, particularly music and drama – Yale Whiffenpoofs; Cappella group and the Yale Dramatic Association. The Yale Bulldogs refers to the sports arm of the institution that competes squarely in the Ivy League games. Other notable bodies include secret societies such as the Skull, Bones society, Key and Scroll society.
Yale has 14 colleges for student residence with a strong sense of cultural identity. The Yale University campus seats on 345 acres of land to give room for an exciting blend of academic and social activities.
Knowledge of the admission rate is the first thing to have. Yale University is highly competitive and has an acceptance rate of 7%. This means that for every 100 applications, only 7 are accepted. Hence, writing the Yale admission essay is very crucial to secure admission into such a prestigious institution.
Yale University 14 colleges houses 12 professional schools that make up the majors to include:
Graduate school or Arts and Sciences
Law school
School of management
School of medicine
School of engineering
Multi- interdisciplinary studies
Social sciences
History studies
School of art
School of nursing
School of drama
School of forestry and environmental studies
Divinity school
Area, ethnic, cultural, gender, and group studies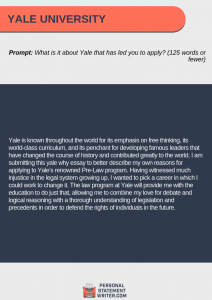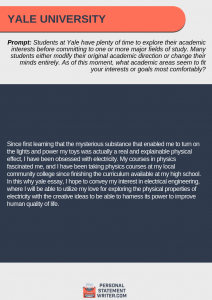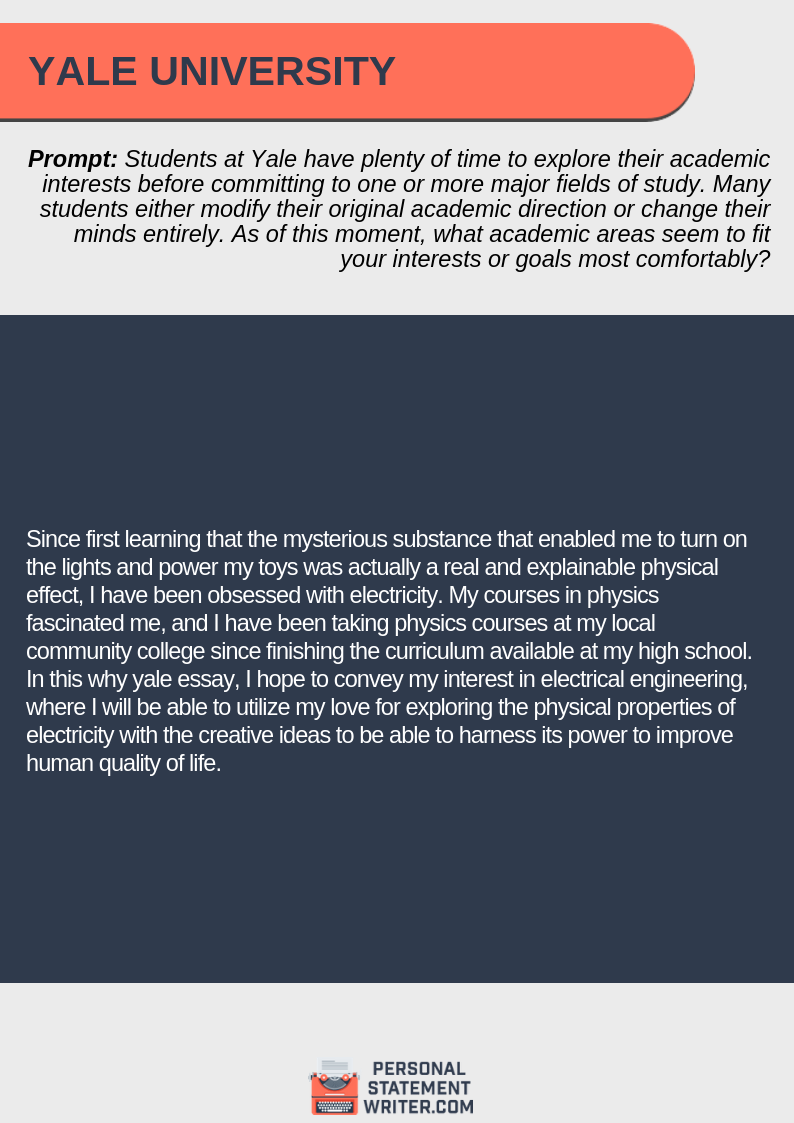 General Yale Admission Requirements and Yale Admission Essay Sample
A GPA requirement of 4.19
An average SAT score of 1540 on the 1600 scale and 2265 on the old SAT
ACT score for Yale is 31 on the 25th percentile and 35 on the 75th percentile
Two letters of recommendation
Extracurricular activities
Yale admission essay or application essay. Please see the Yale admission essay sample on our site as a guide
High school academic transcript
If adding a Yale University supplement application, you need to think it through. Most applicants submit the required documents; a Why Yale supplemental essay should carefully prepare. Submitting an audio recording, art samples, music scores, and film samples through the Slide Room is necessary.
Why Yale Essay Prompts?
The application is through Coalition Application, Common Application or QuestBridge Application. You are expected to provide answers to Short essay questions.
Applicants to Yale have the opportunity to commit to more than a major field of study. They are required to indicate up to three areas that suit their goals and interests on the Why Yale essay. You can see the Yale admission essay sample for a complete guide.
List of Yale Essay and Why Yale Essay Sample
#Prompt 1
Why do these areas appeal to you?
#Prompt 2
What is it about Yale that has led you to apply?
#Prompt 3
What inspires you?
#Prompt 4
You are teaching a Yale course. What is it called?
#Prompt 5
Most first-year Yale students live in suites of four to six people. What do you hope to add to your suitemates' experience? What do you hope they will add to yours? (35 words or less)
#Prompt 6
Think about an idea or topic that has been intellectually exciting for you. Why are you drawn to it?
#Prompt 7
Reflect on your engagement with a community to which you belong. How do you feel you have contributed to this community?
#Prompt 8
Yale students, faculty, and alumni engage issues of local, national, and international importance. Discuss an issue that is significant to you and how your college experience might help you address it (250 words or less).
Please see why Yale essay sample on our site as a guide.
Tips on Answering Each Yale College Admission Essay Prompts
In answering the prompt 'Why do these areas appeal to you' you are to provide your answer in 100 words or less. Stipulate the classes or majors you are interested in and give reasons in your Yale college admission essay.
What is it about Yale that has led you to apply? In 125 words or less, you are expected to write an essay that will stand out. Your short essay should give you a competitive edge amongst the thousands of applications. You are to go straight to the point without mincing words. You can also include a professor you admire and would like to work with. Other factors such as professional opportunities, Yale campus life, and your experiences with Yale students you have met and so on.
What inspires you? In 35 words or less you can tell some experiences that have birthed some of your ideas in life. Show your passion on the majors you have chosen and how excited you are about studying them at Yale. You need to access a why Yale essay sample to help you fine-tune experiences that have inspired you.
Think about an idea or topic that has been intellectually exciting for you. Why are you drawn to it? This is an essay that you are required to write about 250 words on. Do a lot of research on Yale University. Be specific. If you are interested in a drama program, talk about the experience you got during your drama lesson.
You are teaching a Yale course. What is it called? This is another way of asking what interests you. Show your passion. Anything you enjoy doing that you would like to share.
Most first-year Yale students live in suites of four to six people. What do you hope to add to your suitemates' experience? What do you hope they will add to yours? (35 words or less). You can answer this prompt by talking about your personality. Are you social, fun loving, humorous, and calm, just indicate?
Additional Documents for Yale Computer Science Essay and for Other Schools at Yale University
Apart from the Yale computer science essay or other Yale college admission essay, the institution requires other documents like personal statement (autobiographical information about the applicant), two letters of recommendation (written by a supervisor or teacher about you), resume (a tool for promoting skills, experiences, academic qualification).
No matter the discipline desired such as the Computer science essay Yale or another plus with regards specific exams, test scores, high scores in SAT math, ACT writing, Aice, ACT or more you can secure our professional help to get you looking radiant with Yale University admissions.
Our Professional Yale University Essay Writing Service Help
Professional Yale essay writing experts
Our team of professionals can help you stand out with any form of academic admissions essays. From Yale application essays to Yale letters of recommendations, Yale computer science essay resumes for Yale University, personal statements, statement of purpose, ACT writing and so on.
Professional Yale editing service
At our professional personal statement writing service, we have a unique team of editing personnel. They are writing experts with years of cognate experience, plus they possess advanced degrees in the varied disciplines.
Our team of proficient editors brings their wealth of experience to play on editing your Yale essays. We also render editing and proofreading services on computer science essay Yale and any other majors or sub-discipline.
So, if you have chosen to write personally, why not entrust the cleaning up and editing of your Yale University essay to our professional help to make it scale through, all the way.
Our Lists of Guarantees
100% Original Content essays
High Standards writings
Pocket-friendly prices
Professional writers available at your beck and call
24/7 working customer support
Confidentiality and anonymity
Order "Why Yale Essay' writing service help today and enjoy exclusive deals and top-notch written essay today!