HOW TO END PERSONAL STATEMENT ON A HIGH NOTE: HELP AND EXPERT ADVICE


HOW TO END PERSONAL STATEMENT EFFECTIVELY WITH OUR HELP
Just pass it to us and enjoy the benefits of our cooperation.

Personalized & Unique Text
Get a personal statement that is made only for you and about you. No templates are used, and the doc is written only from scratch based on your materials. We'll also do our best to highlight your key strengths!

Customized to the Application Requirements
Your doc will satisfy all the demands as we strictly adhere to the admissions committee's requirements, including format & content. In our capable hands, no need to stress how to end a personal statement!

Tailored to Your Program
Expressing your interest in particular aspects of each program is no less crucial than a compelling conclusion. We can help you emphasize how well you suit the program and the value you will add.

Communication With a Writer
You can always get in touch with your assigned writer directly. Feel free to provide any of your wishes on your personal statement conclusion, inquire about the project's status, or ask any other questions.

Free Unlimited Revisions
There is no need to be concerned if your document needs editing or if you find mistakes in the conclusion. After the deadline, you have two weeks to make the required changes with our free revisions.

Money-Back Guarantee
You also have 14 days after the deadline to request your money back if the conclusion made differs from what you expected. No more worries about getting scammed on shaky services – let us comfort you!
We are experts in writing :
Letter of Recommendation
Application Resume/CV
Waiver Request Letter
Statement of Purpose
Personal Statement
Admission Essay
And More!
OUR BEST WRITERS FOR YOUR CONCLUSION FOR PERSONAL STATEMENT
Put your faith in our skillful team. You can be sure our experts will expertly capture you in the best possible light!

Owners of University Diplomas

Specialists in All Majors

Prioritizing Candidates' Success

Ingenious at Crafting Documents

Experienced in Writing Winning Applications

Health Sciences
Vanessa is a master of words who will produce a flawless personal statement on medicine and convey all the passion you have for the field vividly. Be ready that she will get the job done on time or even ahead of schedule and that your expectations will be exceeded!

Marketing
This marketing specialist is bound to "sell" you into the university of your dreams! She knows all about the market, all the current trends, and the mistakes of the admission process. Therefore, she will be able to help you with the whole personal statement or just its conclusion for any program – each of them needs to be engaging, right?

Communications
Nobody knows better how to communicate your thoughts into the paper or how the conclusion for personal statement should look than Lydia. She is a pro at conveying everything in the best light. Just give her as many details as possible, and you will get a work of art for a statement!

Engineering
Adrian is a very dependable and meticulous writer – no detail will be spared. He can help you get into the program of any engineering sphere, from computer engineering to nuclear or mechanical. His ambition to make it happen won't disappoint you with your personal essay!

Education
Tony's PhD enables him to write and publish scientific papers, yet he chose to help others pursue the degrees they desire. He can work in various fields and is very knowledgeable about what the committees at universities like and hate, how to impress them, and which personal statement conclusion will work the best for them.

FEEDBACK ON RECEIVED PERSONAL STATEMENT CONCLUSION
Customer: #467895

Exceptional paper. Incredibly grateful!
Customer: #455904

You've gone above and beyond my hopes! I wholeheartedly recommend you to everyone!
Customer: #890543

absolutely delighted with my personal statement conclusion. it's something remarkable. Many thanks!
Customer: #905433

Outstanding work on my Statement!
Customer: #670943

Wow! I didn't expect it to be done that fast!
Customer: #779043

I did not have my hopes up when I ordered. Instead you guys changed my life completely and got me into the uni I was afraid to even dream of! Thank you!!!
Customer: #874032

The work was good.
Customer: #347859

The attention to details is in every aspect of this service. Thank you.
We Will Get the Program You Desire to Enter Within Arm's Reach of You!








How We Operate
Fill Out the Form
This procedure is not about challenges at all. Simply fill out a form to get us acquainted with your instructions and click on the payment button! If you want to receive a maximally customized personal essay, you need to provide us with particular data regarding your application, such as your accomplishments, the course you have picked, and the admission committee's formatting rules.

It is suggested that you consider our Questionnaire with special attention. Download it, fill it out, and add this file to the completed form. Please note that any data that clients submit is kept in strict privacy. Any personal information stays confidential and protected at any point.
Download a questionnaire

Carry Out Payment
When the payment process is finished, your author will immediately get down to crafting your personal essay. Set your mind at rest because each and every transaction is highly secured. Moreover, each client gets a transaction confirmation letter by email.

Payment methods:


Secure:




Customer Area
Once we get notified about a client's successful transaction, they will instantly be sent Customer Area sign-in information. A customer's password can be modified for a more comfortable website experience. The chief feature your customer area can offer is an anonymous chat with the assigned author and support agent. Furthermore, you can use your Customer Area to save completed admission docs, request revisions, or order any other essays.


Always Stay Notified
You will be informed about all the updates by email. Besides, customers can order SMS notifications to track the order execution nonstop. When your document is ready, the Quality Department will make sure it follows all the requirements. Then a client will be able to download the final copy with the help of the Customer Area. Your personal statement will be ready on time! If there is a necessity to modify something in your essay, reach out to us within 14 days. Our editors will do it in a flash.


WATCH AND SUPERVISE YOUR ORDER

Email & SMS Notifications
Select the most comfortable option of being notified about your current document status!

Customer Area
Get in touch with the expert, download essays, and request new documents effortlessly.

Customer Support
Turn to our support managers whenever you have any issues dealing with your application doc!
From How to Choose a Career to How to Conclude a Personal Statement
You probably feel that just yesterday, you could not decide what to study and which university to choose, and now your deadline for application submission is fast approaching. Yes, the journey to a career goes through picking a field to study, selecting an appropriate study program, and finally, writing a personal statement to get into the dream university.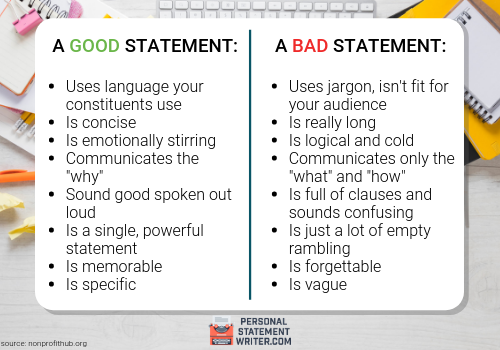 From the initial steps – choosing a career – you should be thinking of the final ones – how to conclude personal statement. This will help you a lot in making it a holistic narrative. You will be able to explain how you started and got to where you are right now. A personal statement should be memorable and vivid, so the more details about the whole journey you can spare, the better the result is. And lastly, knowing how to close a personal statement effectively also adds points to your application. And that is what we will discuss further in this text.
The Significance of a Vivid Personal Statement Ending
The closing paragraphs in personal statements are much more than just a requirement. They serve as the culmination of your story, your last chance to make an impression, and a chance to advance your eligibility. It is impossible to overstate the importance of a compelling conclusion because it is what can turn an average application into one that stands out, which is why you should know how to finish a personal statement.
Surely, there are a number of functions a vivid personal statement ending performs:
     1. Leaving a lasting impression
The conclusion is a final note that echoes over and over again. All the content of the paper can be long forgotten and mixed till you get to the final part, and this is a chance for your story to linger for longer.
     2. Framing
Leaving your personal essay without a proper conclusion is a bad trend. It makes the reader reread the whole text in order to remember it, and a conclusion gives it a sort of frame that structures the content and makes it easier to navigate.
     3. Topics closure
Each theme discussed in a personal essay has to lead to something – to concluding a personal statement with reflections on the importance and value of the mentioned events. It's a chance to reflect on your experiences, the insights you've gained, and the growth you've gone through.
     4. Stirring up the interest
If there is something unsaid or mysteriously and abruptly mentioned in your conclusion – the admission committee will be eager to find out more and proceed to the next stage of applying.
So, do not underestimate the power of a compelling conclusion of a personal statement. This is your one and only chance to make an impression, be noticed, and stand out from the crowd of applicants.
How to Close a Personal Statement Like a Pro
As mentioned, the document's conclusion is like a tune that never leaves your mind. But how to conclude a personal statement so that it really becomes an echo?
Reflect on all events previously mentioned – show how they brought you to where you are. Moreover, you could also tell about how you see the future once you finish your education.
Create a frame – start your document with a narrative and end it with the resolution in a conclusion. Then, the whole paper will be seen as a sort of story. This way, you won't have to guess how to end personal statement for long, but develop this from the intro.
Use an inspirational quote – it could be a quote from a famous person or someone close to you. However, it is vital to prove their value in your life throughout the whole personal statement.
Make a short summary – conclusions for personal statements should summarize previously mentioned points. Yet, make sure they are as brief as possible, and you are not retelling everything twice.
Do not neglect revisions – ask your friends or even experts to give feedback on your closing paragraph. You can even write a few versions of your conclusion to start with, then apply the necessary changes based on feedback, and choose the one that resonates the most with your external readers.
So, craft a conclusion that is easy to grasp and inspires. The more it resonates with the readers – the longer they will remember it. Besides, another way to make a personal statement conclusion like a pro is to delegate your documents to seasoned specialists who know all the nuances of the admission processes to your chosen programs and can transform your ideas into a convincing document with a vivid and motivating conclusion.
Ending a Personal Statement – What to Avoid?
There are also some things to steer clear of using in your final sentences of a personal statement. Such things will only create unnecessary noise and take up the limited text volume.
So, when ending personal statement avoid using:
Cliches
Ambiguity
Impersonal statements
Complaints about life choices
Negative tone
Slang and jargon
Remember that everything that you have lived through is an experience. It could be tough and unhappy times for you – yet it is what brought you to where you are and made you ambitious and strong. And that is the only way to write about it as nobody will be impressed with a whiner but with a resilient person – yes.
Find Your Inspiration for Great Ending Personal Statement
To find your inspiration when ending a personal statement, try to browse through examples and actual statements of other students available online. This will not only give you the idea of how to end a statement, how the conclusion should look like, and what to include in it, but also what to avoid in your own conclusion. Once you see a few of them, you will be able to tell which move is a good one and which is redundant.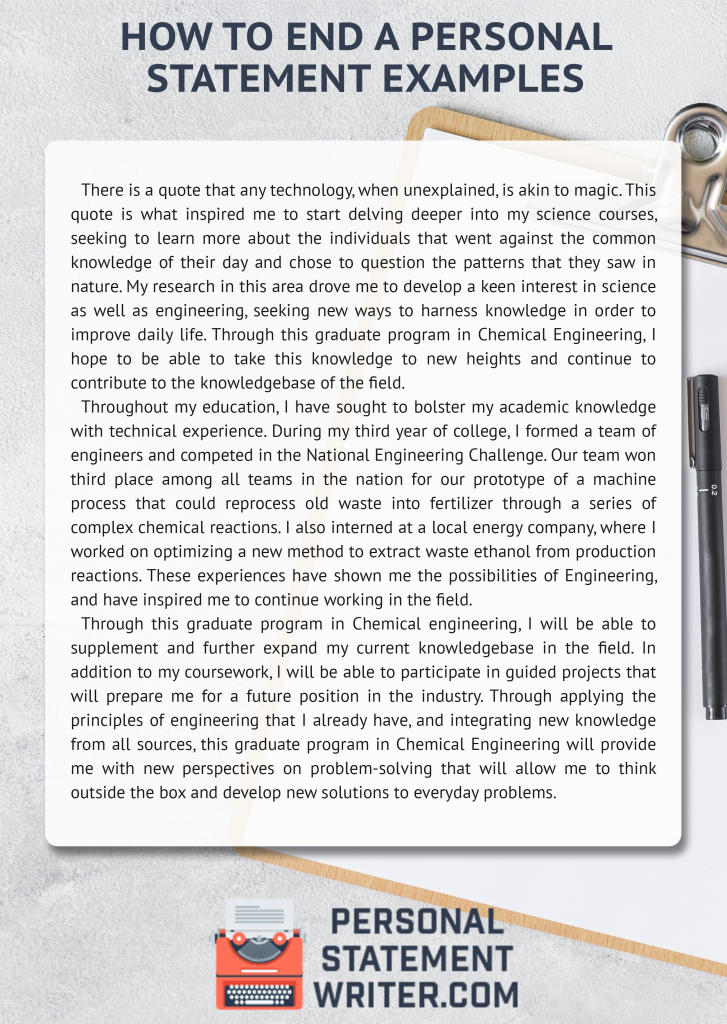 This is a great way to learn and enhance not just the conclusion for personal statement but the whole document. You will be able to make it unique, engaging, and compelling without repeating what is now a new cliche. The only thing is to pick only the samples from trustworthy resources and professional personal statement writers like ours to be confident in the author's proficiency and the work's quality.
Get Experts to Write Your Conclusion of Statement of Purpose
So, writing the conclusion of your application doc is a crucial step that can leave a lasting impression on admissions committees. This is your chance to bring your story to a compelling, impactful conclusion. Fortunately, if you want to make sure your doc ends on a high note, our team of expert writers is here to help. With their help, your conclusion personal statement will definitely resonate with those who review your application.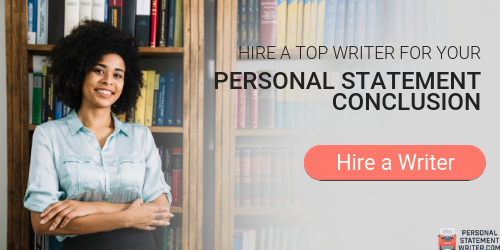 We place a high value on our customers' comfort when providing professional personal statement services, which is why we offer a variety of ordering options, let customers interact directly with the writers of their conclusion of statement of purpose for greater influence, and price fairly. Additionally, complete confidentiality and secure payment options serve as the foundation.
Delegate your personal statement closing paragraph to us, and expect total success!