Why Is Your Occupational Therapy Personal Statement Important?
Many applicants think that just because they have high grades and a good range of qualifications that they are guaranteed a place on the program that they have selected. The problem is that most places are heavily oversubscribed and many of the other applicants will have just as impressive grades as you do. When you apply to study as an occupational therapist assistant you will be required to submit an OTACAS personal statement as part of your application. With places being fought over by many other applicants your statement will often be your best chance of getting yourself noticed by the committee. Your occupational therapy persona statement is your chance to sell yourself to the committee in a way that will make you memorable. This will ensure that your name comes to the front when it is time for them to make their decisions as to who should be offered a place.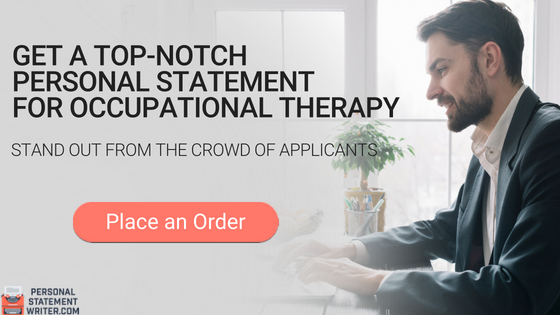 The selection committee is just as interested in who you actually are as to what grades you have achieved so they are going to put a lot of weight on your OT personal statement. Your occupational therapy personal statement will need to be attention-grabbing, has a correct structure, strong personal statement ending and able to say just the right things to get their attention and to swing their decision in your favor. The problem, however, is that it is very difficult to create a personal statement that is capable of making your application really stand out. Because of this many applicants will come to our professional services for support with their writing. We can provide you with help through some of the best-qualified writers and editors in the field of occupational therapy to help with your application.
How to Apply with Your OTACAS Personal Statement
Your application will be made through Occupational Therapy Assistant Centralized Application Service OTCAS which will provide you with a single point through which to apply to all of the available programs. This system is run by the American Occupational Therapy Association (AOTA) and will save you having to apply to all of the programs individually.
The following are some of the requirements that you will be required to upload through the portal for your application:
Your electronic application form
3 Letters of Recommendation
Transcripts
GRE scores
Personal statement
You should also check the requirements of each individual program that you wish to apply to as some have additional requirements that may be required in addition to what you will submit through the OTACAS portal. Our specialized services can provide you with support with all of your OTACAS personal statement and other application documents to a high standard.

What Should You Include Within Your Occupational Therapist Personal Statement
One of the most important of the occupational therapist requirements is your essay and OTCAS personal statement word limit and it has to be able to persuade the reader of your suitability for their program. To do this there are a few questions that you will need to cover within your occupational therapy personal statement:

Why do you have an interest in occupational therapy? Provide a detailed answer when the interest started and how you took the steps to follow your interest.

What career do you see for yourself in occupational therapy and why is this program important to your career? Provide your own overview of your goals and how you see yourself in the future.

Have you got the required skills that they are looking for? Don't just repeat your resume and provide clear examples supported by real-life stories.

Why do you want to study with their specific program? Provide the reasons how the program and university may help you in fulfilling your career goals.
We Are Qualified to Write Your Occupational Therapy Personal Statement
There are many services available online for writing that will say that they can write your personal statement for your occupational therapy application. But most of these will just provide you with the cheapest writer that they can find irrespective of what qualifications and experience they have. We, however, are specialized services for personal statement writing that will provide you with a highly qualified personal statement writer that is:
Highly experienced in writing personal statements
Has a full understanding of what the committee expects to see
Holds a relevant higher level degree to your application
Speaks English as their first language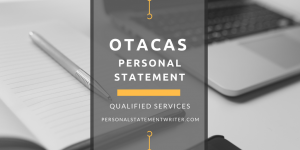 We Offer the Best Support for Your Personal Statement for Occupational Therapy Assistant
We can provide you with the best support as we offer our help through some of the best writers and editors that you will be able to find online. With more than 5 years in operation helping students with their application in this area we have put together a team of specialists that have proven their abilities in this field.
Through our team we will be able to provide you with a true expert to work with that is:
A holder of a post-graduate degree in a relevant occupational therapy field
Highly experienced with writing personal statements and other application documents
Knows the application process inside out
Fully understands what each member of the admissions committee will want to see
Can write in perfect English
Investigate all things you need to know about our online DICAS personal statement writing help!
We Work with You for the Best Results
There are far too many services online that provide writing that has simply been copied or provided off the shelf in a generic fashion. Your personal statement must be clearly written about you as well as being completely unique. We achieve this through providing you with direct communication with our experts.
They work with you to draw out all of the information that they know is being looked for by the members of the committee. They will then help you to organize this information into a perfectly written and engaging personal statement that will get you noticed. If you think that anything within the initial draft is not the way you want it then just let us know and we will provide you with unlimited revisions until you are able to submit your statement confidently.
The Benefits of Our Submission Services
Working with us you will always get to work with the best specialists in your field that fully understand what needs to be written and how. This ensures that you can submit your application knowing that it has a very good chance of getting you noticed for the program you have applied to.
All of the work that we provide is always supplied with free proofreading and plagiarism testing so that you can be sure that it is error free and original to you. We also deliver everything on time within our promise date as well as offering you a full satisfaction money back guarantee.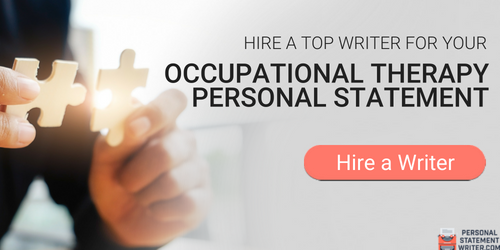 We Guarantee Our Occupational Therapy Personal Statement Writing Services
Whether you are looking for help to write your personal statement occupational therapy or you just want it to be professionally edited we have the experts that you need. We can provide you with the very best help as we offer:
Online support and ordering that is accessible at all times
Highly competitive pricing that anyone can afford
Fully confidential support
Plagiarism testing as standard to confirm your statement is totally original
Proofreading by experts to eliminate any errors
On time delivery within the agreed deadline
A full satisfaction money back guarantee
If you want to have the very best chances of acceptance to your chosen program just contact us today for help with your occupational therapy personal statement!