Any student applying to the Kellogg Northwest University has a lot of preparation and documentation to fulfill. And writing the Kellogg MBA essay prompt is one of such requirements. Answering the questions and fulfilling the essay requirement might not be so difficult but simply requires an understanding of the key details to include. And that is where a lot of applicants miss it.
A poorly written Kellogg essay MBA or when writing personal statements for Kellogg MBA means you lose another chance of securing admission into this prestigious institution of choice.
Key Information about Northwestern University: Kellogg Business School Application
Kellogg School of Management, Northwestern University focuses on bringing innovation into learning. Each program for full time and part time for students focuses on the development of the students' personal, educational and professional goal. A Kellogg business school application grants student's access into one of the oldest business schools in the world with a culture of learning and building world-class systems to shape economies and businesses by building thought-leaders and problem solvers.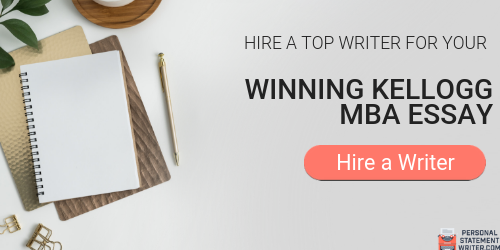 Kellogg for three years running for 2016, 2017 and 2018 ranked an average of 12th position, the same for FT Global ranking. While in 2019 US News places Northwestern University at 10th position for national universities. In 2017 it ranked 4th position for US Business schools. So, it's worth the effort to pursue a Kellogg MBA application.
Acceptance Rates in Kellogg Northwestern University
Kellogg's MBA program acceptance rate of 9% for 2017. Kellogg's MBA program for class 2019 for the two-year course had over 478 students. A total of 42 percent were females and 35 percent are international students and 732 scores as the average for GMAT®. Writing the Kellogg letter of recommendation would become a requirement at some point. You can you can find Kellogg growth essay sample and others on our website. The average work experience for students admitted into Kellogg's MBA program is 5 years from a range of 3.5 to 7 years. The average of admitted students into the Kellogg MBA program is 28 years.
Top Majors at Northwestern University Kellogg application
In terms of Northwestern University Kellogg application, no less than 27 percent of the admitted students come from a consulting background. Another 20 percent of the students have a background in financial services, forty-nine percent have majors in business/economics, 12 percent in ICT/ communications, 30 percent from STEM and the other being humanities majors. Northwestern Kellogg admission MBA program runs for two academic sessions commencing in September covering seven majors. Students without majors can take a graduate course in general management.
As part of the admission requirement, you would need to write an MBA personal essay for Kellogg.
Programs
Kellogg runs a full-time MBA program covering two and one years. Kellogg's one year MBA program helps students cover specific courses for career advancement and wrap up in one academic session.
The programs at Kellogg is innovative covering multiple disciplines with more than 1,000 learning opportunities and exchange programs in as much as 20 countries.
The two years full-time program provides students with an avenue to cover core industry courses extensively pursuing core and elective course.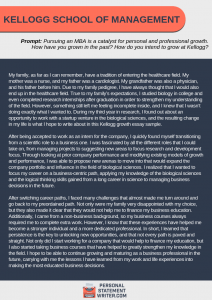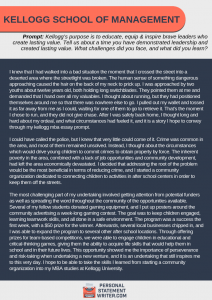 MMM or JD-MBA Dual Degree Programs
The MMM or JD-MBA dual degree programs include:
The MMM Program
The course leads to the issuance of Kellogg's MBA and MS in Design Innovation at the McCormick School of Engineering and Applied Science, Segal Design Institute.
JD-MBA
JD-MBA focuses on the legal field. It equips students with modern principles and techniques in business management, MS in Management studies plus MBA.
Admission Seasons
Admission starts September 2019 and January 2020. Round 1 comes up April 24, 2019, and August 221, 2019. Round 2 admission starts June 5, 2019, and October 9, 2019.
General & Specific Application Requirements into Kellogg
4-year baccalaureate degree (US)
Three-year undergraduate degree (India)
TOEFL/IELTS scores 7.0
Video essay
Application fee of $150.
GMAT/GRE scores
Kellogg letter of intent
Kellogg MBA essays
Letter of recommendation
Resume
Sponsorship letters from the organization
Academic transcript
Personal aptitude, leadership and management skills
You can order a professional Kellogg letter of intent, Kellogg MBA essays, see a 500 word statement of purpose sample and more from our qualified personal statement writer to stand out with admission requirements.
MBA Kellogg Prompts: Writing Personal Statements
In writing the MBA Kellogg prompt personal statement, you need to describe vividly your objective or goal for the profession of choice.
Explain to the admissions committee the steps or achievements or actions already taken to achieve your professional goals.
Understanding the majors and key features of the Kellogg MBA program, course, research and more, show how Kellogg can be of assistance to you.
What is Kellogg's value proposition for you and how will you make Kellogg stronger by being part of our community?
You can get the help you deserve with writing exceptional personal statements at our writing service today!

Tips on Answering Northwestern Kellogg Prompts: Kellogg MBA Essays
Prompt one
Kellogg's purpose is to educate, equip & inspire brave leaders who create lasting value. Tell us about a time you have demonstrated leadership and created lasting value. What challenges did you face, and what did you learn? (450 words).
Response:
To respond to the above prompt, you need to answer these questions properly:
What do you want to achieve in your professional life? What have you already done to get there and how do you think Kellogg can help you?
The focus is to build around the key purpose of Kellogg which is to educate, inspire and equip brave leaders when writing Kellogg MBA essays.
Key things to note:
Experience. One focus is about your professional or non-professional experience.
You can approach this question using the CAR technique – Challenge, Action, and Results. In answering CAR, discuss the obstacles and situations experienced.
Talk about key areas of motivation plus working/influencing with team members.
Discuss the results achieved in working with others.
Discuss issues relating to influencing, collaborating and leading teams.
Prompt two
Pursuing an MBA is a catalyst for personal and professional growth. How have you grown in the past? How do you intend to grow at Kellogg? (450 words)
Responses:Try to answer the following questions to write a top-notch MBA essay prompt for Kellogg:What is Kellogg's value proposition for you and how will you make Kellogg stronger by being part of our community?
Primary aim here is to focus on areas of past growth and how you think you would advance in your studies at Kellogg.
Things to note:
Help the institute get a clear picture of who you are from a professional or personal point of view, dealing with leadership and collaboration.
Take a tour of Kellogg's website to see what the key features, values, and programs look like. So that you can align your experiences, picking those relevant to the Kellogg experience. Identify how you want to see growth in those specified areas.
Relate your skills and how Kellogg can help one take advantage of opportunities, acquire more skills, build on emotional intelligence and lead in a team situation.
Highlight personal skills and aptitude and how they can influence future growth and development at Kellogg.
Kellogg MMM or JD-MBA Dual-Degree Programs Application Essay
For the MMM or JD-MBA dual programs:
Focus on why you think the program is the most suitable for you in line with your past experiences and skills.
You have limited space, so go straight to the point.
Discuss the value of a dual degree in line with your future goals and how they will help.
Explain the issues with your education and how a dual degree can feel the gap.
Re-applicant essay for Kellogg MBA:
Pay attention to areas of improvement educationally, management and leadership.
Discuss how those areas of improvement have helped made you a better fit for Kellogg MBA.
Discuss areas of weaknesses in your previous applications and how you have addressed them.
Explain any shortcomings in your academic history, work gaps, recommenders, etc.
Video Application Essay at Kellogg
This is an equally important aspect of the admission process and helps applicant demonstrate their relevance to the Kellogg community.
It should be interactive.
You are meant to answer the questions objectively, maintaining eye contact with the camera. You need to talk audibly with confidence and without fidgeting.
You have 20 seconds to view and think about each question and 1 minute to provide the answer.
You need Adobe Flash, webcam, internet access, a microphone to respond to the MBA video essay questions.
Learn how to do a one-man interview requiring no response from the other side just the questions.
Likely questions include: 'can we get to know you' – focus on your background, philosophy to life, values, etc. The second question includes: about your future plans and how studying at Kellogg can help you attain that height.
Our Professional Essay Writing Help
Custom-Made Kellogg essay
Each essay for Kellogg admission is specifically designed to suit the individual applicant. Our team of writing expert has all it takes to deliver a world-class essay for Northwestern Kellogg University.
At our service, we have zero tolerance for copy and paste work or plagiarized content. Therefore, we strive to always be at the top of the game, delivering only 100% original content, tailored to the applicant's need.
We work using secure servers to ensure that whatever information you supply is kept safe from third-party access. Even within our firm, no unauthorized staff is allowed access to your personal information.
We only offer the best of essay writing service with multiple revisions till you are satisfied. But in the case you do not feel satisfied at last, please feel free to request a refund in line with our 100% money back guarantee.
In line with your writing deadline, we strive to beat your record time always. So expect nothing short of a prompt delivery with your task.
At our service we provide top-notch Kellogg MBA writing personal statements service to cover the following areas:
Kellogg MBA personal statement
Letter of recommendation
Resume writing
Kellogg letter of intent
Kellogg MBA essays: personal statement
Get professional assistance with Kellogg MBA essay prompt today!