What Is the Statement of Purpose for Post Baccalaureate Education?
Post-baccalaureate or "postbac" certification is additional education that you can follow after you have gained your initial bachelor's degree. This certification is especially useful if you are looking to move away from your initial field of study or are looking to specialize deeper within a field such as a specific area of medicine. It is also useful if your initial results and GPA are not of a high standard as it shows your commitment to continuing your studies, very helpful if you want acceptance into a master's program in a competitive college. Your statement of purpose post-baccalaureate is going to be of similar importance to your application essay or UCAS personal statement that you wrote for your first degree.
With most programs being heavily oversubscribed getting accepted will take more than simply good grades. You will need to persuade them of your value to their program through an excellent application which will need a perfectly written letter of intent or personal statement.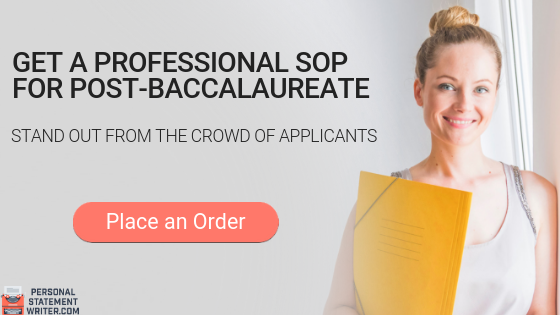 But learning how to write a personal statement for post bacc applications is not easy. If you look at any post bacc personal statement example you will see that the standard that is required of you is very high indeed. Not every applicant has the time or the writing skills to be able to produce something that is going to give them the edge that they will need with their application.
Check Out a Good Post Bacc Personal Statement Example
Our AMCAS personal statement writing help has been helping students with their med school application and post bacc submissions for more than several years. By working with us you are going to be able to gain the support of an expert in your specific field that will be fully qualified to help you. We are confident that with our support you will be able to make a submission that you can be proud of.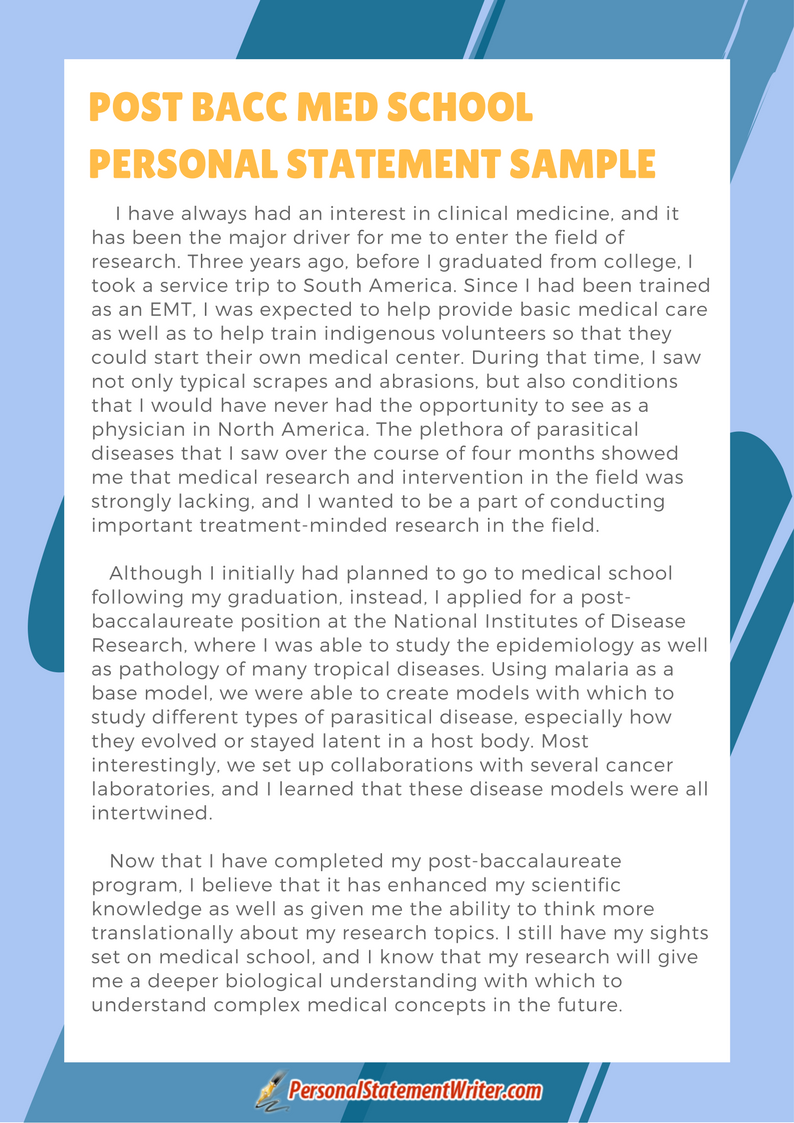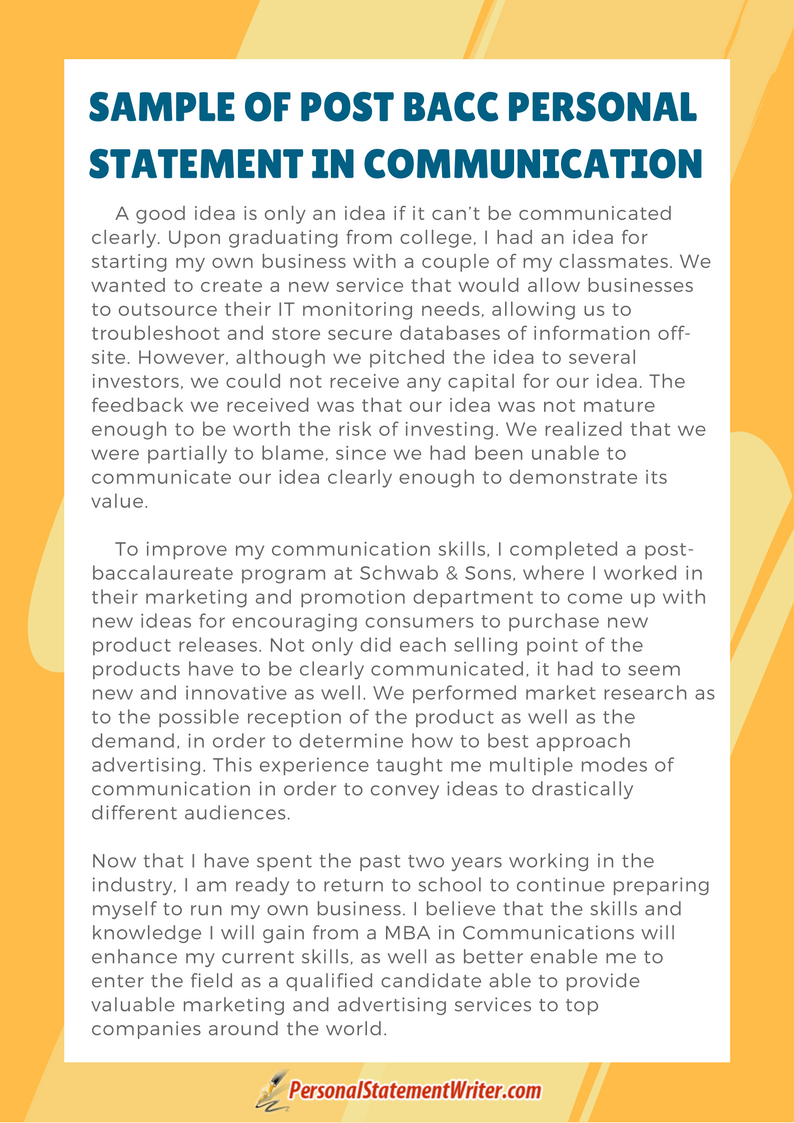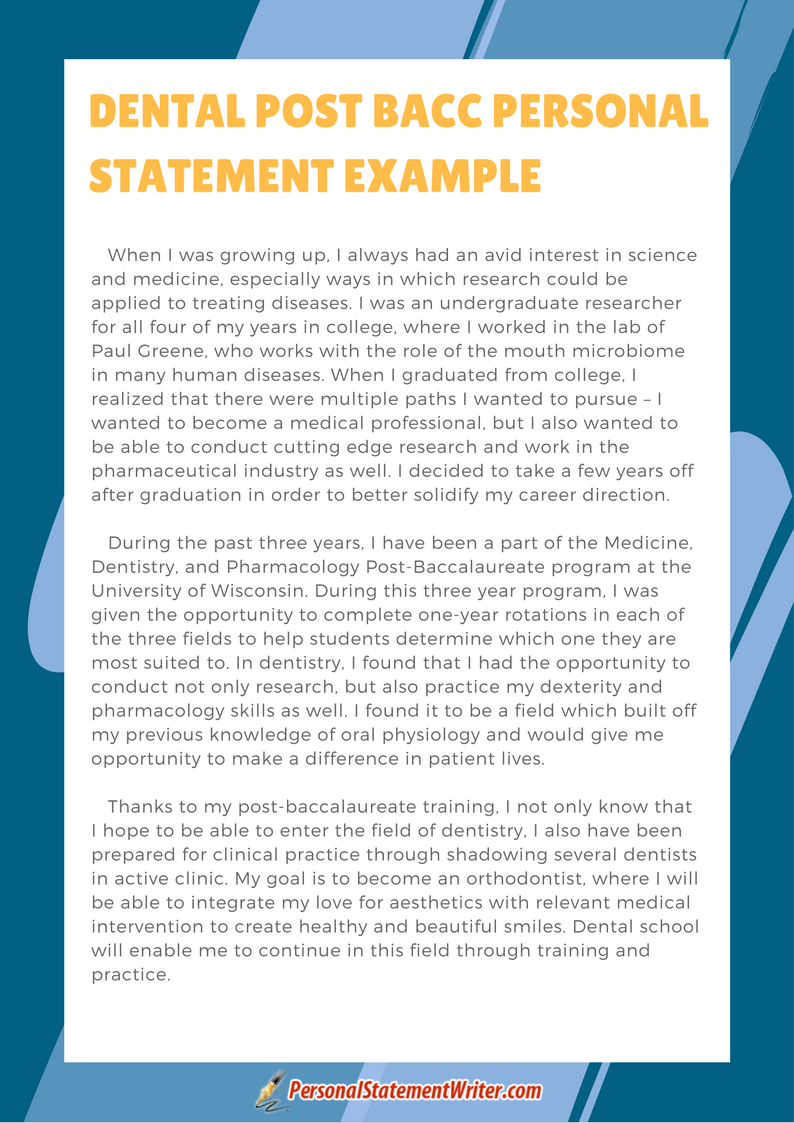 How to Make Your Post Bac Application
Just as you will use the centralized AMCAS application system for your med school application you can use the PostBacCAS centralized system for your post-baccalaureate application. Applying for a post-bac degree is very common if you are to follow a medical career and become an M.D. or similar. You cannot go straight from your certification however to fellowship programs. They are usually a doorway to your postgraduate degree in medicine.
To apply you will need to submit many different documents through either the centralized system or directly to the program that you are applying to. You will need to check each college or university separately as the system is new and not every program will use the same process. The following, however, are some of the many documents and other requirements that you may be asked for:
MCAT scores
GPA scores
Transcripts
Post bacc med school personal statement
Letters of recommendation
Resume or CV
How to Write a Personal Statement for Post Bacc Applications
Writing your statement of purpose post-baccalaureate letter is not going to be easy. Often the best place to start is to look at our post bacc personal statement samples. An example of a good post bacc personal statement is a perfect way to see just how others will tackle their writing. They show you the style of writing that you should use and the types of things that you should cover within your writing. Do not simply copy post-baccalaureate personal statement examples; your own must be unique to you and reflect your personal motivations for applying as well as being tailored to the program that you are applying to.
Writing a good post bacc pre-med personal statement, however, is not just a matter of looking at samples, our professional writing tips below will help you with your statement:
Check all requirements for the post bacc personal statement writing and follow them to the letter with regards to format, length and any prompt that you may need to answer.
Review the website and all other documentation that you have on the program that you have and identify all of the qualities that they look for in an applicant. You must ensure that you reflect these within your personal statement writing.
Tell a story about yourself. You want to get their attention and make yourself memorable so an anecdote that is relevant and hard to forget is going to achieve this far better than simply listing reasons why they should be accepting you.
Spend extra time writing your opening line. This is the hook and must be able to grab the reader's attention fully right from the start of your writing. You want them to need to read more to discover just who you are and what makes you the perfect choice for them.
Write about you: a personal statement is not something that you write about others within, it is about you and is written so that they can discover more about you. Make sure that the focus of your writing is always you.
Don't make unsubstantiated claims about yourself. You cannot just say that you have excellent skills in leadership. You need to provide them with a clear example of those skills and show the reader what you accomplished using those skills.
Write using language that anyone can understand. Never use acronyms or slang and also do not try to be clever by selecting obscure words from your thesaurus as this will actually detract from what you want to say.
Be concise: get straight to the point with your writing and only write about that which will advance your aims of winning a place. You only have a limited word count and you will want every word that you write to count towards your selection.
Never tell lies or exaggerate your abilities: in many cases, you will be invited to an interview so if you are questioned about what you have written in your statement you can easily be caught out.
Don't make excuses or complain within your statement. Make your writing as positive as you can and sing your own praises. Never tell the reader that you don't like something or talk badly about other people.
Never use clichés or even quotations within your writing. They want to hear your own voice and what you have to say and with a short word count there really is not any excuse for padding out your writing with a quotation.
Always review and proofread your writing: we never provide our best for our first draft. Be prepared to review and redo your writing several times. Proofreading is vital as you do not want to make the impression that you are a sloppy worker that makes mistakes and does not have the ability to check for and correct them.
The following piece of advice from Ithaca College reiterates the requirement for making your statement as unique and as personal about you as possible:

Put the "personal" in your personal statement. What makes you stand out from the other applicants? For example, discuss if you have done unique research or internships that directly relates to the field of study. Reference "soft skills" such as leadership, communication, initiative, time management, etc. you may have and how those skills will help you in the program.
We Can Help Write Your Statement of Purpose Post Baccalaureate
Writing that post-baccalaureate statement of purpose is not going to be easy, nor is it going to be quick. Thankfully you can come to us for help. We offer a full range of services for proofreading, writing, and editing your personal statement to ensure that you will have the greatest chance of being selected. With our personal statement help from the experts, you will get to work with some of the best-qualified writers in the field of your application that are totally dedicated to helping you achieve the best results.
Our professional services will help you with:
Post bacc pre-med personal statements
Letter of recommendation for post bacc
Post-baccalaureate essays
Any other documents
All statements are provided with a plagiarism report so that you can be sure that they are unique and are always fully proofread and delivered to you on time in the correct format for your application.
Contact our highly affordable services today to access reliable help with your statement of purpose post-baccalaureate!