Your University of Oregon Essay Prompt Made Easy
You no longer have to keep on postponing the task of answering the University of Oregon essay prompt. This part of your application does not have to be a nightmare for there are ways on how you can make this easier. Take a peek at some of the tips on how to answer the prompts successfully.
University of Oregon Essay Prompt

My future ambitions and goals centre around reforming parts of our country that are underprivileged and suffering from poor management. It is my aim in life to provide help to communities in our country who are suffering from a lack of proper education, poor healthcare and who are blighted by social epidemics, such as high drug use. I am an ambitious person who is highly motivated towards getting the right kind of education that can set me on my way towards the career path which I have always dreamed of walking down.
I have always been able to communicate my points articulately and eloquently, and I therefore see myself as a very engaging, open and honest person who has a firm belief in the power of ideas of conversation. For this reason, a particularly extracurricular activity that has always appealed to me are Debates clubs. I enjoy the cut and thrust of a debate, but I enjoy even more promoting an awareness of ideas, concepts and truth and I believe that I have a particular talent for conversing with others in an engaging, persuasive and highly informative manner.



Owing to this, I have a very strong interest in local politics, and you could say that one of my major interests in life is involving myself in all kinds of matters that concern my local community. I attend elections, organise events and promote awareness of social conditions that need highlighting and improving upon. It is this willingness to get involved and to instigate reform that has helped to develop my personality, allowing me to grow as a person and learn new things.

My interest in politics, as well as my growing interest in education and learning, probably lies most strongly with my roots. I come from a very underprivileged town, where residents often feel hard done by and neglected by the government. Witnessing injustice and hardships firsthand imbued in me a desire to fight for others and to fight for what is ultimately right and deserved.
Tips to a Winning University of Oregon Essay Prompt Answer
When the question asks for story that tells about your life or identity. Your answer can focus on one or a series of events that influenced your choices and decisions. Your answers should answer the questions why and how these events affected your life.
When the question asks you about a failure. Discuss your failure but be sure to support it with what this taught you. Ask yourself what you learned from this failure or mistake. Be sure to mention how you faced this failure and how it helped you grow as an individual.
When the question asks about a time when you challenged an idea or belief and if you will do it again. This belief/idea can be your own, a classmate, family member or a group. Do not limit your answer to yes just so you can stand for your choice. Be honest and approach this question in a way that will show your core personal values and identity.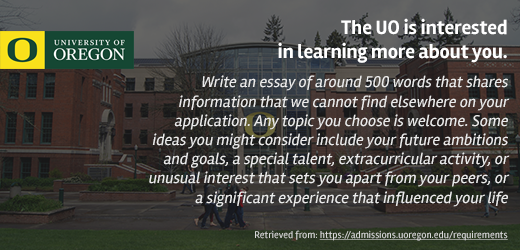 More Information on Answering the Typical University of Oregon Essay Prompt
When the question asks about an accomplishment. This prompt is great for transformative accomplishments that mark your development as a person. Do not be a hero who brags about what you accomplished. Instead, answer this in a way that shows and analyzes your personal growth process.
When the question asks about meaningful environments or places that make you contented. Analyze the reasons behind the sense of contentment and show the committee what you truly value in life.
Your Admission Essay Is Safe in the Hands of the Experts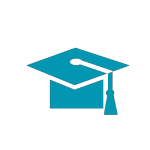 When prompts are not easy and tips are not enough, you can have the experts work on your University of Oregon application essay or  Rutgers essay prompt. They offer 24/7 customer support and also ensure originality in their outputs. You can trust the output to be tailor made to answer the prompt while reflecting your character. Submit the University of Oregon personal statement that meets the requirements of the university with their help now!
Contact us today and we'll show how your U
niversity of Oregon essay prompt should be written a pro!