The Importance of Having a Good MBA Personal Statement
Getting into Business School is not easy. You are going to be competing against many other applicants that are all going to have excellent qualifications and backgrounds. Standing out from them to be selected is going to be exceedingly difficult. With little difference in qualifications and other areas your personal statement will often be the only area in which you will be able to make an impact.
Your personal statement for business school will need to be written in a way that will make you stand out. This will require a huge amount of work on your part and may take several drafts before you will be truly happy with what you have produced. If all our efforts to write personal statement were in vain, we may help you to create it. Below you can check sample done by our writers.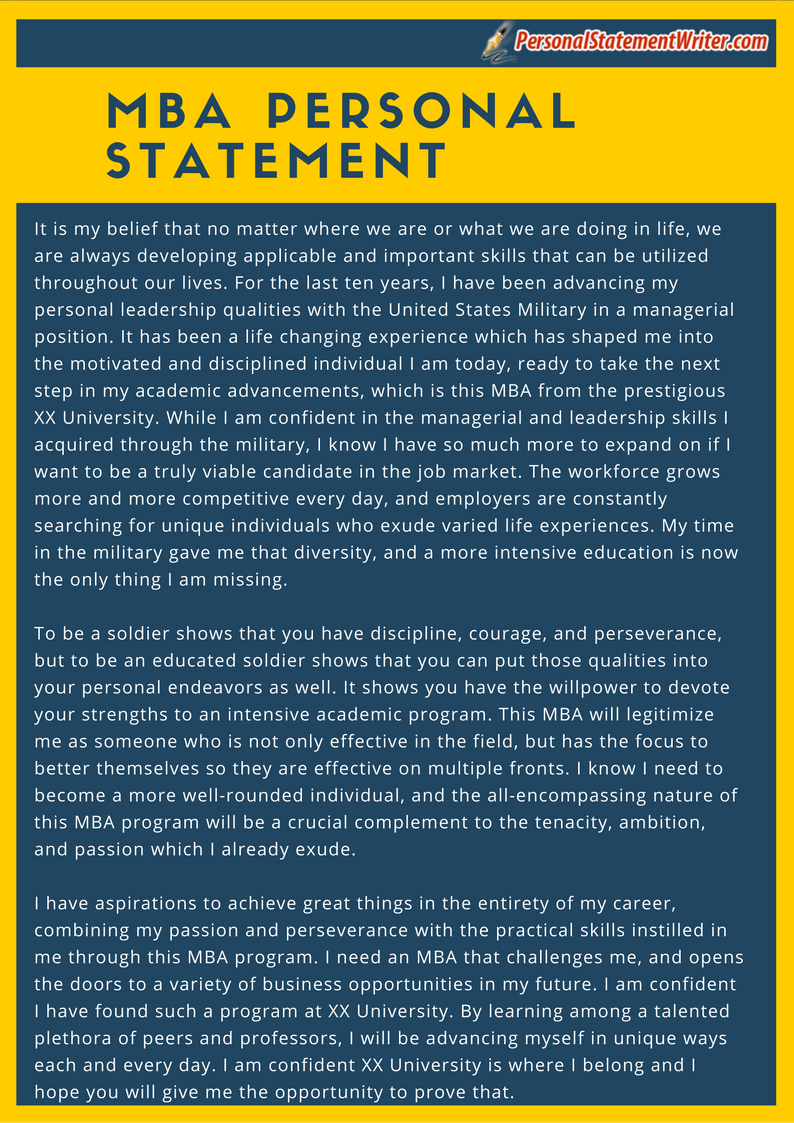 Using Our MBA Personal Statement Sample
Examples of personal statement writing for MBA applications are often the best way for you to get a clear understanding of what you will need to write. Good samples will show you the specific areas that need to be covered , how they should be written and also the specific style of writing you need to use. They should not be copied however. Not only is this plagiarism, it is also not going to help you win a place as your statement must be written about you and focused on the program that you are applying to if you want to be successful.
Writing an Effective Personal Statement for Business School
The following guidance has been prepared by our experts and will help you to ensure that your MBA personal statement will cover the areas that it needs to for the admissions committee:
Explain why you want to study for an MBA; do not mention that you are just looking for a bigger salary however
Provide information about what education you have already undertaken in this area
Explain your future career plans and how the MBA is vital to them
Show that you have the skills required to achieve your goals
Give specific reasons as to why you want to attend their MBA program

It is also important that the way that you write your statement will be capable of getting their attention and keeping it:
Your opening line is your hook, it must grab the attention of the reader and make them want to know more about you
Use a personal anecdote to provide a theme to hold your statement together and provide flow like a story
Never use clichés or quotations; all writing should be original to you
If you want to claim that you have a skill demonstrate it with an example
Be concise with your writing, your word count is limited and you must make every word count
Do not make obvious statements or repeat information that is found elsewhere in your application
Write about yourself only, this is a statement about you
Do not complain or talk about anything negatively
Proofread very carefully to ensure that you have no errors in your writing
Let's create a winning MBA personal statement together! Just give us a call!