Why Do You Need a GMAT Waiver Letter?
So what is a GMAT waiver letter in the first place? The GMAT or Graduate Management Admission Test is often a requirement for admission onto a program such as an MBA. It is a test that can be taken in many different centers around the world and is administered to prove your abilities in this area. Not everyone, however, has the skills to take this test, especially if they have been out of education for a length of time and are nor used to exams and testing any more.
Many programs, therefore, will allow you to waive this requirement as long as you can demonstrate your abilities in another manner. Typically this will mean that you already have a post graduate degree, professional certification or have many years of work experience within which you can demonstrate continued advancement. Not every program will allow a waiver however and each has very definite requirements, so you should always check before you write and send your letter. If you have no idea how to create GMAT waiver letter, you may use our service. Please, check the sample below and make sure you came to the right place.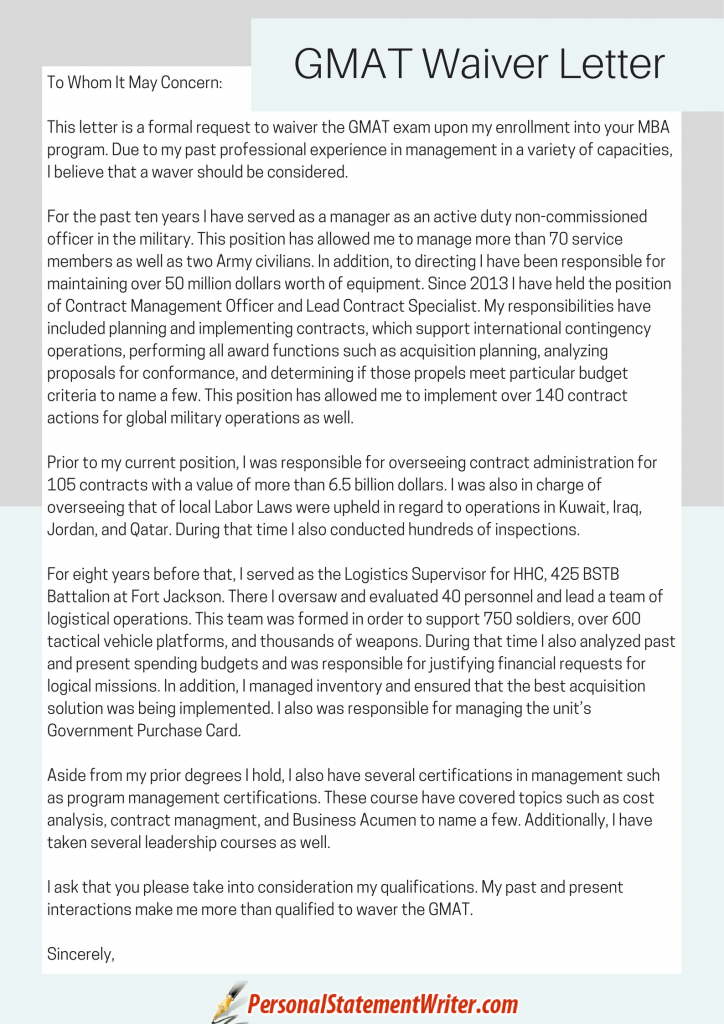 Can a GMAT Waiver Sample Help You with Your Writing?
Samples are often the best way for you to see what is expected of you. Our sample waiver letter lets you see precisely how your own letter should be structured, the areas that should be covered, and even the tone that should be adopted. This allows you to better understand what you need to do with your letter. Do not just simply copy the letter that we provide however, it is not going to reflect your personal reasons for wanting to have a waiver granted.

How to Write GMAT Waiver Letters Effectively
Writing an effective letter can be simple if you approach the writing in the correct way. Firstly check that you meet the program requirements for being granted a waiver. If you do not then there is little point in you writing the letter. Your letter should be written in the following way:
Use a formal business letter as your base
Make sure that the letter is easy to read; use a font such as Times New Roman in 12pt size
Provide a subject line that clearly states the purpose of the letter is a GMAT waiver request
Address the letter to the responsible person
Your opening paragraph must clearly state your purpose for writing
The main body should detail the specific reasons why you should be granted a waiver, such as your many years of work experience
Summarize your reasons in your final paragraph and restate your request for a waiver
Ensure that you provide your signature over your printed name
We Can Help with Writing Your Waiver Letter
If you are worried about writing your GMAT letter requesting a waiver our experts are here to help you. Our services have helped many other students in your situation to write successful waiver letters. They are post graduate degree qualified and only help students in the area in which they hold qualifications and have experience.
They will work with you to gather the required information to write an effective and persuasive letter that will fully satisfy your expectations. So if you want to submit a GMAT waiver letter confidently just get in touch with our experts here today for the support you can trust fully. We hope this sample was useful for you. You can use a waiver letter template to write your own letter or just order it on our we site.
Give our services a try and get a bulletproofed GMAT waiver letter!