Is Your 2 Page Personal Statement Important?
Your personal statement is quite possibly the most crucial part of any application and needs to be written in such a way that it makes you stand out from the many other applicants that are applying for the same position / placement as you. Many people don't know just how much weight is put on having a unique and professionally written 2 page personal statement or 1 page personal statement that is in keeping with the specified word count and so ignore or fail to take notice of what is being asked.
The applications committee or hiring manager who will review your entire application will be interested to know a lot more about you than just what grades you have achieved, they are looking to see why you think you are a suitable candidate for them and how they may benefit from having you there in your own words. Making sure you adhere to the required personal statement length is also essential, failing this will show that you are unable to follow the easiest of orders and so they won't even bother to read it.
So you have to ensure that your writing is really going to get you noticed and being able to have a personal statement 2 pages long, you have a lot of space in to which you can make it count.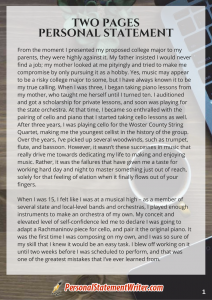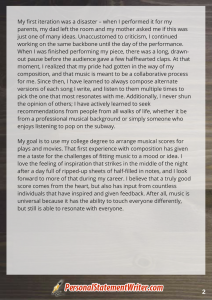 The following tips provided by our experts should help you:
Ensure you get their attention
To help stand out, you need to start off with a hook, something to make them start reading.This can be a personal anecdote or an interesting related fact but make sure it's in your own words.
Tailor your personal statement
Many people make the mistake of using the same personal statement for each application they send out. This is not a good practice as it shows that you really don't know anything about what they have to offer, why you would want to join and why you are a suitable candidate for them. Be specific in each and every application you make, show that you have thoroughly researched them and that what they have to offer and your goals align.
Understand what they want
Before you begin your personal statement, make sure you carefully read their documentation first. There may be specific instructions to the personal statement length and the content which is covered, if you fail to comply with any of this, your application will be thrown out straight away as you are displaying a lack of ability to follow simple instructions.
Still think "How to finish a personal statement?" We know about all the tricks!
Be up front in your intentions. Explain why this particular opening is appealing to you and why you believe you are the best candidate for them.
Be specific in your intentions
Where do you see yourself many years from now? how does this opening fit in with your career aims?
As well as work and education, you need to let them know about you, what are your interests and habits? What hobbies do you follow and what are you generally like as a person.
Use only simple and straight forward English, don't over complicate or use confusing words. Your personal statement should flow smoothly like a story to keep the reader interested but be clear, logical and explain your points with clarity.
Don't use superlatives, clichés and quotations. This will almost certainly cause the reader to stop reading and don't lie, always tell the truth when writing about yourself. A lie now to make you seem better will always catch up with you and can be embarrassing, especially when interviewed.
Speak with friends, relatives or even your school professors, show them what you have already written and ask their advice. Many of them have already been through this and are a good source of information.
Finally – check for errors
Having finished writing you need to go through it thoroughly checking for the smallest of errors. Writing a personal statement 2 pages long is bound to have produced a few errors and your software may not have picked up on them. A presentation is everything when sending off applications and silly spelling or grammatical errors will show a lack of attention on your part.

We Can Help with Your Personal Statement Writing
We are a highly professional and very experienced writing service that can help to ensure that your personal statement will give you the best chance of getting to the interview stage. As well as the many advantages of having a professional writer assist you, through us you will also benefit from:
Highly affordable services with no hidden extras
24/7 customer support
Unique and error free writing
Unlimited reviews
A fully confidential service
Direct contact with your writer
On time delivery
Guaranteed 100% satisfaction or your money back
If you are looking for a 2 page personal statement which is guaranteed to be unique, get in touch with us now for a service that you can trust and afford.