Can a Waiver Letter Sample Help Your Application?

A waiver letter is a request to not supply part of the required documentation for the program that you are applying to. This can be for something such as not supplying your GMAT (Graduate Management Admission Test) scores for an application to an MBA program. This is typically done where you feel that the documentation may not truly reflect your actual ability. So an applicant to an MBA program may feel that their work experience is a better reflection of ability than the test results, especially if they have not taken any tests for a long time. That's why we've created a waiver sample to show you what is required of you.
We can provide you with all of the help that you need to ensure that you submit an effective letter. Our waiver sample letter will show the best way to write your letter and provide you with ideas as to what you should write. However, do not just simply try to copy it, your letter needs to be personal to you. If you don't have time and ideas how to write waiver letter, we are here to help you. Please, check a sample below done by our professional experts.
–receivers name—
–receivers address—
April 25, 2016
To Whom It May Concern:
This letter is a formal request to waiver the GMAT exam upon my enrollment into your MBA program. Due to my past professional experience in management in a variety of capacities, I believe that a waver should be considered.
For the past eleven years I have served as a manager as an active duty non-commissioned officer in the military. This position has allowed me to manage more than 85 service members as well as two Army civilians. In addition, to directing I have been responsible for maintaining over 67 million dollars worth of equipment. Since 2010 I have held the position of Contract Management Officer. My responsibilities have included planning and implementing contracts, which support international contingency operations, performing all award functions such as acquisition planning, analyzing proposals for conformance, and determining if those propels meet particular budget criteria to name a few. This position has allowed me to implement over 160 contract actions for global military operations as well.
Prior to my current position, I was responsible for overseeing contract administration for 124 contracts with a value of more than 9 billion dollars. I was also in charge of overseeing that of local Labor Laws were upheld in regard to operations in Kuwait, Iraq, Jordan, and Qatar. During that time I also conducted hundreds of inspections.
For nine years before that, I served as the Logistics Supervisor for HHC, 425 BSTB Battalion at Fort Jackson. There I oversaw and evaluated 45 personnel and lead a team of logistical operations. This team was formed in order to support 600 soldiers, over 450 tactical vehicle platforms, and thousands of weapons. During that time I also analyzed past and present spending budgets and was responsible for justifying financial requests for logical missions. In addition, I managed inventory and ensured that the best acquisition solution was being implemented. I also was responsible for managing the unit's Government Purchase Card.
Aside from my prior degrees I hold, I also have several certifications in management. These course have covered topics such as cost analysis, contract management, and Business Acumen to name a few. Additionally, I have taken several leadership courses as well.
I ask that you please take into consideration my qualifications. My past and present interactions make me more than qualified to waver the GMAT.
Sincerely,
Name

Writing an Effective Waiver Letter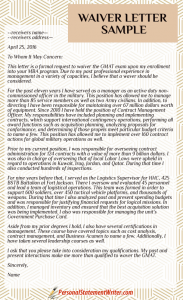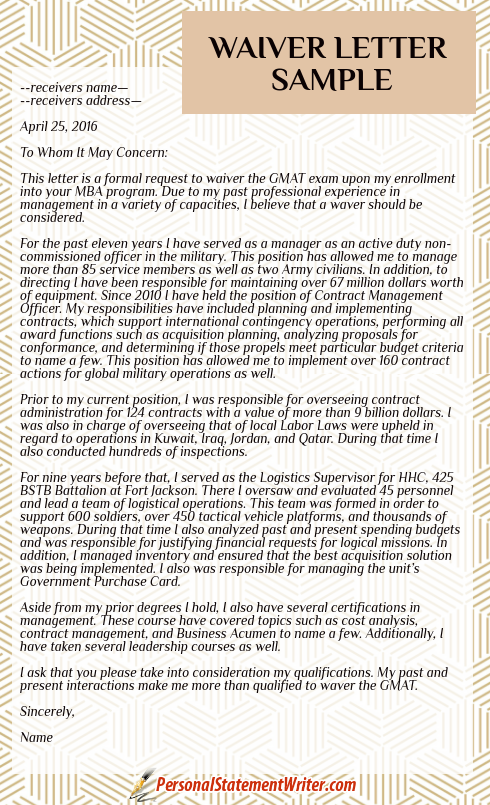 Looking at a sample of waiver letter writing is an excellent way to get inspiration for your own writing. The following tips will also help you to ensure that your letter will be effective:
Check the institutions website to see if they will entertain a request for a waiver and what the process is. If they do not, then there is little point in sending a request.
Use a formal business style letter format for waiver request
Ensure that the purpose of your letter is clearly stated in your opening line.
Provide clear reasons as to why you feel that you should be granted a waiver
Your letter should close with a paragraph summarizing your reasons and restating your request for a waiver.
We Can Help Write You Waiver Request

Even with samples and tips many applicants are still hesitant regarding what to write. We offer support through experts that are post graduate degree qualified within the fields in which they help. They will work with you to ensure that they have all of the information that is required to write an effective and unique letter that will give you a high chance of success. We can also help you out with writing your personal statement. All of our support is fully unique and free from plagiarism and will also be fully proofread by a certified professional to ensure that it is error-free. Our help is delivered on time and always covered by our full satisfaction money-back guarantee.
If you are looking to submit a request as good as any waiver letter sample that you have seen just get in touch with our team!