The Importance of a Study Abroad Personal Statement
Your personal statement to study abroad or IMG personal statement will be the most important part of your application. You will be competing against many others for a place and all of them will have grades and experiences that are at least as good as your own so you need to be able to make yourself stand out.
The panel that makes the decisions will very much concentrate on your study abroad personal statement and will be looking to see if you are going to be a good student for their course. If you can write a well written personal statement, whether it be IMG personal statement or any other one, that gives them everything that they are looking for in a memorable fashion then you are going to stand a far better chance of being selected.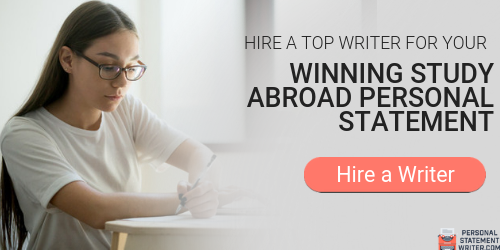 How to Make Your Personal Statement for Study Abroad Memorable
Writing a personal statement is a lot like writing a story for a newspaper. You have to grab the reader's attention and get them interested in reading the story all of the way through. This means selecting a theme that you can use to tie your statement together that will interest the readers of your statement. Your opening lines have to really hook them in and promise them a good read about you and your desire to study abroad.
The remainder of your study abroad personal statement or LMU essay prompts then has to deliver on those opening lines and lead the reader to the firm conclusion that you deserve the chance to study with them. Ensure however that your theme and opening lines do not employ shock tactics as some sites will advise you, wildly exaggerated stories will be seen as a ploy to manipulate the panel.
What Should Your Personal Statement Cover?
Your study abroad personal statement will need to fully answer any question asked of you; it must also, however, sell you and your desire to study at their institution. This means covering the following:
Fully explain why you desire to study your chosen subject;
Show how studying abroad is the best solution for you;
Show how studying abroad is going to impact on your career;
Demonstrate that you have all of the skills necessary to complete your studies;
Explain why you want to study specifically with them.
Common Mistakes to Avoid While Writing Your Study Abroad Personal Statement
The personal statement writing is related to several steps of work. It is not just about the introduction, body and conclusion writing. When working on the personal statement for the first time, you will definitely deal with various difficulties. Therefore, it is better to keep yourself familiar with the errors that can affect you study abroad personal statement. Here are a few common mistakes that you must avoid:
Thinking it's finished when it's not. Make sure that you include all the necessary details and end it up by discussing all the important points.
Turning into a cliché. There is a strict 'No' for cliches. You can't even afford the single cliche in your personal statement for study abroad.
Failing to convey properly. All the important information should be conveyed in an appropriate manner.
Forgetting to give and take. Yes, you can definitely take the best outcomes if you can give something worth-reading.
Apologizing and making excuses. This is actually not the way to write an application. Saying sorry for something, begging or making the excuses is not something that will work well for you.
Blasting to the past. Whatever you have achieved in the past few years must be mentioned.
Taking the "personal" out of "personal statement". The personal statement to study abroad must be an all-yours story. No one would be interested to know about the rising fees in the colleges of USA.
Making it "one size fits all" is a very common mistake. You should never think of submitting the same personal statement to the different institutions with minor adjustments (i.e. change in school name and program).
Ignoring the rules. This is also unacceptable for any PS writer. If you are working on it for the successful results, you have to make it ideal then. It must be strong personal statement study abroad.
Our Writing Service Can Provide You with a Study Abroad Personal Statement
If you don't know how to start your personal statement but really want to study abroad, personal statement writing through a professional personal statement writing service will boost your chances. Through our service, you will work with a writer that understands your subject area and has many years of experience in writing highly successful personal statements to help students like you.
They will draw out all of the information that they need to write your fully personalized personal statement in a way that is going to get you recognized. So if you want a successful study abroad personal statement get in touch with us for a winning advantage.
Applications We Would Help With
Our team composes the superb quality personal statements. However, you can also expect other writing services as well. Have a look at the other types of services we're currently offering to you:
Letter of recommendation
Statement of purpose essay
All types of personal statements (for admissions and employment)
Admission essays (for open and rolling admissions)
Resumes and cover letters
The writing guidelines, online help and ideal suggestions are here to assist you well for crafting study abroad personal statement!