Affordable OTCAS Personal Statement Writing Help

Do You Need Help with Your Personal Statement for OTCAS
Occupational therapy is a popular course and as such you will always face stiff competition with your application. Many of your competitors will be equally as well qualified as you are or maybe have even better grades. So to stand out you will need to offer the committee something very special in the way of your personal statement. Your OTCAS personal statement examples must be written in an attention-grabbing and very persuasive manner if you are going to make yourself memorable. The committee could be reviewing hundreds of application essays many of which will be very similar to one another. So writing something that is capable of getting their attention really is an effective way to get your application noticed.
Writing that effective statement, however, is not something that many applicants find easy. Many will submit something that they are just not happy with just because they do not have the time or the inspiration to make it better. Our specialized services however know just what it takes to make you stand out and can help you with every part of your application.
What Does Your OTCAS Application Require?
OTCAS is the Occupational Therapy Centralized Application Service and is run through AOTA, the American Occupational Therapy Association. It provides you with a single place to make all of your OT applications no matter what specific program you want to apply to. Once you have registered you are able to start uploading your requirements and to then apply to the specific programs that you want.
The following are some of the requirements that you will have to upload through the OTCAS portal:
Completed OTCAS application form (online)
GRE test results
Completed transcripts
3 letters of recommendation
Your OTCAS personal statement
Once you have uploaded all of the requirements you are then able to select the specific programs that take your fancy. You must also check their websites to see if there are any additional requirements that you must submit.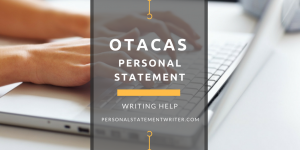 We Work with You to Write Your Personal Statement
You cannot simply copy any OTCAS personal statement examples that you find online. While examples are a great way to understand what is required of they will not be about you and it would be considered plagiarism. It is very important that your statement is clearly written about you and this is why you will always get to work directly with our writers and editors.
Direct communication allows our staff to access the specific information that will be required to fully reflect what the committee members will want to see within your personal statement. They will help you to mold your statement so that it fully reflects their expectations in a perfectly written and engaging document. If you don't agree with anything written or want to change something then our experts provide you with unlimited revisions until you are fully satisfied.
Are you seeking for professional OT personal statement writing help? If you do, visit this page!
Our Experts Are Qualified to Help with Your Occupational Therapy Application
There are many online services that simply work by hiring a freelancer whenever they get an order. They often do this with very little in the way of checks to ensure that the person that they hire is actually capable of providing the help that you need. We, however, have been around for many years and have a sizeable pool of experts that are fully proven in their fields.
This allows us to always match you with a specialist in occupational therapy to work with that is:
A holder of a relevant OT postgraduate degree
Highly experienced at writing personal statements
Knows the full OTCAS application process
Knows what the programs want to see within your application
Can write using perfect English
The Advantages of Our OTCAS Help
Working with us means working with a real expert in your area of application and with someone that is going to be fully dedicated to giving you the support that you need. We are totally confident that our staff will provide you with a personal statement or other application documentation that will fully meet your requirements every time.
Everything that we provide is always done within the deadlines that have been agreed and at a price that you will find hard to beat elsewhere for the same level of quality. It will also be tested for plagiarism and carefully proofread so that it is error free and unique to you.
To make your OTCAS personal statement perfect for your attention-grabbing application just contact our specialist here today for the support that you can trust!