The Importance of an Effective Personal Statement for Dental School
Dentistry is a highly sought after degree and as such all programs are fiercely contested for places. Your application must therefore really be able to make you stand out in every possible way if you want to have any chance of selection. With grades usually high with all applicants the only part of your application that you have control of to influence your selection is your personal statement.
A well written and attention-grabbing AADSAS ADEA personal statement will often be the deciding factor in your selection if you can write it well enough. But most applicants will fail to write something that will make them stand out from the many hundreds that the admissions committee will have to read.
Because of this, it will often be best to turn to a professional writing or editing service such as our best personal statement writing help. We offer help through highly qualified dentistry graduates that fully understand just what is required to make your application get their attention so that you are selected for one of those highly valuable places.
Requirements for AADSAS ADEA Applications
The Associated American Dental Schools Application System (AADSAS) is the portal through which the American Dental Education Association (ADEA) will administer your application to any of the participating dental schools. Their system allows you to make a single submission of your documentation using one system rather than applying to multiple schools separately.
The following are a list of some of the documents and other requirements that you will need to upload through the AADSAS portal:
Electronic application form containing all of your personal and educational information
School and college transcripts
Letters of evaluation or recommendation
Professional experience
ADEA AADSAS personal statement; maximum of 4500 characters
After uploading all of this information you will be able to submit an application to the individual schools. You must also check the website of each to see if there are any additional requirements and how those requirements should be submitted. Our experts fully understand this process and can help you with any of the documents required.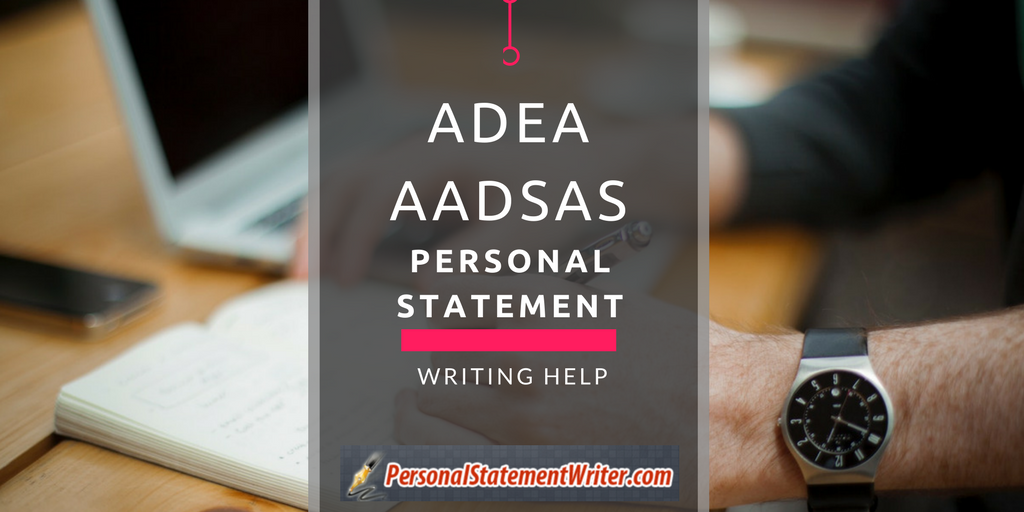 We Work with You When Writing Your AADSAS Personal Statement Dentistry
Writing a personal statement for dentistry is not something that another can do for you in isolation. Nor is it something that can be provided off the shelf or simply copied. Your personal statement has to be written about you and your plans for the future, anything else will simply be ignored by the committee.
This is why our experts always get to work with our clients. This is the only way that they can match your information to the specific requirements of the program so that everything that the committee wants to see is covered. They will help you to ensure that all writing is done in an attention-grabbing manner that will get you noticed.
Should anything not be written exactly as you want then our experts are able to work with you to make unlimited revisions to your statement. Only when you are totally satisfied and confident that your statement is ready for submission is the job done.
Are you stuck with a HAMPCAS personal statement? Find your guide to writing within our website.
The Staff We Provide Are Qualified to Help
Writing a dentistry personal statement is not something that can be done by anyone. Unless they have a full understanding of both dentistry and the ADEA process they are not going to be effective in providing you with help. This is why the specialist provided through us will be:
Qualified with a post-graduate dentistry degree
Highly experienced in writing personal statements for dentistry
Knows the ADEA AADSAS dental application process
Understands what is required within your statement
Can write in attention-grabbing perfect English
The Advantages of Using Our Professional Services
Have no idea about how to write an effective personal statement? Don't worry! We can help you! Our aim is always for you to be totally satisfied with the writing and editing services that we provide to you. We want you to be able to make your submission confident in that your AADSAS essay making an impact with the committee. All of the help that we provide is unique to you and provided with a free plagiarism report for confirmation. We also put all services through certified proofreading so that you can be sure that what you submit will be free of any errors. Our confidential services are covered by a money back full satisfaction guarantee and we always deliver what we promise on time.

To get affordable and reliable help with your AADSAS ADEA personal statement just contact our professional and specialized services here today.