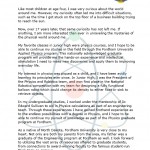 A personal statement is usually included when applying to a college or university because this is where you get to impress your readers with more information about you. However, there are some applicants who are not sure about the personal statement format that they should use. This can be a problem especially since this is the best place for you to show off your personality, achievements and skills. Fortunately, you've come to the right place because you'll learn more about the right format to use here.
Get Personal Statement Samples to Learn More
If you want to know more about personal statement format, you should start by looking for a sample personal statement online. The Internet is the perfect place for you to get your hands on samples on how personal statements are written and from there you'll see how students have formatted their paper. Aside from getting samples, hiring an expert writing service can also be to your advantage especially when they can give you sound advice on how to format your own personal statement.
How We Can Help with Writing Personal Statement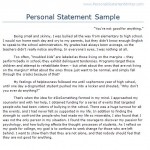 Most of our expert writers would suggest that you format your paper based on the requirements of the school. There are colleges that indicate what they want to see in your personal statement by providing you with a prompt and number of words while others allow you to choose your own topic. Sticking with what is required of you is the best step to take when writing your statement which is not that different from writing an essay. Your personal statement should always have an introduction, body and conclusion which is the standard format for all essays.
Our Personal Statement Format
My mom was my first teacher and instilled a love for learning in me from the time I was very young. I always admired her for being the first one in her family to graduate from college and it motivated me to be the first to complete graduate school. Although my mom pointed me in the right direction, it was my instruction to law in the XXX program that committed me to a course. Under the guidance of judge, the group performed a mock trial and acting as an attorney just felt right.

Since then I was an active member in a pre-law society on campus, served as a member of a grand jury and interned at the Children's Law Center. These experiences combined with my ability to remain calm in stressful situations, my exceptional communication skills and my interest in law make me the ideal candidate for your law program. Although I am most familiar with criminal law, I am eager to learn more about other fields of law so that I will have a more developed and well-rounded sense of what it means to practice law.

I look forward to being a law student at your school, focusing on my passion and learning from reputable law professors so that I will have the skills necessary to achieve my long term goal; being an attorney. Just as being first to attend graduate school would be kind of a big deal in my family, I can't wait to be the first lawyer in the family too.
Effective Personal Statement Format from Us
If you are having problems writing your personal statement, don't hesitate to seek expert help. We are a writing service that knows exactly how to write and format personal statements for various purposes so you don't have to worry about the outcome of your paper. All that you have to do is provide us with relevant information for your personal statement and our writers will work their magic, writing the most impressive statement there is.
Send us the information we'll need today so we can get to work creating the effective statement your future may depend on!