No matter how interesting a life you've led professionally and personally, no one wants to read a whole tome of information if you're applying for a job or college place. Learn all the tips and tricks from our professional personal statement writers that'll help you write a brief personal statement that'll still shock and stun your readers as they accept you onto their course or into their company.
The Importance of Brevity
Typically, your personal statement should be kept down to one page in length for admission to courses in most colleges in the United States. This is broadly similar to the 47 lines permitted by the University and Colleges Admissions Service in the United Kingdom. Requirements across the English-speaking world are largely equivalent.
There are a number of important reasons for making your personal statement shorter rather than longer. First and foremost, there are literally thousands of applicants to every course and the admissions team has to read every single statement submitted. You absolutely cannot afford to have your statement out in the trash because you've gone and written a novel-length exposition on your suitability for the course.
Another significant reason for cutting down your word count is to avoid unnecessary fluff and to hone in on the specifics. Brevity, in this case, is a way to show focus rather than a lack of ideas or interest.
Brevity also helps you get straight down to business and explain why you're a great candidate. Admissions tutors don't necessarily want to have to sift through excess detail to find the keywords and phrases they're looking for.
Your brief personal statement for college should not lose any important information as you cut it down to size. It's all about trimming the fat away from the beast rather than outright chopping its legs off. Make the most of your opportunity to write a great brief personal statement for college as it'll stand you in good stead for any future job opportunities.
How to Write a Brief Personal Statement for College
When you're learning the best way to write a brief personal statement for college examples are your friends. Knowing how to write a brief personal statement for college is all about dos and don'ts, and these examples show why that is.
What to do
Attract the reader's attention by using a gripping, but unclichéd opening phrase. You need to interest them right away if they're to read on to the important content.
Use actual personal objective statement samples to illustrate your experience or appropriateness for the position of your choosing. Relating your statement to real life events demonstrates a genuine suitability for your course.
When it comes to your concluding remarks, link them back up with your opening statement and the overriding theme of your text.
What not to do
Your statement should not read like an autobiography or resume. It is your chance to show yourself as a real person and not just another applicant.
Don't fill your statement with general phrases and fluff that doesn't really mean much. You need to be direct and make it abundantly clear why you're an ideal candidate.
Don't invent achievements, personal characteristics or anything else. It's really not worth the risk of being found out when you're in the middle of an interview.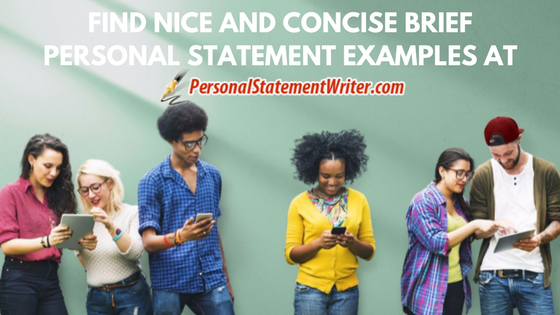 When it comes to your brief personal statement for college examples are the way to go. Learn what you should be doing, and equally, what you should not be doing and you'll meet with great success.
There are many ways to write a personal statement and your chosen path will ultimately be unique. If you're stuck for words, ask a professional for their assistance or use a well-crafted example text as a general guide to writing your brief personal statement. Adhere to the advice gleaned from successful examples and you won't go far wrong.
Focus on writing a brief personal statement that really hones in on why you're a perfect candidate. Hire a professional to provide examples that'll make you shine!