Getting your personal objectives statement right is all about being specific. You need to indicate exactly why you're the perfect fit for the job being offered. It has to be short, sweet and right to the point if you're to make an impact. Learning how to write a phenomenal personal value proposition statement takes time and the best way to learn is by using an example.
What Is a Personal Objective Statement?
The whole point of a statement like this is to lay out your career goals and the fundamental principles that underpin them. Your values and beliefs expounded here are integral to who you are as a person, and they inform the reader of your expectations in life and how you intend to go about achieving your aims.
You have to be absolutely clear about what you represent if you want to work with the companies that are most compatible with your true goals. Hiring a professional writer to compose your statement is a wise choice if you're unsure of what to write.
Now you know all about what is a personal objective statement, you can start learning how to write one using examples to guide you.
How to Write a Stellar Statement
The quickest way to see how to write a targeted statement is to check out a few personal objective statement samples that we've chosen specially for their educational value.
These personal objective statement samples have been crafted over an extended period of time. You can't expect to write the perfect statement overnight, after all. If you don't have time to mess around, hire a professional to complete this vital task on your behalf. In the meantime, check out some of our top writing tips below.
Consider your past achievements and examine them for a theme that links them all. This is a vital starting point that'll form the foundation of your statement.
List as many of your core philosophical and moral values and beliefs as you can. Attempt to rank them according to their importance or significance in your life. Dismiss all of them except the 5 or so most indispensable ones.
Think about the various aspects of the wider world that you could change as a result of your values and achievements. This could involve anything from your closest circle of friends all the way to an entire industry sector.
Consider all of the above in relation to your most dearly held personal immediate and long-term goals, thinking about how your qualities and beliefs can influence the achievement of said goals.
Putting all of the above together into a single statement should now look much easier. If not, hire a professional writer to connect all the dots and craft the perfect statement for your needs.
For Whom Are Our Writing Services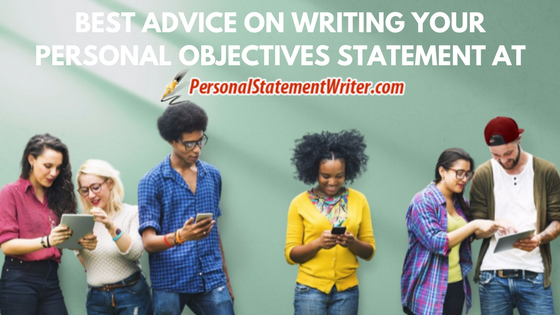 Of course, we don't really have any limitations as to who is allowed to use our service, but we are particularly proud of being able to help college students and recent graduates. If you're still at school and don't yet have much experience in the world of work, we can help you out for sure.
When it comes to putting together a personal statement of objectives graduate school or UCLA personal statement is the place to start and here is the place to learn.

It's not just about getting employed as academic institutions also expect you to be able to demonstrate your suitability for your preferred course. In terms of their expectations of your personal statement of objectives graduate school programs aren't any kinder than your prospective employers will be, so now's the time to master this vital skill.
Your personal objectives statement is a vital component of your professional life and it's just as important when you're in college. Make sure you possess a clear and direct mission statement that really defines who you are as a human being looking to contribute to this wonderful world we live in.
If you're struggling to write a top class personal objectives statement, we've got your back. Hire an expert writer and you'll get everything you need and more!